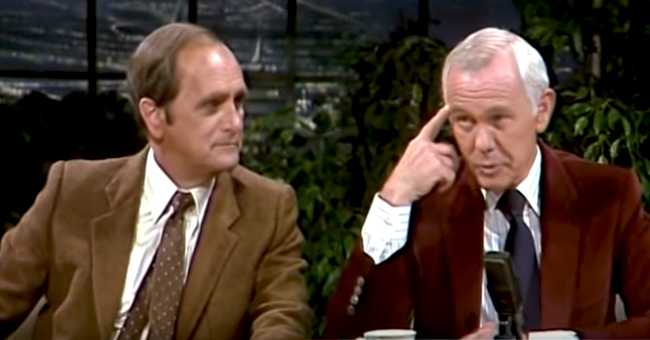 youtube.com/Archy L
Bob Newhart Recalls Practical Jokes He Used to Play with Johnny Carson on 'The Tonight Show'

American comedy Legend, Bob Newhart, opened up about his puckish relationship with late comedian, and former host of "The Tonight Show," Johnny Carson.
Ninety-year-old comedian, Bob Newhart recently granted an interview with People's magazine, where he revealed excerpts from his friendship with late reality television star, Johnny Carson, including their shared love for pranks.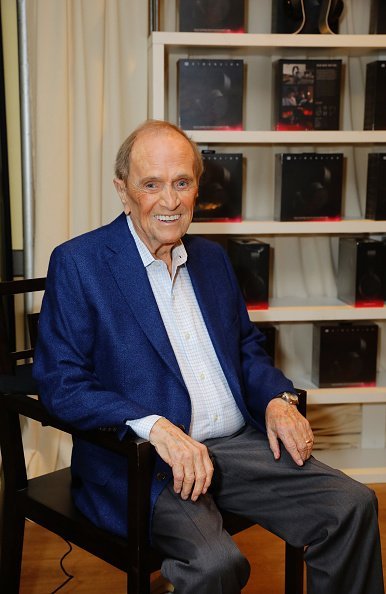 Bob Newhart attends Backstage Creations Giving Suite At The Emmy Awards - Day 2 at Microsoft Theater | Photo: Getty Images
A TALE OF TWO LEGENDS
Bob and Johnny both made their names in show biz back in the '60s. While Bob was known for his outstanding comedy skills, Johnny made his mark as a TV host for the show, "The Tonight Show," which he hosted for about three decades.
Despite the seemingly different career paths, the two had a lot in common, possessing the same interest in comedy and playing pranks. Unfortunately, the two were mostly at the receiving end of each other's mischief.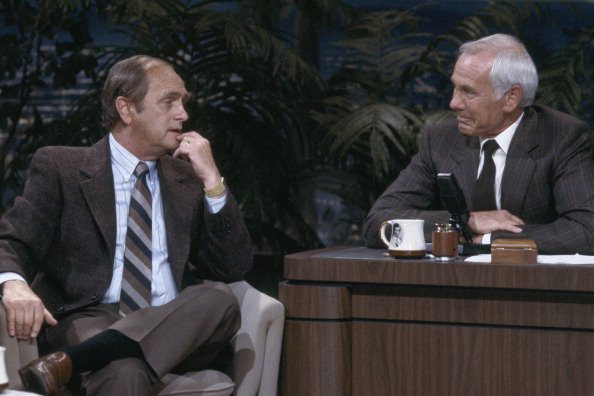 Comedian Bob Newhart during an interview with host Johnny | Photo: Getty Images
NEVER TOO OLD FOR A PRANK
The ninety-year-old recalled one such prank during an interview with "People." He recounted how he once made the late TV host sit through extra minutes of listening to a boring author on-air by convincing Johnny's assistant, Ed, to alter the clock.
The comedy legend explained:
"This was when Johnny was still doing authors. The show was an hour and a half, I think."
He continued:
"Ed's sitting here, and there's a clock right there. So he's got this author and the author really is boring us. I look at Johnny's face and he's just like, 'How soon can I get out of this?' So every time he'd look away, I told Ed, 'Move the minute hand back,' and he'd move it back five minutes."
CARSON GOT HIS TURN
The ninety-year-old was eager to point out that he was not the only prankster between the pair, as his old friend could go extra miles to show his pranking prowess. He narrated how the late star got even with him.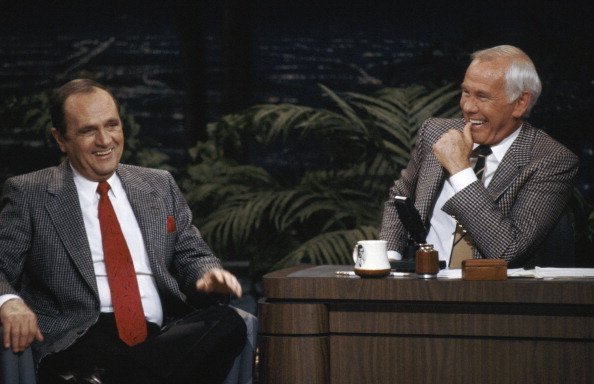 Actor Bob Newhart during an interview with host Johnny Carson | Photo: Getty Images
Newhart recalled:
"One time, my wife, Ginnie, she signaled to me, and she said, 'Jon, you have to excuse me. I have to get up and take the kids to school in the morning. Johnny said, 'Oh, yeah.' The next day, a knock at the door. He had gone to an army surplus store and bought a cot and delivered it to our house, so she didn't have to go all the way upstairs, and she could sleep right there. I mean, he went out of his way."
GETTING PUNKED AT 90
Decades after the loss of his partner-in-prank, the American icon got the biggest joke played on him, by Ben Stiller.
During the 2019 Emmy Awards, the comedy star was called out by Stiller, alongside crafted figures of other comedy icons like Lucille Ball and George Burns.
The ninety-year-old was forced to remind the perpetrator that he was still alive, as he (Bob) threatened to kick his ass for the well-received joke.
The legendary star admitted to "People" that he consented to the joke, which was intended as a comedy skit even before the show.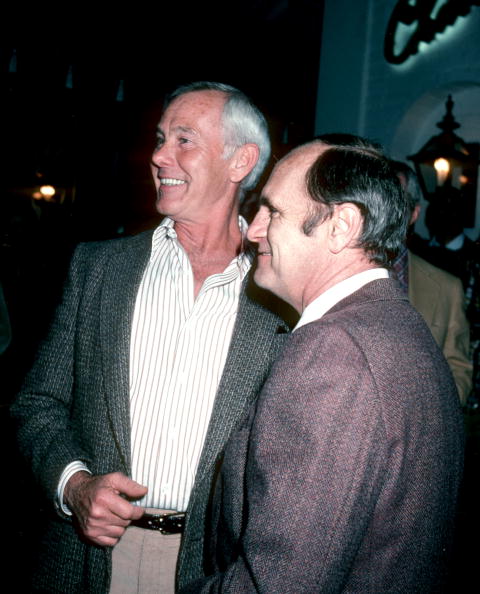 Johnny Carson and Bob Newhart during Pierra Cossette's Party for Super Bowl XVII | Photo: Getty Images
He said:
"They told me the idea, the two statues of George Burns and Lucy, and then the statue of me, and then I keep trying to tell him that I'm still alive. I thought it was a very funny idea."
It is apparent that the die-hard-comedian has no intention of retiring from his art anytime soon.
Please fill in your e-mail so we can share with you our top stories!