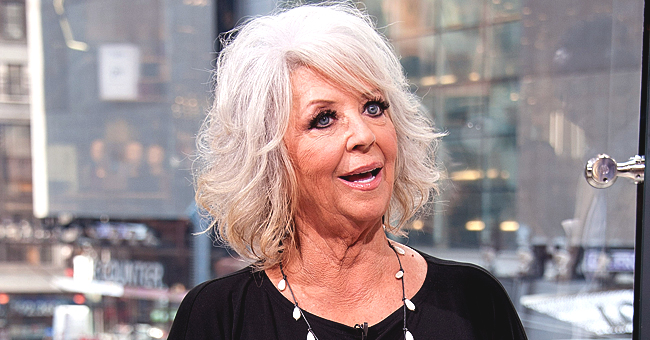 Getty Images
Paula Deen's Daughter-In-Law Shares Family Photo with the Triplets and Her Husband Bobby
Bobby Deen, the American TV chef, welcomed premature triplets back in 2018, and couldn't bring them home for another three months. Almost a year from then, his wife, Claudia, remembered the moment and the help they had.
The trio of Lenton, Amelia, and Olivia was born almost four months early and couldn't come home for three months after their birth. Thankfully, the babies did fine and are living healthy lives.
With Paula's triplets nearing their birthday, their mother, Claudia shared a sweet family picture on Instagram, remembering an organization that helped her and other women during pregnancy and childbirth.
CLAUDIA'S INSTAGRAM POST
The heartwarming snap featured Bobby and Claudia holding their babies and smiling for the camera in what looks like a drawing-room. Bobby was holding Amelia and Olivia while Claudia held Lenton.
The little girls had cute dresses on and completed their angelic look with a bow. Lenton, on the other hand, was wearing baby blue all the way. While the parents were looking and smiling for the camera, the three little angels seemed to be interested in whatever was on their left. They were looking and smiling in that direction.
CELEBRITY CHEF, PAULA DEEN ANNOUNCED THE NEWS ON FACEBOOK
When the triplets were born, Paula took to Facebook and shared the news with her fans. She said:
"I'm just going to share a little bit of what's been going on at my house and why I'm kinda a little late on things. It's going to be a long ride for these precious three angels, but we've got complete faith that God's got His arms wrapped all around them. He's going to see them through this until they can come home."
Paula revealed the reasoning behind each of the triplets' names and explained that they wouldn't be able to bring them home for another three months.
THE COUPLE HAD HELP WITH THE TRIPLETS
In her post, Claudine mentioned an organization, "March Of Dimes" that played a very important role during our very long hospital stay. She wrote:
"We are beyond excited that we have an opportunity to give back to this incredible organization that fights for funding and research against birth defects and premature births."
She also mentioned that the couple was the ambassador family for this year's signature chefs auction. " We hope you'll join us in giving a gift to help support this important cause."
Please fill in your e-mail so we can share with you our top stories!