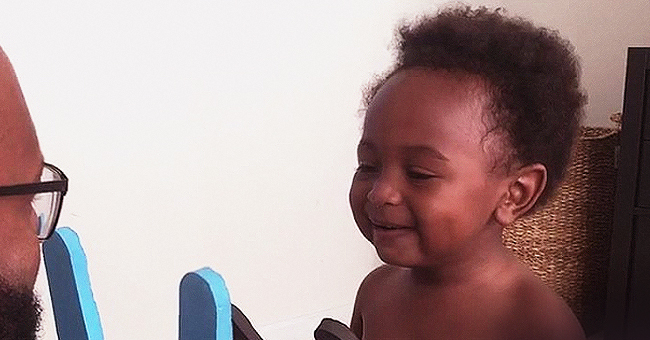 Instagram/winstontmoore
Adorable Little Boy from Delaware Can't Stop Laughing as Dad Plays with Letters M and W in Viral Video
Baby Winston Moore from Delaware went viral laughing with his dad over a topsy-turvy lesson in ABCs.
Winston's father is how Pedro Moore, the founder of Funding Fuel, as well as venture capital advisor to Daymond John of TV's "Shark Tank" is best known these days.
And that is because the doting dad shared an adorable video of Winston on Instagram which just happened to go viral.
The adorable clip was picked up and reposted Angela Rye, Tina Thompson, and The Oprah Magazine
LEARNING THOSE TOPSY-TURVY ABC'S
In the video, Pedro is teaching his son the ABC using oversized foam letters.
Father and son each held a "W", or was it an "M"? Because what cracked Winston up was that dad would cry "M!" quickly turn the letter upside down and announce "W!"
FUNNY LETTERS HAVE WINSTON IN STITCHES
Winston, who is just 1 year old, obviously found the transformation hilarious and would laugh uproariously every time, even as he imitated his dad by repeating the letters "M" and "W" in his sweet baby lisp.
WINSTON GOES VIRAL
Pedro posted the video of his giggling son playing the alphabet game with him in his diaper and to his surprise it immediately went viral. He captioned it:
"For some reason, the letter "W" is just soooo funny to me!"
WINSTON BECOMES A WORLDWIDE PHENOMENON
Pedro was stunned when the video reached over 15 000 views on his page, but that was just the beginning.
The adorable clip was picked up and reposted Angela Rye, Tina Thompson, and The Oprah Magazine, and suddenly Winston was a media celebrity.
And that is just the beginning for Winston because just like every other celebrity, the requests for interviews by famous TV shows are flooding in.
WINSTON TO GUEST ON "KELLY CLARKSON"
Pedro Moore, Winston's proud dad is amazed at the attention his son's video has garnered, and he was even more surprised when he got an invitation for a TV appearance.
For Pedro, this is a habitual game he and his son play. He explained:`
"Winston loves to learn and be silly so we try to incorporate both. Though Winston is one and a half, he knows his letters, numbers, and a few words. He even knows a few letters in sign."
Winston's adorable take on the alphabet and contagious giggle caught the attention of the "Kelly Clarkson Show," and the baby and his parents are scheduled for an appearance on the show. Don't miss the adorable little media star.
Please fill in your e-mail so we can share with you our top stories!