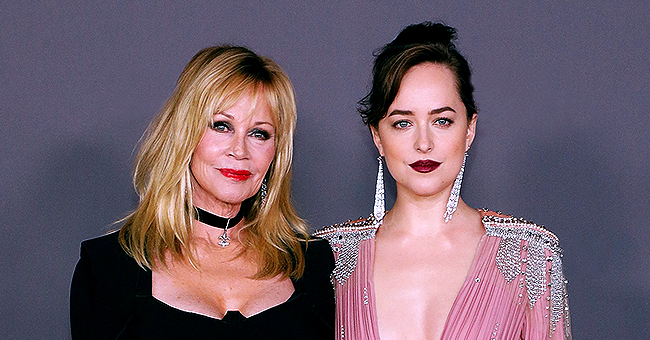 Getty Images
Melanie Griffith of 'Working Girl' Shares Tribute Photo for Daughter Dakota Johnson on Her 30th Birthday
Melanie Griffith shared a tribute photo for her daughter, Dakota Johnson, as she celebrates three decades on earth.
Dakota Johnson is 30, and to celebrate the three decades milestone, her mom, Melanie Griffith, shared a throwback tribute photo on Instagram.
GRIFFITH IS PROUD OF DAKOTA
In it, a young Dakota in a yellow and blue thin-strapped top, placed her hands behind her, as she leaned her head forward with her lips in a pout. Griffith wrote alongside the photo:
"My Corqui… Happy birthday, my beautiful girl! I am honored to be your mama. So so proud of you, and I love you with all my heart."
The "Working Girl" actress's followers, reacted to the photo with birthday wishes for her daughter. One person wrote:
"So gorgeous and smart. Happy Birthday."
Another person commented:
"Happy Birthday Dakota, we love you with all our hearts."
With a third, writing:
"[I] hope she has a great day. This photo is adorable."
THREE GENERATIONS OF TALENT
In September, Griffith celebrated her second daughter, Stella's, (whom she shares with Antonio Banderas), birthday. In a post on social media, the actress wrote:
"Happy Birthday, my beautiful Stella."
The 23-year-old Spanish-born woman had a party in Los Angeles, and her mom attended with Dakota. Unlike Griffith and her first female child, Stella is not a part of Hollywood.
Dakota, on the other hand, has had a successful career with movies like the "Fifty Shades of Grey," three-part film to her credit.
The "Need for Speed" star is the third generation, of the women in her family to excel in movies; Griffith's mother, Tippi Hedren, is the first generation.
BEAUTY, BRAINS, AND CLASS
In a recent Instagram post, the Golden Globe winner shared a photo of herself, Tippi, and Dakota, leading one fan to comment:
"Beauty, brains, class, and incredible talent! All in one frame."
Griffith, shares "The Social Network" star, who is dating "Coldplay," singer, Chris Martin, with her first and third husband, Don Johnson.
Out of the actress's four marriages, she married the "Miami Vice," star twice; first in '76 for six months and second from '89 to '96.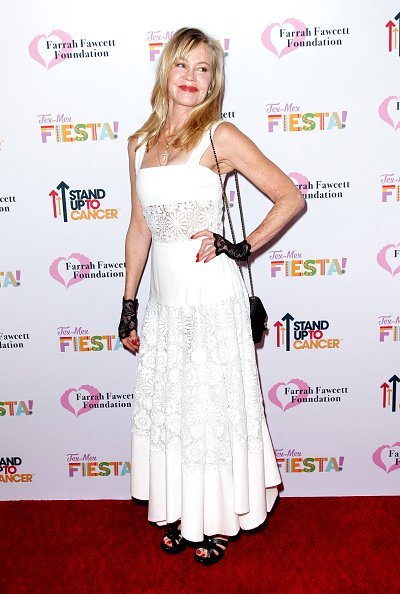 Melanie Griffith attends the Farrah Fawcett Foundation's Tex-Mex Fiesta at Wallis Annenberg Center for the Performing Arts in Beverly Hills | Photo: Getty Images
Between '81 to '89, the "Body Double," star was married to "Scarface" actor, Steven Bauer, with whom she shares a son, Alexander Bauer. In '96, Griffith married Banderas, and it became her longest marriage, until their divorce in 2015.
Please fill in your e-mail so we can share with you our top stories!