Miranda Lambert Shares Photos of Carrie Underwood and Why She Should Win 2019 CMA Entertainer of the Year
Miranda Lambert takes to social media to campaign for Carrie Underwood to take home the 2019 CMA award for 'Entertainer of the Year.' Fans rally behind her.
Female country music stars have shown CMA host, Carrie Underwood a lot of love in the past week. Kelly Clarkson opened up her show by performing a powerful rendition of Underwood's hit song, "Before He Cheats."
Recently, Miranda Lambert discussed the CMA award nominees for "Entertainer of the Year," and she is rooting for Underwood. Underwood is the only female to be nominated for the award this year. She is up against Chris Stapleton, Garth Brooks, Keith Urban, and Eric Church.
Congratulations to all of the #CMAawards nominees! ✨

Watch Wednesday, Nov. 13 at 8|7c on @ABCNetwork as we celebrate Country Music's Biggest Night! pic.twitter.com/rGSTeKADbd

— CMA Country Music (@CountryMusic) August 28, 2019
In a lengthy Instagram post she honors the nominees for the impact they have had on her own life. Lambert reveals that Urban took her on her first big tour, Brook's music was the first cassette she purchased with her own money from chores. 
She goes on to say, Church is one of the best writers of all time and Stapleton has the kind of sound that is unbeatable. Leaving the best for last she sings praising about Underwood's achievements.
"Carrie- The Entertainer Of The Year. Because...Currently being on tour with all female artists, I've been thinking a lot about all the work that goes into what we do. The most amazing job in the world. But it ain't for the faint of heart," she starts off in explaining her choice for 'Entertainer of the Year.'
Standing by her fellow female artist she points out that Underwood, who is on an all-female tour, for the "Cry Pretty Tour 360" has changed country music, since releasing her first single in 2005.
Lambert goes on to list several reasons why Underwood has been a star for over a decade. She acknowledges that her star quality comes from her voice, legs, songs and brand and role as a wife and mother. Fans agree with her nomination.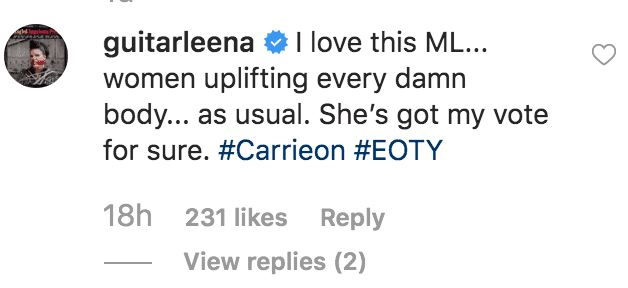 Inspired by her message, one fan writes:
"This is part of the reason why I love country music so much. People cheering on others in the same business!"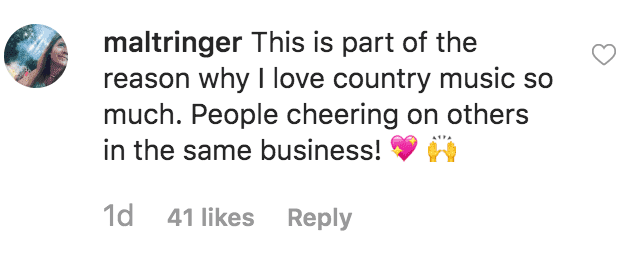 "The blonde bombshell that is Carrie. She blows me away every time I hear her sing. She never wavers in who she is or what she stands for. She has stayed true & pushed herself to be better," Lambert continues.
Giving her endorsement of Underwood's nomination with her personal seal of approval Lambert ends with:
"If you have never heard her sing "How Great Thou Art" do yourself a favor and listen. I have her back in this picture and I'll always have her back. So for the sake of sequins, spanx and spray tans, take it home! You Carrie the torch! ?#Carrieon #EOTY."
It is reported, Underwood was first nominated for the award in 2016, when Brooks took home the honor. If she wins this year, she will be the first female to be nominated for "Entertainer of the Year," since Taylor Swift's win in 2011.