Ivanka Trump Flaunts Her Figure in Green Cropped Pantsuit and High Heels While in Texas
The first daughter of the United States, Ivanka Trump graced the El Centro College, Texas, dressed in a green tailored suit, and a pair of high heels. 
The 37-year-old looked stunning as she joined the google team, including CEO Sundar Pichai, for a roundtable discussion. Ivanka Trump has, in the past, proven her prowess as a working-class mother and a philanthropist.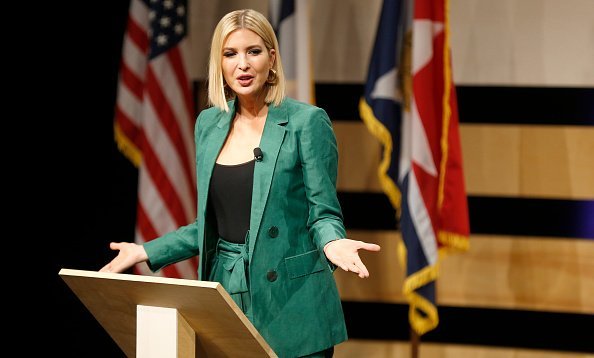 Last week in Texas, the first daughter of the United States also proved to be the goddess of her wardrobe, easily stealing the spotlight in a meeting held at the El Centro College, Dallas, which had Google's CEO in attendance.
IVANKA SLAYS IN GREEN SUIT
Fully prepared for the business of the day, Ivanka set out in green pants and matching blazer worn over a black, low-necked tank top. Adorning her feet was a pair of black, high heeled shoes.
The killer outfit was complimented with her short, blond hairdo, and a perfect smile. The mother of three looked the part as she joined the gathering of intellectuals to discuss the improvement of skilled human resources in the country. 
RIGHT ON TO THE BUSINESS OF THE DAY
During the Dallas visit, CEO, Sundar Pichai revealed Google's plans to expand its IT Support Professional Certificate training to 100 colleges in contrast to the 30 colleges that were benefactors of the initial outreach. 
The program, which was introduced in July last year, runs for six months and is centered on training under-skilled workers, and students.
CREATING A BALANCE
Despite her hectic work schedule and mom role, the mother of three still manages to look chic at all times.
In 2017, Ivanka launched a book titled "Women Who Work: Rewriting The Rules For Success," in which she expanded on the challenges of working-class women faced with balancing work and motherhood.
In the motivational book, Ivanka Trump gave useful tips on how she manages to balance it all out and shuffle between her roles as a wife, mother, daughter, and still remain a successful career woman.
One can't help but love this stylish mother of three!