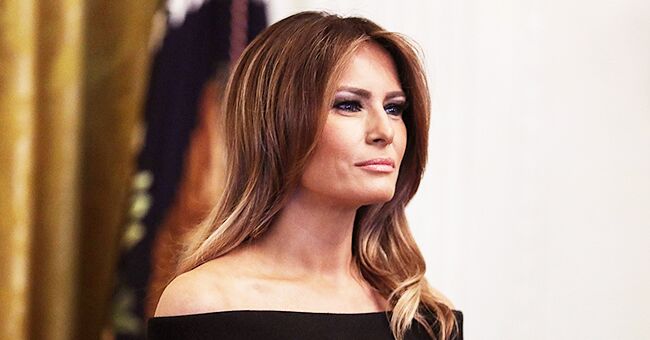 Getty Images
Melania Trump's Sister Ines Knauss Posts Beautiful Old Photos of the First Lady, Her Husband & Son Barron

Ines Knauss took a trip down memory lane and posted throwback photos of her sister, Melania Trump, and her family on Instagram.
Melania Trump has an older sister named Ines Knauss, who the public doesn't hear much of, and recently she posted years-old photos of her sister and her family on Instagram.
Most of the posts looked like snippets from magazines with most having Trump's son, Barron, in them. One photo quoted the first lady describing her then-baby as "smart" and "happy" in 2006.
Another snap came from In Touch magazine and showed Trump in a white button-down shirt and shades, candidly carrying her child.
Knauss also shared a photo from a magazine dating to 2007, where baby Barron sat beside Donald Trump's Hollywood star. The magazine quoted a witness who said:
"Donald was very serious during the ceremony, but Barron was laughing the whole time."
One of the memorable photos Knauss posted was that of Harper Bazaar's magazine cover, featuring a very young Trump, who pretty much looked like a supermodel.
THE SISTERS
Trump and her sister, although not visible, are quite close. The two were born to Viktor Knavs and Amalija Ulcnik in a small town in Slovenia.
The sisters moved to Milan in the '90s, where they both ventured into the fashion industry, Trump as a model and Knauss as a fashion designer. Photographer Ale de Basseville spoke of her:
"She really wanted to be in fashion but didn't know how to break in. Ines wasn't like the other girls you would meet there, who behave like queens. She was really polite and very mellow."
AS A PARENT
When the first lady had her first son, everything changed as Barron became the focus of her life. Her husband, Donald, focused on running his multinational corporation and so the matriarch did most of the parenting.
Before starting her jewelry line, Trump made sure that her son began school and all parenting obligations were filled. She saw parenting as her top priority; hence, Barron always came first.
BARRON TRUMP
Barron is the president's youngest son and only child with his current wife. Apart from being the presidential son, he still does normal things a child does like playing with LEGO blocks, among others.
Trump sees her son in resemblance to her husband, especially in the way they dress and their hairstyle. She also shared similarities in their personalities, including their determination and being outspoken
Please fill in your e-mail so we can share with you our top stories!