Rihanna Addresses Pregnancy Rumors in a New Video Interview with Vogue's Anna Wintour
Rihanna addressed pregnancy rumors in a video interview with Anna Wintour for her "Go Ask Anna," project.
When the November issue of Vogue hit the newsstands, singer, beauty and fashion entrepreneur, Rihanna's face will be on the cover page. But before that, she had an interview with the fashion magazine's Anna Wintour for her "Go Ask Anna" project.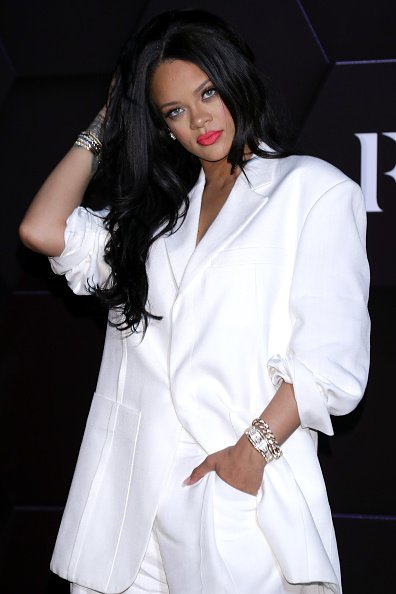 In a clip of the interview shared on Instagram, and reposted by The Shade Room, the fashionable Wintour sitting behind her desk in her posh office asked the "Work," singer pointedly,
"Rihanna, do you hope to have a baby soon."
The question threw the singer off for a moment, causing her to laugh, and stutter, but she recovered and responded,
"I haven't thought about stuff like that, but you know, God's plan. I look forward to all the pregnancy rumors after this interview."
The rumor that Rihanna could have a bun cooking in her oven has been making the rounds for a while now, but nothing came of it. Most recently, the pregnancy rumors got fueled after the "Unfaithful," singer said in a September interview that she would give birth to a black woman.
"I'm a black woman," she said, "I come from a black woman, who came from a black woman, and I'm going to give birth to a black woman."
Rihanna added,
"That's who I am. It's the core of who I am in spirit and DNA."
.@Rihanna on Black women: "We are impeccable. We're special and the world is just going to have to deal with that." #DiamondBall pic.twitter.com/B94SQXwuWa

— ESSENCE (@Essence) September 13, 2019
The statement started an online debate among her fans on Twitter, with some maintaining she's pregnant and others arguing that it's not prudent to make that conclusion based on a single statement. 
That same month, the singer appeared to present her fans with evidence at her annual Diamond Ball.
Fans noticed Rihanna's stomach appeared to have a slight bump, but it turned out to be a product of her weight gain, which she once attributed to the happiness she feels, as a successful businesswoman and singer.
With this new interview, the Fenty Beauty creator has hopefully put an end to the rumors, as there's no mini "Riri" on the way.