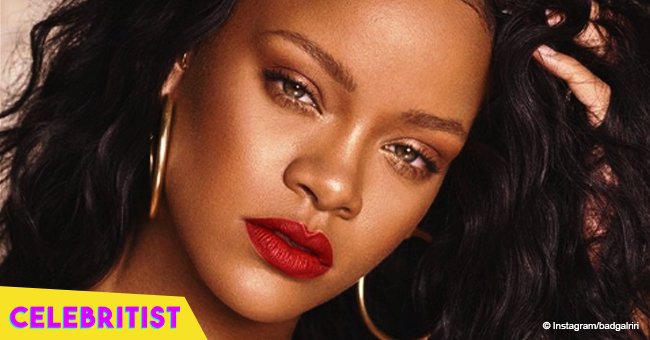 Rihanna wraps her fuller curves in gold trench coat in pic after becoming 'thicc'
Rihanna embraces her figure and flaunts her curves in a new Instagram photo. The American singer and fashion icon sported a gold trench coat and strappy heels after becoming 'thicc'.
Rihanna just posted a photo of herself flaunting her curves in a gold trench coat, strappy heels, and rectangular shades – and everyone is absolutely in love with it. The photo was captioned: "my fav blue eyed German caught me flexin @dennisleupold." and received over 2 million likes and thousands of comments praising Rihanna's ever so gorgeous self.
The 30-year-old singer superstar embraced her emphasized curves after becoming 'thicc.' In British Vogue magazine, she was asked why she believes "she's the woman every woman fancies." She said,
"Maybe it's because I'm 'thicc' now. I don't know. I'm about to get back into the gym and stuff, and I hope I don't lose my butt or my hips or all of my thighs. I'll lose some but not all. And I think of my boobs, like, 'Imma lose everything, everything goes! But, you know, it comes with a price," She continued, "you want to have a butt, then you have a gut."
RiRi also shared her piece of advice when it comes to dating, "I think a lot of people meet people and then they're dating the idea of what the person could become, and that person never shows up and then they're just mad disappointed," she explains.
"A person can always get better, they can always get worse, but you've got to be fine with what you met them as."
Her September cover of British Vogue's biggest fashion issue came side-by-side with Beyonce's, who was the cover for US Vogue. While their similarities in styling caused quite the debate, it cannot be denied that these two music icons are the most influential in this day and age, and they both truly deserve their own covers.
The two of them are America's most loved and influential singers who have done more than perform to be a positive impact on others. Rihanna is not only a singer and fashion icon, but also a businesswoman and advocate of charitable deeds. Hearing beautiful life advice from someone like her is something motivating and inspirational. Likewise, Beyonce herself has been busy with her own active line, Ivy Park, and of course, with a lot of charitable works that she does with her husband Jay-Z.
Through their empires, they hope to be the change they want to see in the world.
Please fill in your e-mail so we can share with you our top stories!