Simone Biles Broke a Record at World Championships with Her Impressive Performances
Simone Biles is leaving a mark on the world at the 2019 gymnastics world championships in Stuttgart, Germany.
Biles, 22, competed in the qualifying rounds of the world championships as part of Team USA recently.
"It's always nerve-wracking because qualifications qualify you into everything."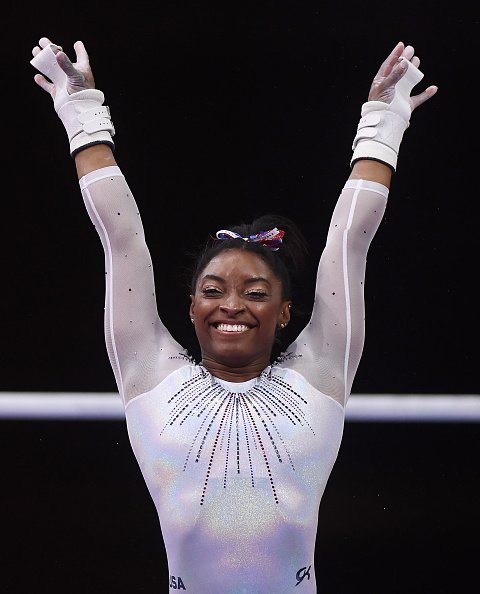 Led by Biles' performance, Team USA completed the qualifying rounds at the highest point of the rankings. Biles also scored the highest all-around score.
The video shared by Team USA on Twitter shows Biles making her very own signature moves.
The first move, which is known as the triple-double element, came at the end of her incredible floor routine.
Introducing the 𝐁𝐢𝐥𝐞𝐬 𝐈𝐈. #Stuttgart2019 | @Simone_Biles pic.twitter.com/AYIDZwCmAJ

— Team USA (@TeamUSA) October 5, 2019
This move will be formally known as the Biles II element if approved by the FIG, as reported by Simple Most.
In another video, the gymnast performed her signature double-double dismount from the balance beam.
She can be seen doing a backflip off the beam and throws in two twists for this move.
There you have it, folks! 👇 @Simone_Biles successfully landed her signature double-double dismount on beam today and the element will be named the "Biles" from now on. #Stuttgart2019 pic.twitter.com/BO38BaCQ8g

— Team USA (@TeamUSA) October 5, 2019
In an interview with NBC, Biles said, "My main goal going into tonight was not to be great but to just do well. It's always nerve-wracking because qualifications qualify you into everything. Waking up, it's just like, oh gosh, what's going to happen tonight?"
Meanwhile, many people were impressed by Biles's performances.
One person wrote, "This young lady is so exceptional just watching it makes me cry. I just can't fathom the magnitude of her will, imagination and determination. Wow, just wow!"
"Gave me such a big smile! So proud to have this phenom represent the USA. Such a joy to watch," added another.
"Told my kiddo to watch this because she has super powers: Simone Biles can fly," commented another user.
Someone else wrote, "She may go down as the best American Athlete of all time at this rate. She's so precise in every event she does. She and Gabriel Douglas are the reasons I appreciate gymnastics so much now."
The Guardian reported that Biles won a record 21st medal at the recent world gymnastics championships. She broke a tie with Svetlana Khorkina, a Russian gymnast, for the most medals by a woman at the world championships.