Simone Biles' Boyfriend Stacey Ervin Pays Tribute to Her after She Becomes the Most Decorated Female Gymnast Ever
Simone Biles got a heartfelt tribute from her man on social media after she broke the world record to become the most decorated female gymnast ever.
Simone Biles broke the world record to become the first female gymnast with 21 medals, out of which 15 is gold, at the World Championships in Germany. To celebrate the feat, her boyfriend, Stacey Ervin, wrote a touching tribute to her alongside a photo of the two of them smiling on Instagram.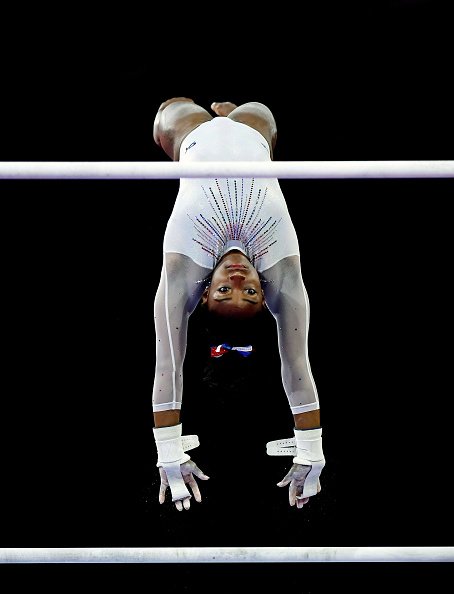 "With team USA's gold medal and performance at the World Championships yesterday, Simone became the woman with the most World Championship medals, ever (21)!" he wrote. Stacey continued,
"Proud is an understatement. Keep that energy as you head into the AA and EF. You got this!"
The 22-year old Simone, competed alongside team USA, and the win made it the fifth consecutive win for the young gymnast, and her team, in five years. She scored the highest points individually, and speaking about her success, the Texan said, 
"I guess it's kind of crazy; I don't really think about [it]. I think it's really impressive for someone to be able to do that."
With fifteen gold medals, Simone also holds a world record, and retired gymnast, Nadia Comaneci, told USA TODAY Sports about her,
"If we're talking about domination, nothing like this has ever happened in our sport. I don't think there will ever be anything like that. She's one of a kind."
While the world is celebrating Simone and her GOAT status, everything in her life is not sunshine and rainbows. In August, her brother, Tevin Thomas Biles, got arrested for a murder that happened in Cleveland.
Stacey supported her when the news made headlines with these words,
"The strongest people I have met haven't been given an easier life. They've learnt to create strength and happiness from dark places."
Simone's boyfriend is a retired gymnast who now coaches the Men Gymnastics Program at the World Champions Center in Texas. He is a four-time All American, who is happy to cheer his girlfriend on and celebrate her wins.