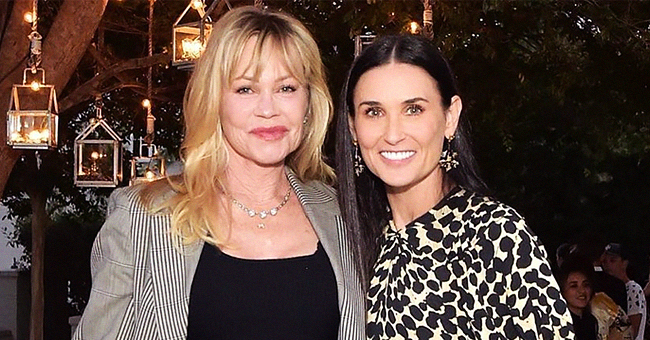 instagram.com/demimoore
Demi Moore Compares Old & Recent Photos with 'Now and Then' Co-Star Melanie Griffith

"Now and Then" co-star, Demi Moore shares a memorable picture with Melanie Griffith, as they step out for Moore's party.
Actress Demi Moore took to Instagram to share recent and throwback pictures of her and long-time friend and colleague, Melanie.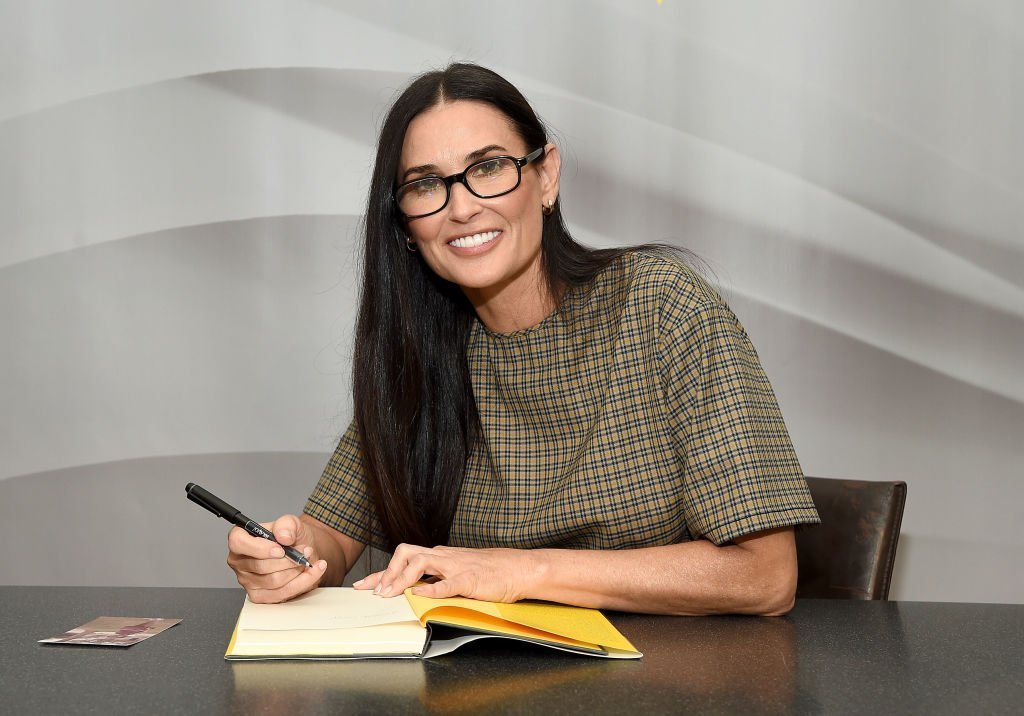 Actress Demi Moore attends the signing of her memoir "Inside Out" at Barnes & Noble Union Square | Photo: Getty Images
The first picture shows the duo standing under a tree, as they pose beside each other. The now 62-year-old Griffith rocked her blonde hair while wearing a striped suit.
Her black top and belt can be boldly seen, courtesy of the unbuttoned jacket, dipping her right hand in a pocket and holding Moore by her waistline with the left hand. The two took this picture while at Moore's book party in LA.
56-year-old Demi appears simple and elegant, as she puts on a leopard print gown, with its sleeves barely reaching her elbow. She parts her hair into two and puts it backward, rocking a black high heel as she shows off her shining teeth. Moore captions the post, "Now and Then @melaniegriffith #TBT."
A fan specifically gushed about Demi's striking beauty saying, "Waw, Demi Moore looks younger in her "Now" picture 2 Beauts." In the other photo, the stars "swapped" their outfits for the recent picture seen before.
Old Griffith seems to love looking blonde, as she does in this old photo and rocking a tiger print gown, placing her hands on Demi's shoulders. Moore wears a black suit and blue undershirt to match, as she looks calm in eyeglasses.
The throwback photo of the two is historical, being the costume for a 1996 film they co-starred in, "Now and Then," a movie about three friends who come together to help their fourth friend through her pregnancy.
Despite the unpleasant reviews when the movie was released, it was a financial success that raked in over $35 million with a projection of just $12 million.
"Now and Then" depicts the unbroken unity and love among four friends, Teeny, Roberta, Chrissy, and Samantha. They all share everything, including their dressing and actions.
Over two decades of starring in the blockbuster movie, Yahoo! reported that both Moore and Melanie had a reunion, and the old film is now being shown on Netflix with Thora Birch playing young Griffith's role and Gabby Hoffmann replacing Moore.
Please fill in your e-mail so we can share with you our top stories!