Eugene Bullard, First African-American Fighter Pilot, Gets a Bronze Statue in Georgia
Eugene Bullard, the first African-American fighter pilot, just got his own bronze statue in Georgia to celebrate his achievements and remind people of his name at the Museum of Aviation near the Robins Air Force Base in Georgia. 
Although his father was born into slavery, he would live to become a fighter pilot against German pilots in European skies.
Breaking Free from Oppression
He ran away from Jim Crow South in the 20th century, riding a boat to Europe by entering a boat, where he was a professional boxer, a jazz band drummer, before becoming a soldier for the French Foreign Legion in World War I. 
Eugene Bullard, who was known as the "Black Swallow of Death," was the first African-American pilot to be given the go signal to fly in combat following his Croix de Guerre award for his heroism at the Battle of Verdun. 
On this day in 1961, Eugene Bullard died at age 67. Learn more about Bullard, the first African American military pilot to fly in combat: https://t.co/4Fw2gymk2k pic.twitter.com/kgygeZFr7N

— National Air and Space Museum (@airandspace) October 12, 2019
The US' Recognition of Bullard
At the time, he was not accepted into the US Military because they did not accept Black men and women at the time. He ended up spying for the French Resistance, eventually retiring in New York with the rest of his family. 
Celebrating his life and many achievements, he was given a statue in his honor in Warner Robins, Georgia, at the Museum of Aviation approximately 100 miles south of Atlanta. 
"May this statue honor his accomplishments and remain as a living symbol of French-American friendship for years to come."

➖Consul General Vincent Hommeril, at the unveiling of a statue honoring Eugene Bullard, who served 🇫🇷France & was the 1st African-American fighter pilot pic.twitter.com/c0ZIGcpWm6

— Consulate of France in Atlanta (@FranceAtlanta) October 10, 2019
The Bullard Family's Pride
His distant cousin, Harriett Bullard White, shared that she wept for joy as she was given the honor of placing a wreath on the statue reveal ceremony, with Air Force officers, the surviving members of the Tuskegee airmen, and two dozen family members.
"All my life I'd known how great he was. Of course, no one else knew who he is. He's an American hero and someone all Americans should know about."
Now, his six-foot, three-inch bronze monument gives him the recognition that he deserves. 
In World War I, Eugene Bullard became the world's first African American military pilot while fighting for France. On Wednesday, which would have been his 124th birthday, he was honored at the Museum of Aviation. https://t.co/zyRGi16yHq

— Stars and Stripes (@starsandstripes) October 10, 2019
Another Monument for African-American Changemakers
A couple of months ago, Althea Gibson, who was the first African-American to win a Grand Slam title, was also being honored for her achievements at the US Open. 
Happy Birthday To Althea Gibson, the first Black Tennis player to win a Grand Slam! #BlackGirlsRock indeed!💪🏿🙌🏿🎉 🎾|| 📸 Bettmann/Getty pic.twitter.com/Itw1i31EYu

— BET (@BET) August 25, 2019
Just like Bullard's experience, In the 1950s, women were not being paid for playing tennis, and most of the country was segregated into Whites and Blacks. However, Althea Gibson was relentless in her pursuit of becoming the first African-American to succeed at Tennis, and that's exactly what she did. 
Breaking Barriers of Colorism
In 1950, she became the first black woman to compete in the US National Championships, breaking the color barrier in tennis for everyone else to follow suit. Gibson went on to compete at the French Open in 1956, where she won her first Grand Slam title. 
Now, she stands right outside the Arthur Ashe Stadium on the US Tennis Association Billie Jean King National Tennis Center in New York, where thousands of fans can stand in awe of a legend that they were not able to meet in person.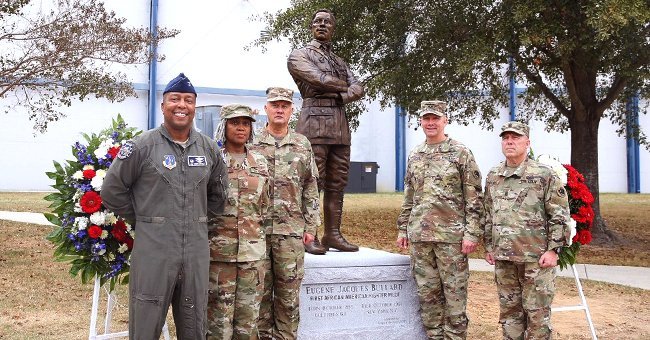 The same way Althea can now be seen by thousands of people, so will Bullard, who is set to be remembered for his heroism now that he has his own monument.