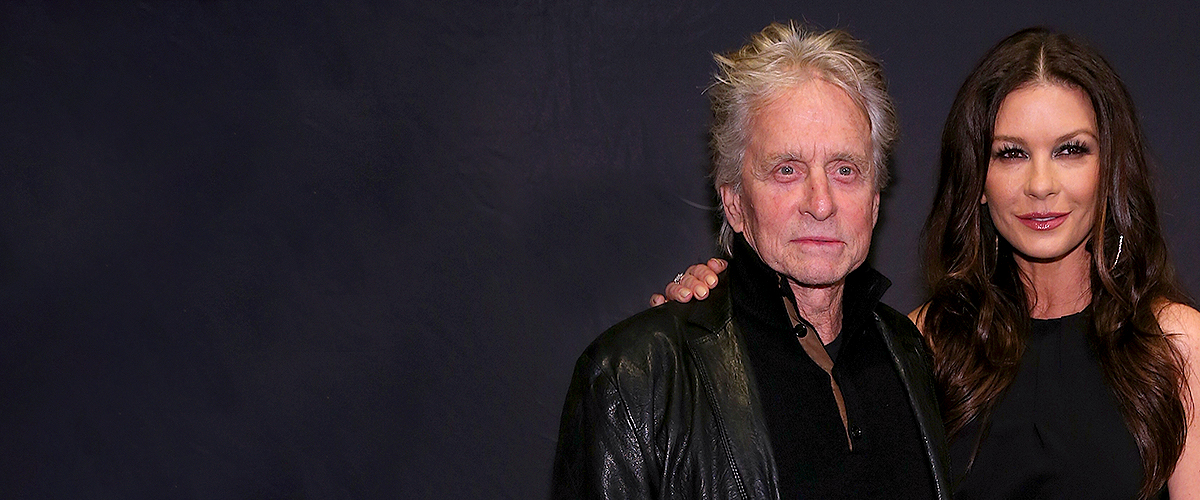 Getty Images
Michael Douglas' Children Carys and Dylan Are All Grown up in Classy Black and White Photo
Dylan, the son of actors Michael Douglas and Catherine Zeta-Jones, took to Instagram to share a black-and-white photo posing next to his sister, Carys.
Both Carys and Dylan are the only children that Michael and Catherine have had together. The married couple met each other at the 1996 Deauville Film Festival held in France.
"Don't be the first one to jump!"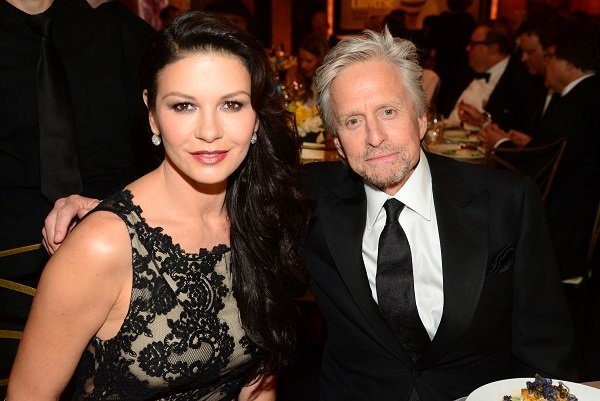 Catherine Zeta-Jones and Michael Douglas on June 5, 2014 in Hollywood, California | Source: Getty Images
It was not the best first impression
Even though the actor had asked to meet Catherine at the time, she thought he was not really into her when he passed her straight at the hotel lobby. However, Michael later made a bold move: he said he wanted to be the father of her children.
Realizing his previous mistake, Douglas apologized with flowers, and the pair started dating soon after that. One of the most shocking aspects of their relationship is that Michael is 25 years older than Catherine.
The question that could have changed everything
However, it didn't really matter as Catherine revealed that, after going out for a few months, she was already in love with Michael.
She wanted to make sure that he really meant what he initially said, though. She asked him if he was willing to have children despite having a son, Cameron, already.
Depending on Michael's response, Catherine was ready to walk away because she couldn't live without having children. Thankfully, the actor stuck to his words, and he wanted to have children, as well.
On November 18, 2000, the couple tied the knot at the Plaza Hotel in New York. Only three months before, they welcomed their first child, Dylan. Carys, on the other hand, was born in April 2003.
The photo of Dylan and Carys
Speaking of Dylan, he took to Instagram on October 10 to share a beautiful black-and-white picture showing him and his sister posing together while wearing very elegant clothes.
The 19-year-old man opted for a white suit and very stylish pants and shoes. To give his ensemble the last sophisticated touch, he put on a Boss of the Plains hat and was holding a cane.
In Carys' case, she chose a stunning sleeveless dress and high heels that made her look as elegant as her brother. According to the location tag of the post, the pair were in Capri, Italy.
Dylan is not shy when it comes to sharing photos of his parents on social media. On September 25, he wished both Catherine and Michael a happy birthday. Oddly enough, they were born on the same day but 25 years apart.
Michael talking about Dylan on the "Ellen DeGeneres Show"
Earlier this month, Michael went to the "Ellen DeGeneres Show" to share some details of his personal and professional life. One of the things he mentioned was his son, whom Ellen labeled as a daredevil.
The host showed a video of Dylan jumping off a cliff and into the water and asked Michael about his thoughts on those kinds of activities.
After saying that his son has also skydived, Michael said that most of the things that men do at that age were "a hormonal thing" and a way of testing themselves. He complained about Dylan jumping first, though:
"What I did not like is he was the first one to jump. I said, 'Don't be the first one to jump! Let a couple of other people go off first to test it' … So, I said, 'Okay, just don't be first!'"
Catherine Zeta-Jones' family posts
Catherine is also very proud of her children as she uploads photos or videos of them on her social media accounts frequently. In April this year, for example, she shared a clip of Dylan performing with a rock band when he was younger.
Soon later, she shared another video showing her children and husband flying on a small plane several years ago. Everybody on the flight, including Michael, looked very excited.
At the moment, both Michael and Catherine are focused on their family and careers in the entertainment industry. In Michael's case, he is expected to voice over Hank Pym in the upcoming Marvel TV series "What If…?"
Apart from that, he is working on "The Kominsky Method." Catherine, on the other hand, got her most recent acting gig in the Facebook Watch series "Queen America." Even though they have been married for almost two decades, Catherine still gives Michael butterflies!
Please fill in your e-mail so we can share with you our top stories!