Daphne Oz Reacts to Video of Dad Pulling Hilaria Baldwin's Daughter's Tooth Out
Hilaria Thomas Baldwin recently posted a video of her husband pulling out their daughter's tooth, to which Daphne Oz reacted: "Carmen was so brave!!!"
Hilaria Baldwin posted a clip of Dr. Oz pulling out their daughter, Carmen's, tooth outdoors. The child didn't cry and barely reacted, showing much courage. Baldwin captioned the video:
"Tooth number 2 is out! I don't know if I would be brave enough to pull it out!"
Many followers commented on the post, including Dr. Oz and Daphne Oz, who both praised Carmen for being brave. The talk show host wrote:
"Welcome to my childhood. Carmen was so brave!!!"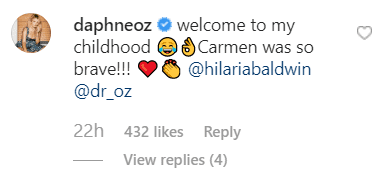 Dr. Oz confirmed that he had "plenty of practice" pulling out baby teeth with his own children and grandchildren, including Daphne's three kids with John Jovanovich. 
Recently, the host became a mom for the fourth time around, after delivering a healthy baby girl, Giovanna "Gigi" Ines in August. They also have three kids, Domenica Celine, Philomena Bijou, and Jovan Jr.

The "Master Chef Junior" judge revealed that her recent pregnancy was her most difficult one to handle physically as she battled to have self-esteem through those months. She said:
"It's physically daunting. I've been pregnant four times in five years now. On the one hand, your body is so resilient; it's truly incredible what the human body is capable of. But on the other it's like, 'Whoa, can you give me a break for a second?"
Daphne and her husband met during their college years at Princeton University and dated for a few years before tying the knot at the Municipal Bureau of Manhattan in 201.
They have since been happily married, with no scandals attached to their relationship. Often, the mom-of-four shares photos and videos of her family on Instagram.
One of her more recent family photos came after Gigi was born, where her whole family welcomed her at the hospital. She captioned the post:
"Our beautiful girl is here!! Giovanna Ines Jovanovic (Gigi!!) joined our family Wednesday, August 14, 2019, at 9:03pm and our hearts and hospital bed have never been so full."
Despite both being busy, the couple makes it a point to spend time together as a family, all while supporting each other in their respective careers.