A Look at Brad Paisley and Kimberly Williams' Love Story: 'He Stalked Me'
Country music singer Brad Paisley has been married to the "Father of the Bride" actress Kimberly Williams since March 2003. Their love story is one of a kind!
Even though Brad is only 46 years old, he has accomplished several milestones in the entertainment industry.
Kimberly jokingly labeled her husband as "a stalker."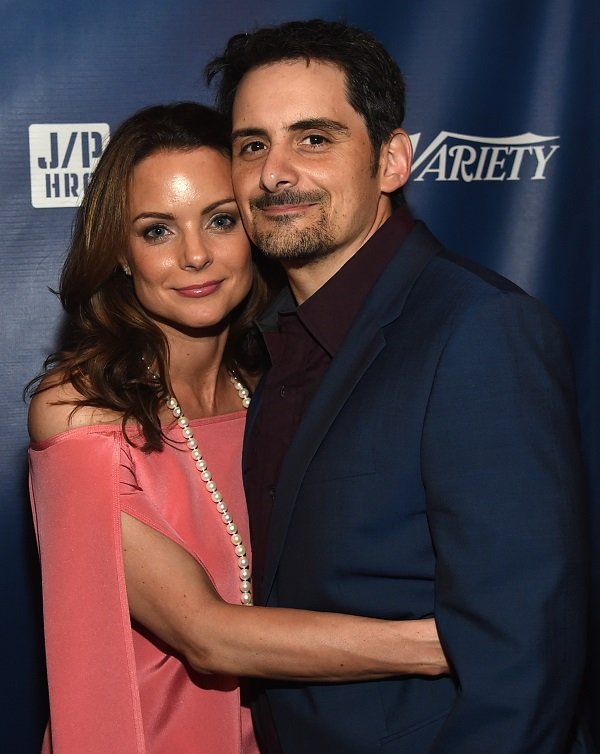 Brad Paisley's career
In 2009, for example, he set a new record for the most consecutive singles reaching the top spot on the US Billboard Country Airplay chart (10).
Brad and Kimberly's love story started in 1991 when the singer, who has won three Grammys, 14 ACM awards, 14 CMA awards, and two AMAs, was watching "Father of the Bride." In the film, Kimberly worked next to Steve Martin and Diane Keaton.
How their love story started
As soon as Brad saw Kimberly on the screen, he felt attracted. One of the most striking aspects of it was that he was on a date with another girl while watching the film. However, nothing happened at that point.
Four years later, his girlfriend left him for his best friend, and Brad was devastated. He decided to watch "Father of the Bride II" on his own and, surprisingly or not, Kimberly cheered him up through the screen.
After seeing her again, he thought that she seemed like a "great girl," "smart, and funny, and all those things that are so hard to find." Although he was very passionate about Kimberly for several years, their paths only crossed in 2000.
At that point, Brad Paisley was already a famous country music artist. In one of his songs, he told a bit of the story about his experience with his ex-girlfriend and how he watched "Father of the Bride."
With that precedent, he asked Kimberly to be part of the music video of his song "I'm Gonna Miss Her," and she accepted. Soon after that, they started dating.
In 2002, Brad proposed at Venice Beach Pier, and she said yes! On March 15, 2003, the couple tied the knot at the Stauffer Chapel at Pepperdine University in Malibu, California.
Kimberly Williams said that Brad "stalked" her
During an interview on "The Meredith Vieira Show," Kimberly jokingly labeled her husband as "a stalker" based on how he fell in love with her. He said that, years after breaking up with his then-girlfriend, he "woke up one day and decided to call me."
In a different conversation with "Good Morning America," Kimberly said: "He stalked me." She added that he could have ended up "either in jail or marriage," but he chose to marry him.
The actress also pointed out that, despite all the years they have spent together, she is still one of her biggest fans, especially when she goes to his shows. After saying that she doesn't go to all of her shows, she said:
"When I do go out, I sit where they have the soundboard … and I find myself going like, 'Oh! Maybe he'll look at me!'"
The couple renewed their vows
At the moment, the couple has two children: William Huckleberry and Jasper Warren, born in February 2007 and April 2009, respectively.
In March 2015, Brad and Kimberly renewed their wedding vows in a "really campy" ceremony. The actress revealed that the event took place at a friend's house and that she even put on a wedding dress. About the ceremony, she said:
"We had a traditional wedding march… Our processional walk. It was very casual and very campy and silly. It was perfect."
Talking to The Boot, Brad revealed that he and his wife had "very healthy" senses of humor and even considered that it was the key to a good relationship. He also pointed out that pretensions should be "completely gone" in a marriage.
At the moment, the couple lives in Nashville and is focused on their family and careers. In Brad's case, he released "My Miracle" in March 2019, one of the singles of his upcoming album. Sadly, Brad will not host this year's CMA Awards.
Kimberly's year, on the other hand, has also been quite busy. Apart from taking a minor role on "The Flash," she worked on the upcoming drama film "The Violent Heart," which is expected to be released in 2020.