Khloé Kardashian Says She's Forgiven Ex Tristan Thompson 8 Months after Breaking Up
Khloe Kardashian opens up about how she has been coping in the months after Jordyn Woods and Tristan Thompson's cheating scandal came out. The reality shares her perspective on forgiveness and co-parenting.
After the news broke that Tristan Thompson kissed family friend, Jordyn Woods. It has been eight months since Khloe Kardashian ended their relationship.
On an episode of Jay Shetty's podcast, On Purpose, the "Keeping Up With The Kardashians" star reveals that she is not dating and is not interested in being in a relationship, at the moment.
Despite Tristan's infidelity during the course of their 3-year relationship, she is adamant that she has forgiven him, she explains:
"I don't think he's a bad person; I think we all make mistakes, we are humans. But it's only going to hurt me if I'm holding onto this anger and playing this victim role."
"I don't believe in being a victim. I believe in 'Okay this happened to me, let's figure it out, let's push through it,' and maybe if I am open and honest about it, it can help other people feel like, 'It's okay, we are all human, we are all going to get through things," Kardashian says about her how she is healing after their breakup.
She tells Shetty that the people in her family have really big hearts and because of that, she has been able to move on. However, Kardashian admits that her family don't really talk about the negative things that happened, which she says she is not sure of it's a healthy reaction or not.
Kardashian reveals that after being cheated on, she doesn't want to be seen as a victim. She feels that many people have gone through a similar experiences and have come out of it fine. Ultimately she wants to set an example for her daughter about forgiveness, she explains:
"I want to show my daughter that it's okay and it's a beautiful thing to also forgive her dad, he's a great person. Maybe him and I weren't compatible in that way, but that is okay."
What has Khloe Kardashian vowed to NEVER do? #KhloeKardashian #TristanThompson #KUWTK pic.twitter.com/5KcjOiYENR

— BANG Showbiz (@BANGShowbiz) October 15, 2019
Putting her situation into perspective and realizing the effects that her actions will have on her daughter, she continues:
"Nobody is going to die here, and I always want True to be surrounded by love. I know babies feel energy, we feel energy, and I just feel just bliss as much as I can."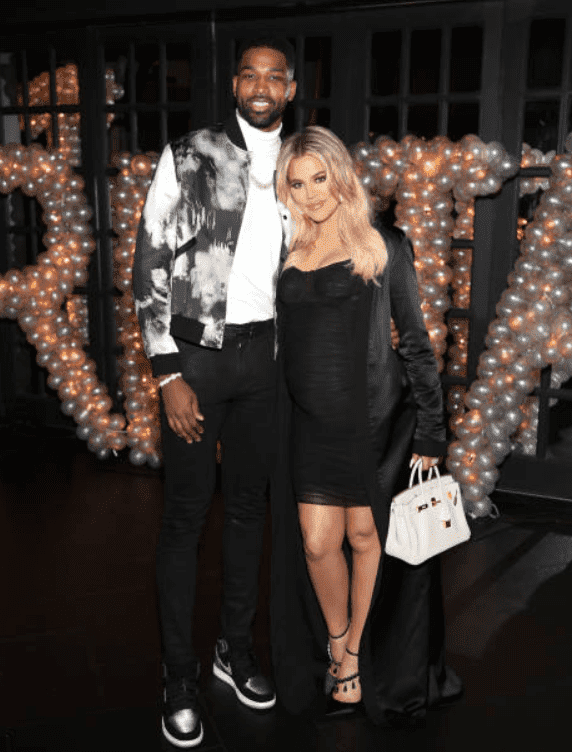 "He never hurt True. Him and I have our own relationship and Tristan and True have theirs. I will never come between that, I don't believe in that," she adds.
Kardashian tells Shetty, her outlook on co-parenting has been largely influenced by the relationship her parents had after they divorced.
She's also been inspired by her sister, Kourtney Kardashian and her ex-boyfriend, Scott Disick's ability to co-parent so well.
Despite her efforts to focus on co-parenting, it is reported, a source close to Kardashian says that Thompson is still pursuing her and she has moments of considering getting back together with him.