Kevin Costner of 'Bodyguard' Is a Doting Husband — Meet His Wife Christine
"Bodyguard" star, Kevin Costner, knows what it means to have a successful career, but despite a growing list of achievements, one thing he holds dearly is his wife and children. 
Kevin Costner's rise to success didn't come without challenges, but the star managed to push through the odds on his way to becoming an award-winning actor and face of many hit movies and television drama series.
In addition to building a great legacy in his career, Kevin Costner also strives to have a strong, closely-knit family and exemplifies this in the way he dotes over his wife, Christine Baumgartner, and his seven children. 
Born on March 4, 1974, the 45-year-old Christine used to be a model before becoming a handbag designer. The beautiful Christine and Costner's first meeting didn't really stoke any fires as it took another ten years after that meeting before they exchanged numbers.
Their relationship ended two years after they started dating back in 2002, as the lovebirds broke up, citing differences. Costner's friends revealed then that the actor didn't want children, and such a wish was too complicating to the short relationship.
However, Christine told Costner that she would wait for him, though not for long, asking him to come back to her when he came back to his senses.
The actor did indeed go back to her, and they got engaged in 2003, before sealing their union in 2004. Since their marriage, the couple has welcomed three children, twelve-year-old Hayden, ten-year-old Hayes, and nine-year-old Grace.
Their marriage continues to tick, with the actor attributing it to a simple trick, he said:
"Maybe it's the ability to say you're sorry. I know that sounds so simple." 
Before Christine and Kevin became an item, he had already been married once and was a father of four children. Kevin Costner's first wife was Cindy Silva, who he met while as a student at California State University.
The pair married in 1978, going on to have three children, Annie, 35, Lily, 32, and Joe, 31. The marriage crashed, though in a peaceful divorce, in 1994, after rumors of Kevin's infidelity.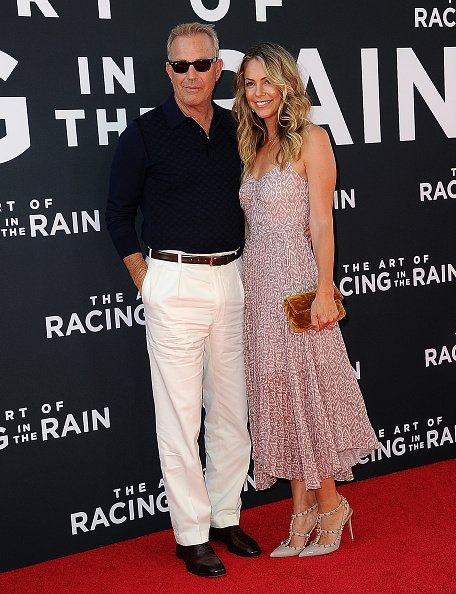 He soon had another affair with Bridge Rooney that soon went awry, after which she claimed he was the father of her son, Liam. Kevin didn't believe her claims until a paternity test was conducted, which proved he was indeed Liam's father.
Since then, the actor has put up a trust fund for Liam, now 23, and gets to see him occasionally, but on an irregular basis. 
Kevin Costner values the importance of his wife and kids so much and holds nothing above them.
The actor revealed that raising his children has always been his biggest priority in an interview with "IndieWire," where he spoke about his role as John Dutton, in the drama, "Yellowstone."
The actor's love for his children could also be seen in his speech after winning the Lifetime Achievement Award at the 20th Annual Critics' Awards in 2015, where he stated that "his children have always been his biggest movies."