Beyoncé Wears Hoodie While Shopping with Blue Ivy Who Looks so Grown up with Her Long Braids
Beyoncé stepped out earlier this week for some shopping and tried to keep a low profile in a hoodie. Her daughter, Blue Ivy, didn't seem to be into the subtle movement, though, as she showed off long braids.
Being a global superstar sure comes with its perks, but it also means a quick shopping trip may require some extra caution.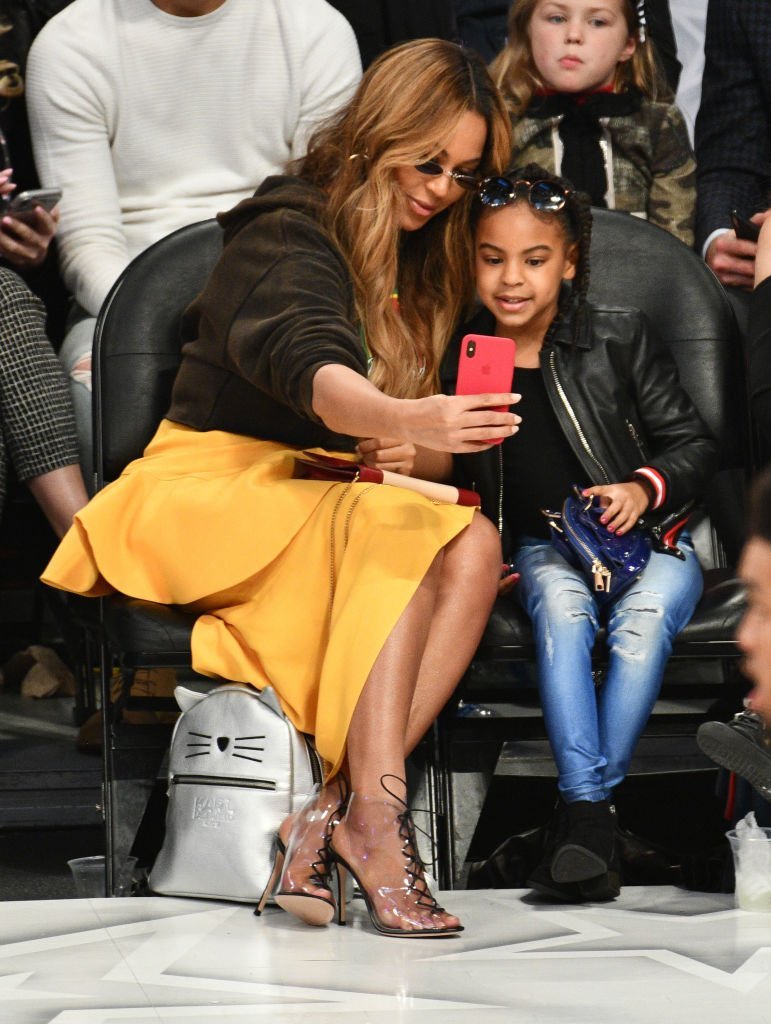 By now, Beyoncé is no stranger to drawing attention, so it's no surprise she chose to hide her face behind a grey hoodie on Monday when she stepped out to Barneys New York in Beverly Hills with Blue in tow.
As though that was not enough to stand her out, the singer's hairstyle choice was a sleek floor-length ponytail.
In photos obtained by Daily Mail, the "Crazy In Love" hitmaker paired her hooded sweatshirt with matching pants and a pair of classic Adidas sneakers. For the most part, Queen Bey kept her face hidden even though her hair was visible from the hoodie.
Blue, on the other hand, didn't seem to share her mother's need for privacy. Like any other seven-year-old, she looked excited as she bounced down the stairs ahead of Beyoncé.
Blue rocked a white Ivy Park T-shirt, black leggings, and white platform sneakers. To top it all off, she sported waist-length braids that made us wonder how time flew so fast. It seemed like only yesterday when Beyoncé and her husband Jay-Z announced their first child was born.
Way too cute. https://t.co/ILklUnjp2o

— Metro Entertainment (@Metro_Ents) October 16, 2019
According to Daily Mail, Beyoncé and Blue slipped out through the back door at Barneys and were accompanied by a hefty bodyguard before both ladies left in a car.
Beyoncé and Blue have a reputation for showcasing exquisite style over the years, and this won't be the first time both mother and daughter are making headlines.
In 2017, the duo showed off matching hydrangea-print chiffon dresses during a visit to the Museum of Ice Cream in Los Angeles. Beyoncé was pregnant with twins Rumi and Sir at the time and glowed effortlessly in the $5,395 dress, per E! News.
The "Lemonade" singer also seems to be a fan of Barneys New York because, two years ago, she visited the high-class department store for some retail therapy during her pregnancy.
Pregnant Beyoncé keeps a hand on her bump while out on low-key Beverly Hills shopping trip https://t.co/IyiUsMzBRn pic.twitter.com/6mO16nNCWY

— People (@people) February 17, 2017
According to ET Online, for that outing, Beyoncé went casual in oversized men's t-shirt, shorts, and white sneakers.
While Beyoncé, 38, might have dressed down for her and Blue's latest trip to Barneys, she was all glammed up last week as she showed up with Jay-Z at the Tyler Perry Studios grand opening in Atlanta.
Beyoncé stunned in a custom-made Yousef Al Jasmi gold beaded gown that hugged her curves to perfection. As though that was not enough to stand her out, the singer's hairstyle choice was a sleek floor-length ponytail.
Whether she's sneaking out for some shopping in sweats or making a high-profile appearance, Beyoncé somehow manages to get people talking.