Lyssa Chapman of 'Dog the Bounty Hunter' Pays Tribute to Late Stepmom Beth with Throwback Photo
Famous "Dog the Bounty Hunter" star Lyssa Chapman shares an old picture of her once-estranged stepmother, Beth, and mournfully terms the late beauty a "superhero."
Lyssa and the late Beth didn't always have a cordial relationship, but when the latter was confined to bed as she suffered complications of cancer, the pair mended their relationship. 
BETH AND DUANE SPORT THEIR SIGNATURE BOUNTY HUNTING OUTFITS IN OLD SNAP
Unfortunately, Beth passed away in June, and, going by Lyssa's new post, she is still mourning the loss. Lyssa, who is a mother of two herself, shared a throwback picture of her father, Duane, and Beth on Tuesday. 
The black and white snap features a youthful Duane and Beth fondly holding Lyssa's baby daughter, Madalynn Grace Galanti, between them. 
In contrast to the affectionate pose, the duo sported their signature bounty hunting outfits. Beth wore a studded top and paneled arm guards, while Duane wore a leather motorcycle vest and gloves. 
"MISSING OUR SUPERHEROES," LYSSA WRITES OF THE FAMOUS TV DUO
For Lyssa, the picture is a sad one reminiscent of times past as she described the couple in the best way she could as she penned down a heartwarming message for the caption. 
The young entrepreneur wrote:
"Missing our superheroes. #babymady #MyDadCanBeatUpYourDad #dogthebountyhunter."
The subject of Lyssa's strained relationship with Beth, while she was alive, is not even news for avid followers of the famous family. It is perhaps why her emotional post has quickly become famous online.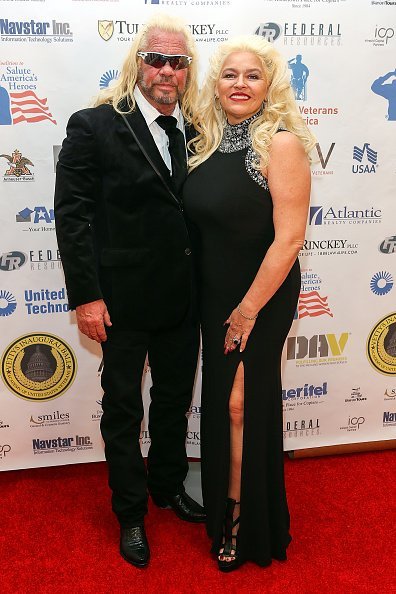 DUANE CHAPMAN IS SAID TO BE "ON THE MEND" 
Only a day old, the post has amassed over 19k likes as well as numerous comments. From what can be observed in the comments section, the posy is one that is thought-provoking for Beth's fans as they openly agree that the curvaceous star was indeed a special woman. 
One fan, @george_platt327 commented:
"Yea, she was special."
One other fan, @peggyawarren wrote:
"I miss her, and I never met her. Just watching her on TV, she felt like family. She touched millions of lives."
Duane, who married Beth in 2006, is even more heartbroken than the family's millions of fans, and after a near-fatal health scare, the Chapman brood has made it a priority to help him get on the mend.
Just recently, Lyssa shared via Instagram that she finally gets to have some leisure time as the patriarch stays back home in recovery. 
It can only be hoped that the famous reality star gains back his strength so he can do what he loves best – catching criminals and saving lives. 
Dog's Most Wanted airs Wednesdays at 9 p.m. ET on WGN America.