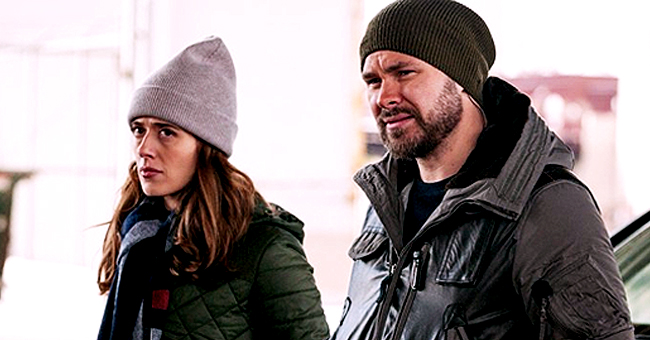 twitter.com/NBCChicagoPD
'Chicago PD:' Favorite Couple Ruzek & Burgess Reunite after Wild Infection Crossover & Fans React
Famous American procedural series "Chicago: PD" reunites one of their most famous couples, and fans have labeled it the production team's "best move" yet.
Via Twitter, the "Chicago PD" team, shared a gif of the heart-stopping moment when Ruzek, played by actor Patrick John Flueger stops Burgess, played by Marina Squerciati, and asks her if she would like to spend the night together.
"Yeah, that just happened. #OneChicago," the caption of the tweet humorously reads.
It was an important moment for fans who have devotedly shipped Ruzek and Burgess, the Burzek couple, as they are famously termed, over the years.
Unlike many have however hoped for, the pair's relationship has seemed watered down after the TV pair, who first started dating in season 1, separated (in the third season), and chose to stay on as mere "friends" ever since.
Now that there is a shocking, albeit welcome, change in the pair's relationship, fans can barely hold in their glee.
In response to the show's humorous tweet, one fan, @synsimmo excitedly wrote:
"FINALLY what I want to see! Best move the @NBCChicagoPD writers could make for all of us hopeless romantics that have been wishing for the return of #Burzek."
Another, @minchen101 wrote:
"Omg burzek is back aaahhhhhhh, thanks God."
While one fan, @Kayla_Weir10, quickly pushed that the couple should stay on forever:
"Now put them together for good and let them live happily ever after. #Burzek."
The comments seem unending and must surely make the creators very happy. The show only debuted its newest season, the seventh, late last month, and the glowing comments about it so far would be indeed encouraging for the production team.
The Burzek couple reuniting this new season has caused speculations among netizens after Chicago P.D. boss Rick Eird hunted at its possibility.
"They definitely have a relationship this year that is different than the relationship they had previously," Eird told Us Weekly.
"They are with each other in a different way. I don't want to give it away, but we're really excited about what we have going on with these two."
Chicago P.D. continues to air every Wednesday at 10 p.m. ET on NBC.
Please fill in your e-mail so we can share with you our top stories!