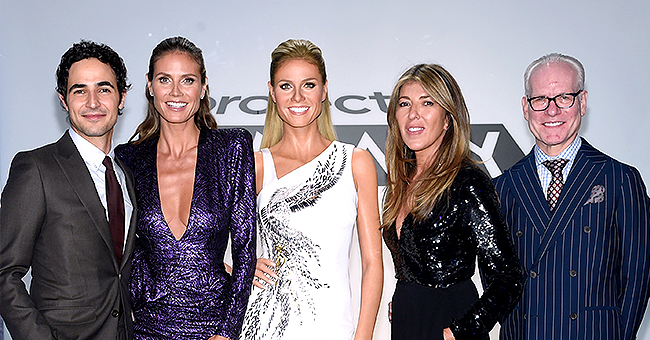 Getty Images.
'Project Runway:' Meet the Winners from Previous Seasons

With seventeen seasons of "Project Runway" under the belt, viewers experienced a dizzying array of fabulous designers over the years.
But what have the talented winners been up to since they snagged the coveted title? Let's have a look.
SEASON 1: JAY MCCARROLL
Jay McCarroll became one of the few winners to date that didn't win a single challenge until the final. After the show, Jay ran a blog and online fashion boutique for a while and appeared on "Project Jay," and "Celebrity Fit Club."
The budding designer kept active on Instagram, stating that "I like colors and stuff," while he tried his hand at filmmaking with the release of "Eleven Minutes" in 2008.
SEASON 2: CHLOE DAO
Chloe Dao made enough of an impression after winning season 2 that she went on to judge and executive produce the first season of "Project Runway: Vietnam" from 2013 for three seasons.
Her fashion line, DAO, made its debut in 2008, which became a boutique in Houston and is involved in philanthropy work in the area for the Salvation Army and Susan G. Komen.
SEASON 3: JEFFREY SEBELIA
After winning season 3, Jeffrey Sebelia worked on designing costumes for the 2007 action film "Bratz," but after he called the dolls "slutty" during an interview, he got fired.
Jeffrey then became involved in other projects designing children's clothing, and Jeffrey placed seventh when he competed in "Project Runway: All-Stars."
SEASON 4: CHRISTIAN SIRIANO
The youngest designer at the age of 22 to win the show to date, Christian Siriano, became very successful with his designs, which he has shown at New York Fashion Week every year since 2008.
The opening of his first New York boutique came in 2012, followed by his induction into the Council of Fashion Designers of America the following year.
Christian has also made sure that celebrities, including Michelle Obama, Angelina Jolie, and Kim Kardashian, look their best.
SEASON 5: LEANNE MARSHALL
Leanne Marshall became known for her wave-inspired creations in shades of ivory and turquoise while on "Project Runway" as she impressed the judges week after week.
She followed up on her success by launching her bridal collection in 2011, which since became available online and in 35 international boutiques.
SEASON 6: IRINA SHEBAYEVA
Irina Shebayeva launched a bridal line exclusive to Kleinfeld in 2011 and competed in the third season of "Project Runway: All-Stars" in 2013, where she placed sixth.
After that, the talented designer shifted her focus from making couture collections of gowns and lingerie to wedding dresses.
SEASON 7: SETH AARON HENDERSON
Seth Henderson became the first contender to win a standard and all-star season of the show. Known for his use of organic fabrics and recyclable items, Seth won the third all-star season and went on to create a range of iPad covers for Maroo.
Most recently, Seth poured his creativity into designing the first line of 3D printed shoes for Feetz.
SEASON 8: GRETCHEN JONES
After winning season 8, Gretchen Jones moved to Brooklyn and started her clothing line, Gretchen Jones NYC. In 2018, she earned an MBA from the University of London College of Fashion.
However, Gretchen then changed lanes from designing to consulting as she told Clementine Daily, "The quick breakdown is — I have won more awards since winning season eight. I've started and closed down a fashion label. I achieved my ultimate "dream job," working as a fashion director for a brand name."
SEASON 9: ANYA AYOUNG-CHEE
After her season 9 win, Anya Ayoung-Chee mentored other designers in the reality show, "Under the Gunn" in 2014, and launched a lingerie line Anya de Rouge, and a boutique called Exhibit A.
She currently lives in Trinidad and Tobago, where she is a travel ambassador and founded the online store, cANYAval, which sells Trinidad's carnival-inspired clothing.
SEASON 10: DMITRY SHOLOKHOV
Apart from his season 10 win, Dmitry Sholokhov also won the fourth season of "Project Runway: All-Stars."
After his win, Dmitry started his own fashion label that sports wearable high-fashion designs and worked as an instructor at the Parsons School of Design.
SEASON 11: MICHELLE LESNIAK
Michelle Lesniak won the eleventh season with her daring designs despite her lack of formal training. Following her time on the show, she moved to Portland, Oregon, where she continues to design clothing and costumes in her studio in the city called Michelle Lesniak Boutique.
SEASON 12: DOM STREATER
After winning the fifth season of "Project Runway: All-Stars" in addition to her season 12 win, Dom Streater moved to Philadelphia, where she launched a womenswear brand only available for sale online.
SEASON 13: SEAN KELLY
The New Zealand-born designer Sean Kelly moved to New York City after his season 13 win, where he sells his various designs.
Apart from having featured in Marie Clair magazine, Sean has also designed for high-profile clients such as Heidi Klum.
SEASON 14: ASHLEY NELL TIPTON
Ashley Nell Tipton became the first contestant only to use plus-size models on the show and continued her designs after that by creating a line for JCPenney before she started her plus-size line called ANT Premier Line.
SEASON 15: ERIN ROBERTSON
Since her season 15 win, Erin Robertson went back to Boston, and now has a studio in the city where she continues to design. Erin's designs have appeared in magazines, including Teen Vogue, Nylon, and Marie Claire.
SEASON 16: KENTARO KAMEYAMA.
Kentaro became known for his expertly tailored clothing and now lives in Los Angeles, where he has designed collections shown at LA Fashion Week and Paris Fashion Week.
SEASON 17: SEBASTIAN GREY
As the winner of the latest season of "Project Runway," the Colombia-born designer had previously operated and owned clothing stores under the SEBASTIAN brand in California and Medellin, but he found it challenging to keep the doors open without proper financial support.
Before his season 17 win, Sebastian Grey made ends meet by house-sitting pets, doing personal shopping for friends and altering clothes, or cleaning houses in the community.
Relatedly, while fans got all caught up with the winners from all the season of "Project Runway," they may have noticed that Heidi Klum did not serve as a judge in season 17.
The former model had been busy with matters of the heart, as secretly married Tom Kaulitz before they had a second ceremony to celebrate their union.
Please fill in your e-mail so we can share with you our top stories!