Antonio Banderas Talk about His Relationship with Ex-Wife Melanie Griffith
Spanish actor, Antonio Banderas has nothing but love for his ex-wife Melanie Griffith.
On October 16, Antonio sat down for an interview with "PeopleTV." He was asked about his relationship with his ex-wife and how he manages to maintain a healthy relationship with her.
His response to this question created a lot of chatter. He said it has been possible because they love each other, and the actor went further to say he would love her till the day he dies.
He
told "PEOPLE"
in this week's issue:
"Melanie is not my wife anymore, but I think she is my best friend. I love her and will love her until the day I die. She's my family."
Antonio Banderas Says Ex-Wife Melanie Griffith Is Still His Best Friend: 'I'll Always Love Her' https://t.co/V0ZqXkhBMx

— People (@people) October 16, 2019
Although they are no longer married and Antonio is currently in a relationship with Nichole Kimpel, he and Melanie still consider themselves family; they spend holidays and special occasions together with the kids.
Antonio and Melanie were married for nearly 20 years until they split up in December 2015. Melanie has two children from her previous relationships, Dakota Johnson and Alexander Bauer, and has a daughter, Stella Banderas, with Antonio.
Antonio has no problem taking care of her two children like his own because of the love he has for their mother. He explained:
"I was there because I love their mother, and I am totally taken with their mother, and they were the most important part of what she came with. Very soon, they understood that. They called me Paponio, a mixture between Papa and Antonio."
Antonio and Melanie met in 1995 when they were both casts in the film "Too Much." Melanie said although they had an awkward introduction, it was love at first sight.
They were both married to other people at the time but divorced their respective partners, and in May of the following year, they got married to each other. As a romantic gesture, Melanie had her husband's name tattooed on her right arm.
As a couple, they were also philanthropists, and their dedication was recognized in 2002 when they were given the Stella Adler Angel Award for their extensive charity work.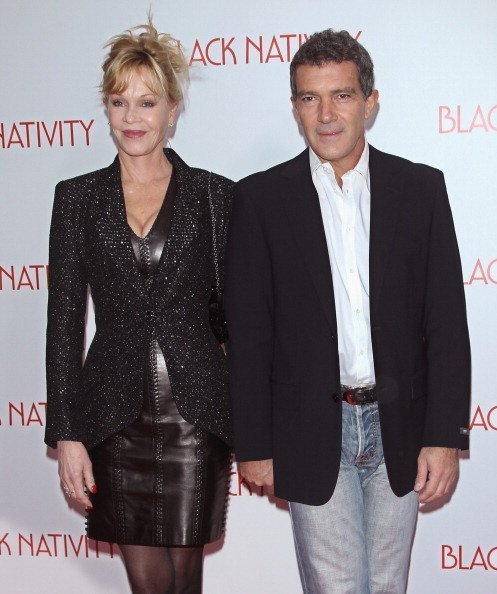 Their love life was an enviable one, but like most other marriages, theirs went through some rough patches, one of which was when Melanie's prior addictions came back to haunt her.
She sought professional help immediately and went to rehab. When asked on the Ellen DeGeneres Show about Melanie's decision, Antonio said, "I'm very proud of her."