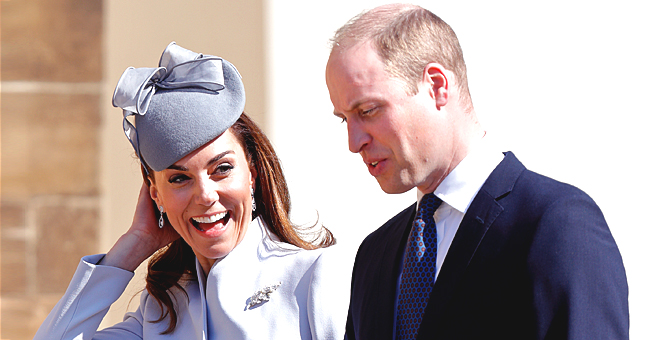 Getty Images
Kate Middleton Jokes about Prince William's Dancing Skills after Watching a Group Dance in Pakistan
The Duke and Duchess of Cambridge made headlines during their international tour to Pakistan when Kate Middleton joked about Prince William's dancing skills.
The Duchess made the humorous remark after the royal couple engaged in a traditional program hosted in the town of Chitral - a remote town on the Chitral River in northern Khyber Pakhtunkhwa.
For the occasion, Kate and Prince William were enrobed in traditional attire. After watching a cultural dance routine in the Bumburet village square, Kate introduced her husband to the group of dancers.
KATE MIDDLETON'S REMARK
Donning the colorful beaded headband, a gift from the community, Kate said to the ladies: "This is my husband William, Prince William - I'm sorry he didn't dance too!"
She had fired back at a joke that the Duke of Cambridge made the day before when he teased her about her knowledge of science.
Prince William, Duke of Cambridge and Catherine, Duchess of Cambridge on official visit to Stockholm in Sweden in January 2018 | Source: Frankie Fouganthin / Wikimedia Commons
The couple visited the town on Wednesday, as a part of their visit to the Chiatibo Glacier in Broghil National Park.
During the visit, the Prince remarked that his geography teacher would be happy to hear that he visited a glacier after so many years.
PRINCE WILLIAM HAS A HISTORY WITH GEOGRAPHY
Prince William is a geography graduate from the University of St. Andrews, where he met Kate for the first time. "I've been very impressed with William's geography," Kate had made a sarcastic remark earlier in the day.
Kate Middleton and Prince William have had a colorful visit to the commonwealth country. The royal couple was even received in a tuk-tuk specially decorated for the occasion.
THE ROYALS VISIT THE CHILDREN
During their stay, the royals witnessed first hand, the fruitions of the UK's Teach First fast-track teacher training scheme, as they visited a number of schools in the region.
The royals also seem to be fond of the young ones benefiting from this scheme. The Duke knelt down to have a chat with the children who were excited to be meeting the royal visitors.
The girls at a government-run school in Islamabad told the Prince that they were "big fans" of his mother, the late Princess Diana, to which he poignantly replied: "I was a big fan of my mother too."
Please fill in your e-mail so we can share with you our top stories!