Joe Minoso of 'Chicago Fire' Shares Photo from Chicago-Themed Wedding on 3rd Anniversary
Actor, Joe Minoso celebrated his third wedding anniversary this week, with his beautiful wife, Murphey Minoso. The "Chicago Fire" star shared a captivating wedding photo on social media to mark the occasion.
"Chicago Fire" star, Joe Minoso celebrated his love once again as he marked three years of marital bliss with his wife, Murphy Minoso Miles.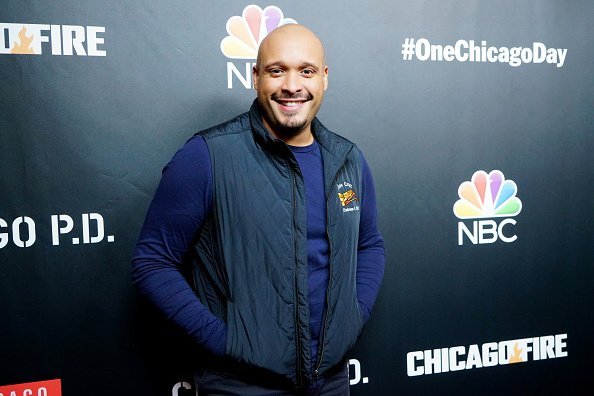 THREE YEARS AND COUNTING
The NBC star posted a wedding picture of himself and Murphey, sharing a kiss on the streets of Chicago. He captioned the post with a note of appreciation to his other half, while also referencing his character's plight on the NBC series.
He wrote, referring to his fictional girlfriend:
"Well, Chloe may have dumped me."
He added:
"But in real life, (3 years today) I got to marry the most phenomenal, insightful, artistic, gorgeous woman on the planet! @murphyminoso.Thank you for the countless wonderful moments of our lives."
He also included a side note, imploring fans to pay attention to the street in the background of the photo.
CHICAGO CROSSOVER GONE AWRY
The actor's wedding anniversary came as an elixir to fans of "Chicago Fire," who were still in shock over the turn of events on the series. In this week's episode, Joe's character, Cruz, got dumped by his girlfriend Chloe on the night of his perfectly planned proposal. 
The breakup of the show's favorite couple came as a shocker, especially as fans were anticipating a bit of good news to help deal with the sad loss of Ortis, played by Yuriy Sardarov.
JOE FELL IN LOVE CHICAGO-STYLE
Cruz seems to be having a much better fate than his fictional character, finding love at the nick of time, and sustaining it this long. Thankfully, his engagement with the "Chicago Fire" makeup artist did not turn out like that of the movie character. 
In 2015, the movie star announced his engagement to the makeup artist via an Instagram post. The 41-year-old's caption read:
"They say you always fall in love when you least expect."
He added:
"I am thrilled to let the world know that I will now have the privilege of calling Caitlin Murphey Miles my fiancee, and soon my wife."
The couple's love has not dwindled a bit, and not even the charms of their Chicago-themed wedding could beat their love for each other.