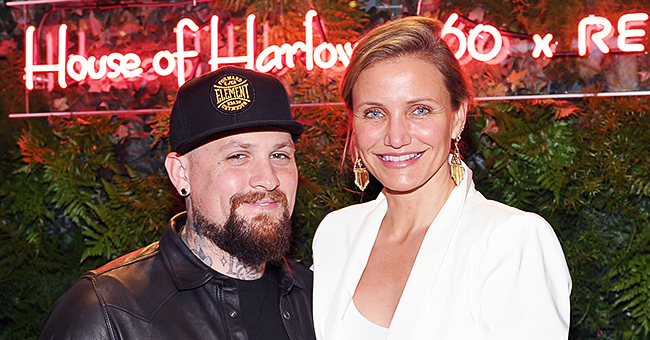 Getty Images.
Cameron Diaz: Inside the Actress' Marriage to Benji Madden Whom She Calls 'the Best Thing That Ever Happened' to Her

There is something about the blue-eyed Cameron Diaz, and it has everything to do with life after she left the world of acting behind.
Taking time for herself and the things she feels passionate about, it includes Cameron's marriage to Good Charlotte band member Benji Madden.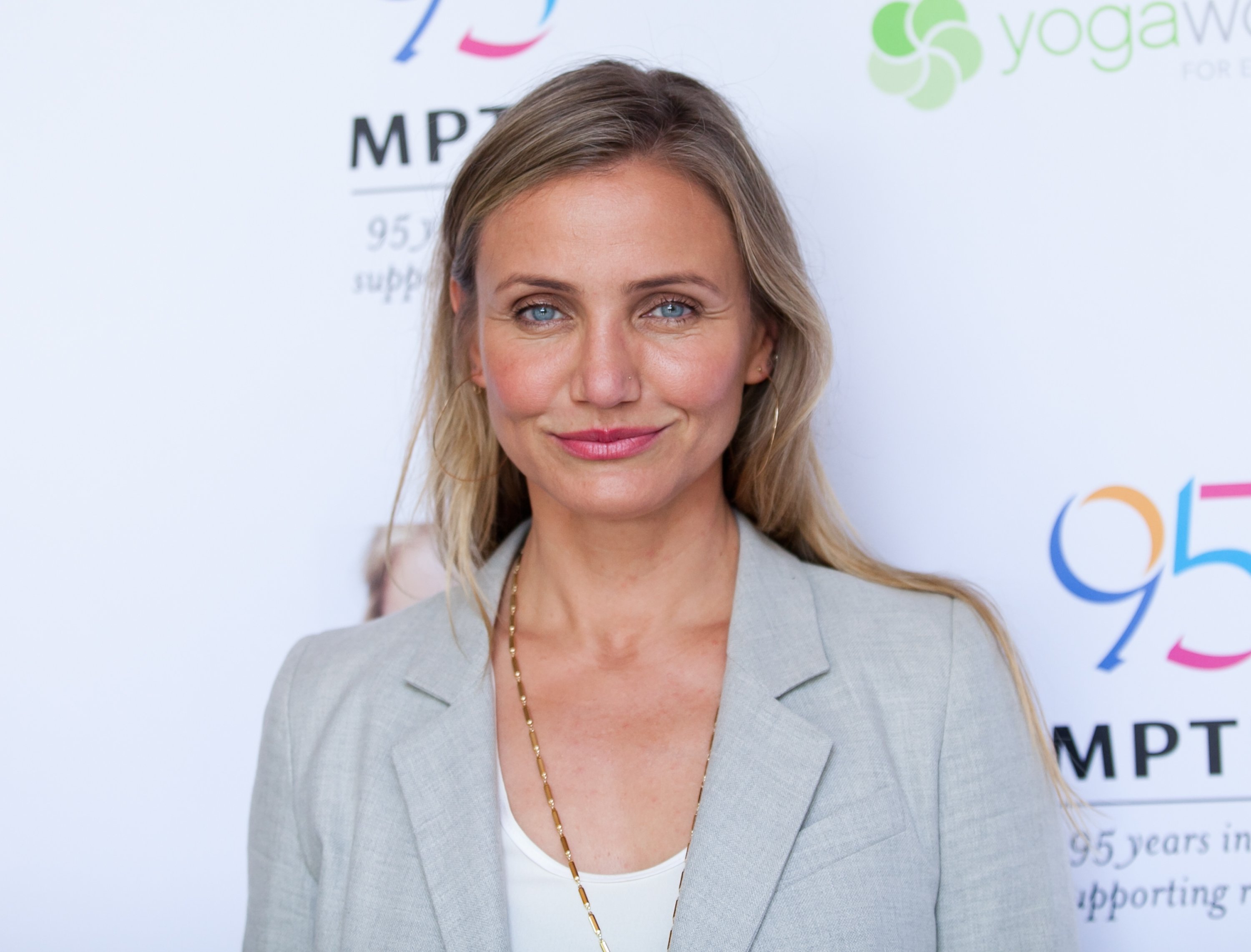 Cameron Diaz attends the MPTF Celebration for health and fitness at The Wasserman Campus on June 10, 2016, in Woodland Hills, California. | Source: Getty Images.
Cameron was twenty-two years old when fame came rolling in with acting roles in movies such as "There's Something About Mary," "Charlie's Angels," and "Vanilla Sky."
After dedicating much of her 20s and 30s to acting and public life, the actress decided to take time for herself, and hung up her acting hat after she starred in the 2014 film, "Annie."
While she doesn't miss performing, Cameron leaves the door open to return to acting if she ever wanted to, but for now, she is rather tight-lipped about her future plans.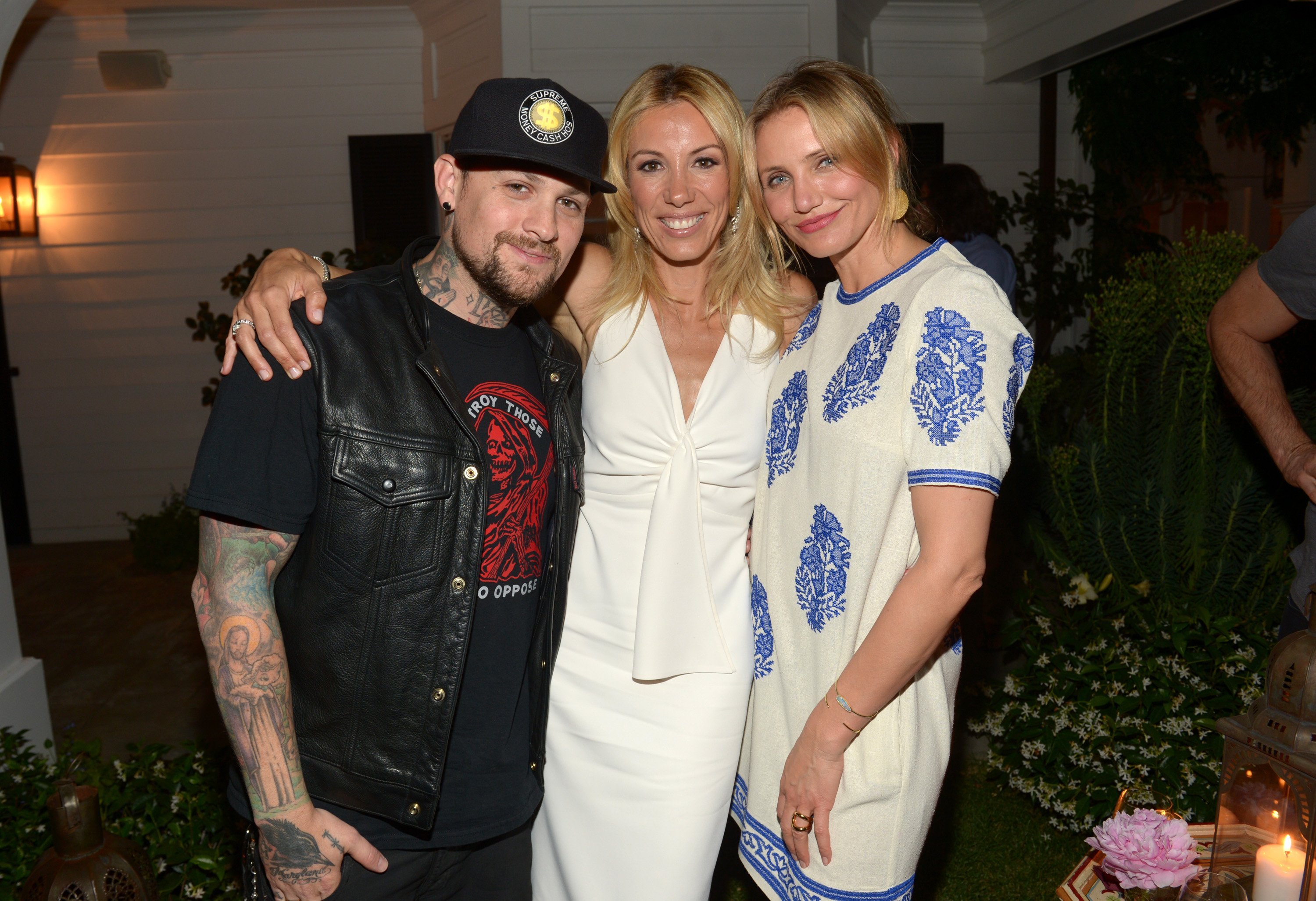 Benji Madden, author Vicky Vlachonis, and actress Cameron Diaz celebrate the launch of The Body Doesn't Lie by Vicky Vlachonis on May 15, 2014, in Los Angeles, California. | Source: Getty Images.
"It's fun to just not have anybody know what I'm up to," Cameron told InStyle in 2019. "Because my time is all mine. I'm not selling any films, and because I'm not selling anything, I don't have to give anybody anything. I'm not doing this anymore. I'm living my life."
With a sense of gratitude, not only for the experiences she previously sought out in her life but also for the place she finds herself in now, Cameron wants to strengthen the relationships she has with family and friends that walk the path of life with her, including her husband, Benji Madden.
"Getting married to him was the best thing that ever happened to me. My husband's the best. He's the greatest human being, and he's my great partner. Marriage is certainly hard, and it's a lot of work. You need somebody who's willing to do the work with you because there's no 60-40 in marriage. It's 50-50 period. All the time," Cameron said.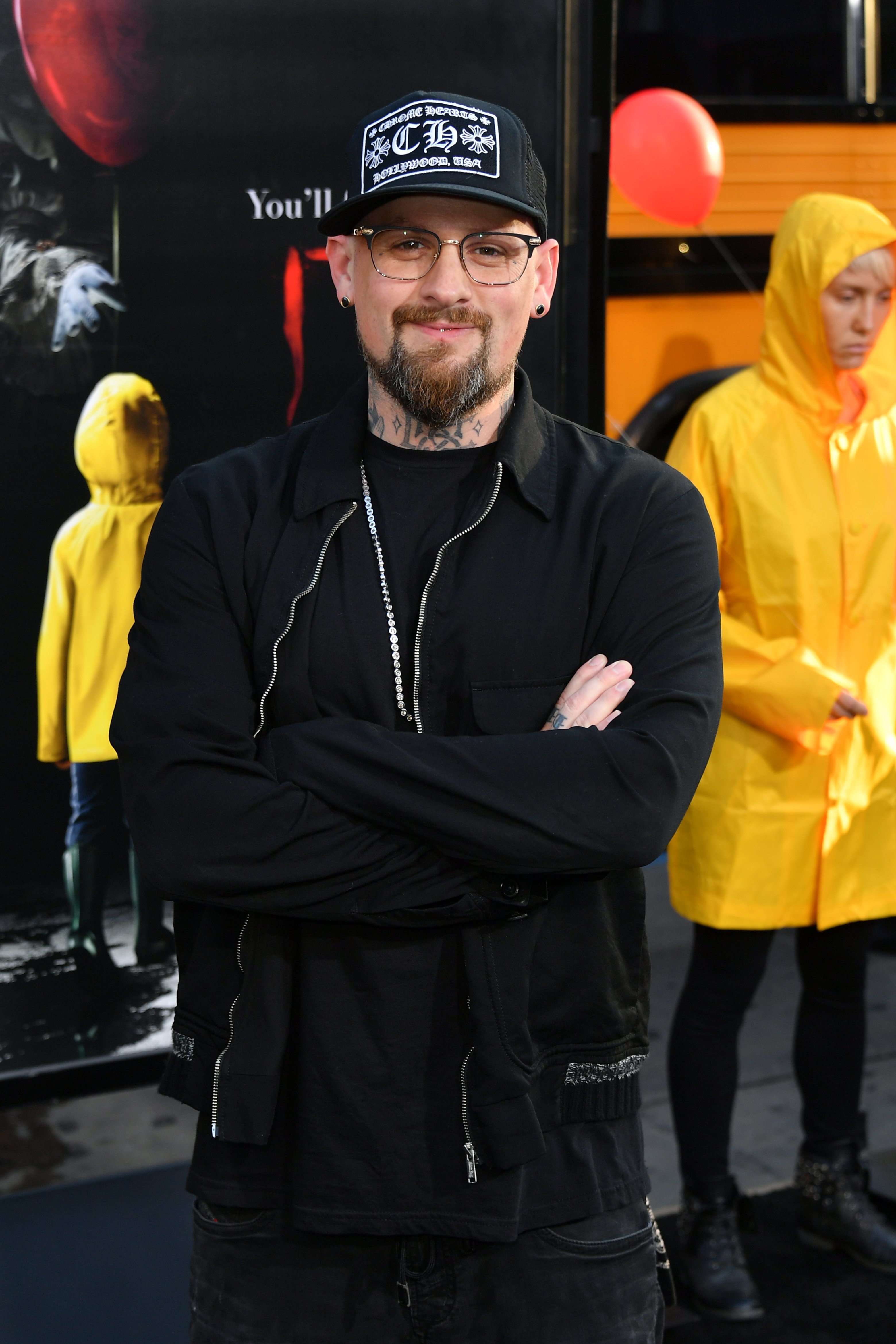 Benji Madden attends the premiere of Warner Bros. Pictures and New Line Cinema's "It" at the TCL Chinese Theatre on September 5, 2017, in Hollywood, California. | Source: Getty Images.
The couple made their union official in January 2015 after dating for seven months, and Cameron is happier than ever.
Even those close to Cameron saw a change in the actress after she married Benji, as a source told PEOPLE that she found her equal in the rocker after dating hunks for years. A man that respects her and makes her feel "so much better about everything."
Apart from his band obligations, Benji co-owns the American clothing company, DCMA Collective with his brothers Josh and Joel, and their friend Tal Cooperman.
Initially established as MADE Clothing in 2005, the brothers changed the name to DCMA Collective the following year. Soon after, they added an online store with a product line that includes everything from hoodies to baby clothes, and in 2008 they added K-DCMA shoes to the list after they merged with K-Swiss.
Meanwhile, Benji also keeps busy with writing music for several television shows that include "The Tonight Show Starring Jimmy Fallon," and "The Voice," while he also made some appearances in front of the camera.
The celebrity showdown on "Masterchef" in 2017 had Benji cooking up a storm, while he is the interviewee in the 2019 documentary, "Biography: I Want My MTV."
As for Cameron's current projects, she keeps fans guessing by throwing out some hints about her plans. "I like creating, so I'm just looking for the project that makes the most sense for me now," she said. "I have some things brewing, but it's a little too early to talk about them."
More forthcoming about her view on the progression of technology, specifically social media, Cameron appreciates the ability to create one's own narrative when posting on these platforms, but it also has a downside.
"But you're tied to your phone, and you're so dependent on it. We've exported our entire brain capacity into this little thing we carry around in our hands. We've lost touch with our humanity and our humanness, and I think it's really healthy to not have to be accountable for every minute of our day," Cameron explained.
However, Cameron does appreciate her ties to Benji. They have grown together, and Benji is often her rock and her friend with whom she has a beautiful romance.
The former actress also loves being in her 40s and the insight that came with four decades of experience. It gives her the ability to be honest and real with herself, and make any changes she deems necessary while looking forward to future possibilities with Benji Madden by her side.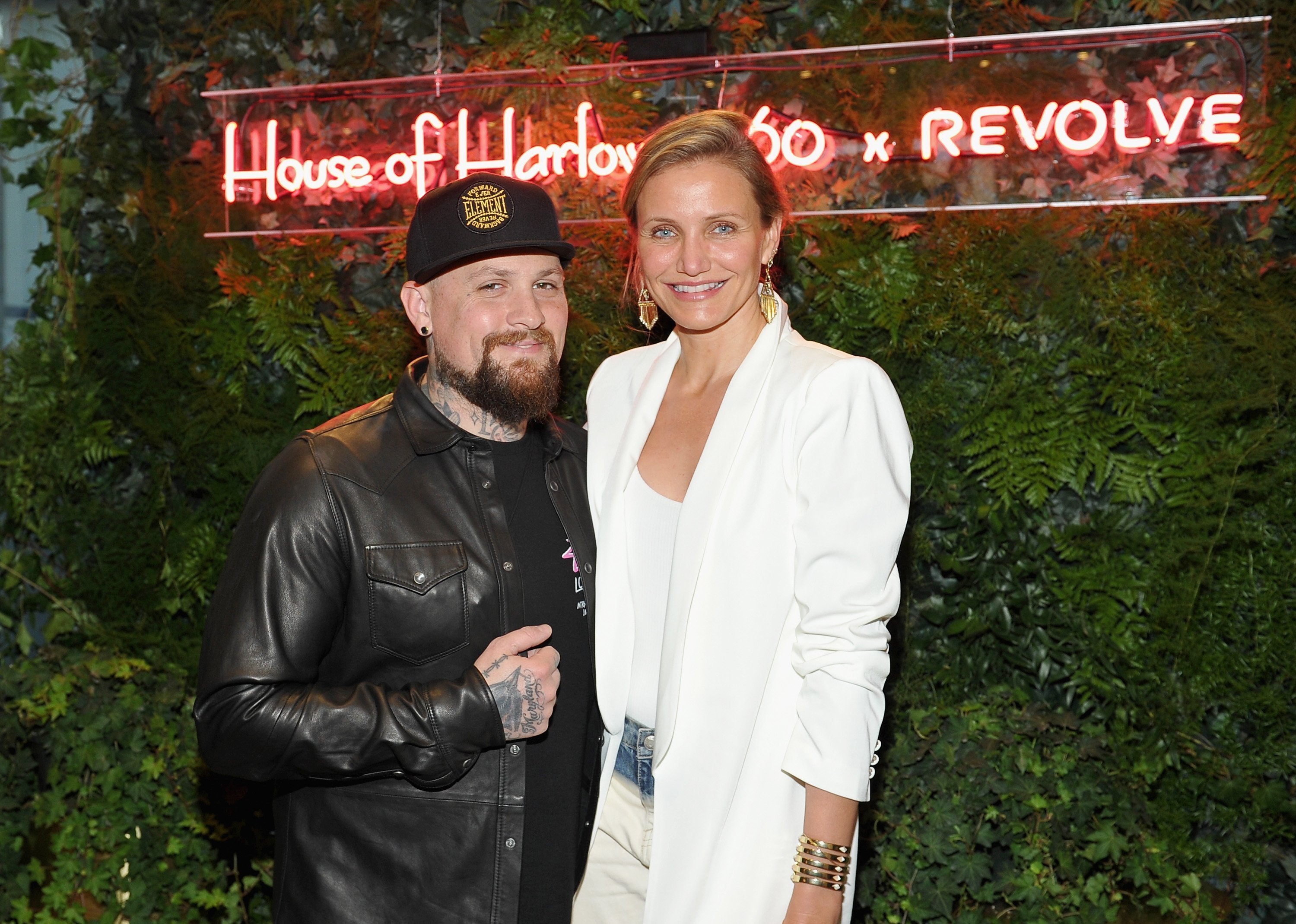 Benji Madden and actress Cameron Diaz attend House of Harlow 1960 x REVOLVE on June 2, 2016, in Los Angeles, California. | Source: Getty Images.
Cameron's candid conversation about her career and relationship with Benji came a few months after her co-star on "The Sweetest Thing," Selma Blair accidentally let the cat out of the bag during an interview at Vanity Fair's Oscar pre-party in March 2018.
Even though Cameron still receives scripts on a regular basis, none so far had been able to coax the former actress back to acting, and Selma explained that Cameron would probably never return to the glitz and glamour of Hollywood.
Please fill in your e-mail so we can share with you our top stories!