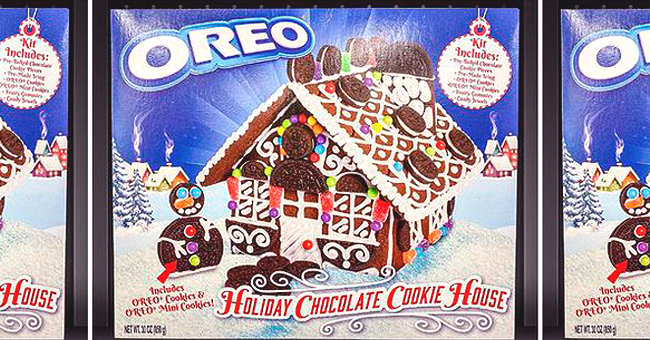 twitter.com/HouseBeautiful
Oreo Has Released a Holiday Chocolate Cookie House Kit
As the holiday season draws near, people's excitement has reached a new level with Oreo's Holiday Chocolate Cookie House Kit.
Instead of the usual gingerbread house, one can now build a cookie house kit with Oreo's pre-baked cookie pieces in the shape of walls and roof, icing, and decorations like fruit gummies.
The packaging of the new Oreo product is shown on the Instagram account of The Junk Food Aisle. Already seen at a number of shops, the Oreo kit is being sold at $10.
REPLACING GINGERBREAD HOUSE?
It seems that the iconic company is going to disrupt the time-honored holiday season tradition of making gingerbread houses, as PEOPLE pointed out.
The tradition dates back to the 1600s but only became popular 200 years later with the publication of the classic Brothers Grimm tale, "Hansel and Gretel."
The new Oreo product is expected to add joy to young children who loved building their own tiny houses, but not too keen on eating the finished products.
The Oreo kit and a mini version are currently sold out on the Big Lots website.
The website's description of the product reads: "Get the family together this winter for some afternoon fun! This kit includes everything you need to build and decorate your very own OREO holiday chocolate cookie house.
"It comes with pre-baked chocolate cookie pieces, pre-made icing, OREO Cookies, OREO Mini Cookies, fruity gummies, and candy jewels. Just open the box and start building!"
NO ANNOUNCEMENT ON INSTAGRAM
Oreo, which has nearly three million followers on Instagram, has not officially announced this seasonal release.
With the kit, the cookie company is staying true to its Instagram tagline: "Playful moments from your favorite cookie."
The well-loved cookie company has been surprising its loyal customers with new products. Over the summer, they released five new flavors to the delight children and adults alike.
Earlier in February, in time for Valentine's Day, creative chefs unveiled love-inspired Oreo treats.
Confection shop, Sarah's Bake Studio, created the "Love Bug Oreo Cookies," which took the Hot and Spicy Cinnamon Oreo to another level.
The Lemon Tree Dwelling, for its part, made some Oreo Truffles. The highlight of this snack is cream cheese, which makes the cute and delightful mini bites of cheesecake.
Please fill in your e-mail so we can share with you our top stories!