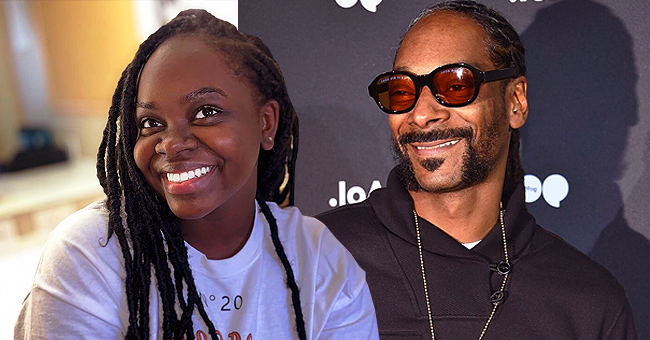 Instagram/princessbroadus GettyImages
Snoop Dogg's Daughter Cori Broadus Shares Funny Video of Dad Singing in a Bathrobe

Rapper Snoop Dogg recently celebrated his birthday, and his daughter, Cori Broadus, shared a moment from the day on her Instagram page, showing her father display his singing skills while wearing a bathrobe.
Apparently, Snoop Dogg has a hidden talent when it comes to singing, but his daughter showed the world a bit of that talent when she shared a short video of the rapper singing karaoke.
The rapper turned 48 on October 20 and had his family around to mark the special day with him.
SNOOP DOGG'S BIRTHDAY ENDS IN A GREAT WAY
In the video shared by Cori Broadus, the rapper sings to Donnell Jones' "Where I Wanna Be," while wearing his bathrobe.
When he finished his performance, he was cheered and applauded by those present, and proceeds on a celebratory walk back and forth his apartment.
Soon after, another Karaoke performer takes the stage and is soon joined by Snoop Dogg before the video ends. In the caption to the video, Cori Broadus wrote:
"❤❤❤ great way to end pops birthday ? @snoopdogg."
The video generated a host of reactions, including one from singer Tamar Braxton, who commented with two laughing emojis.
Ray Cunningham also said that he loved the video, a sentiment also shared by Shante Monique Broadus, another of Snoop's daughters.
"The Shade Room" also shared the video on their Instagram page, and made fun of Snoop's singing antics. In their caption, they wrote:
"#PressPlay: Someone said #DonellJones is shaking right now ?? #SnoopDogg."
SNOOP'S CLOTHING LINE
The sight of the rapper in a bathrobe shouldn't be surprising since he has a fashion line that has bathrobes as part of its products.
In June 2017, Snoop Dogg launched a fashion line in conjunction with Joyrich Collections, which included t-shirts, pet accessories, and bathrobes.
The launch was Snoop's first-ever fashion runway show and saw his son, Cordell Broadus, make his debut as a creative director.
SNOOP OWES HIS MARRIAGE TO CORI
It will be recalled that Cori was diagnosed with the deadly Lupus disease at a young age.
However, not many people know that her diagnosis and fight for survival was key in helping her parents, Snoop Dogg and his wife, Shante avoid a divorce.
Snoop Dogg had filed for divorce from Shante in 2004, due to irreconcilable differences, but had a change of heart following Cori's ailment. Instead of a divorce, the couple went on to renew their vows in 2008. The rapper said:
"That's what it boiled down to Cori's lupus showed us we need to be together forever."
While his wife added:
"Without (Snoop), I don't know what I'd have done. It's amazing how this all turned out. We were gonna get a divorce. But we wouldn't have gotten through it (the lupus diagnosis) that way."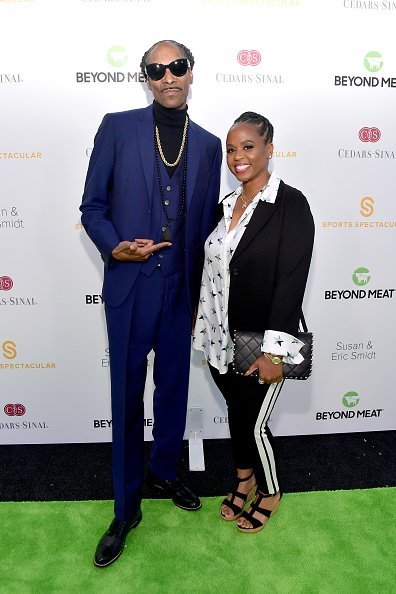 Snoop Dogg and Shante Broadus attend the 34th Annual Cedars-Sinai Sports Spectacular at The Compound | Photo: Getty Images
It is great to see that the couple turned a difficult situation into one of cheers, and are still waxing strong today. Happy birthday Snoop Dogg!
Please fill in your e-mail so we can share with you our top stories!