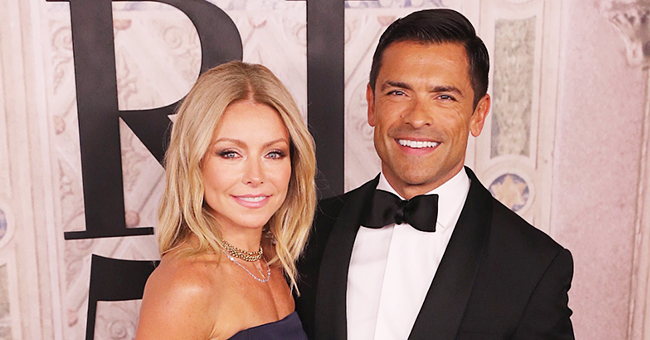 Getty images
Kelly Ripa of 'Live with Kelly and Ryan' Posts Photo with Son Michael at Film School
Michael Consuelos recently asked his mother, Kelly Ripa, to join him on a project at his Film School, and the proud parent could not be happier.
The co-host of "Live with Kelly and Ryan" took to Instagram this week to share a picture with her son Michael at the New York University's Tisch School of the Arts.
"When your son gives you a job," she announced in the caption beside the heartwarming snap with the hashtags #filmschool, #tvshow, and #producer.
MICHAEL'S RESEMBLANCE TO HIS FATHER
The eager fans took no time to join in on the comments section. But, putting their curiosity regarding Kelly's new project aside, the fans reacted to the surprising resemblance that the college student shared with his father, Mark Consuelos.
"It's crazy how much he looks like his dad!" one fan wrote. "Thought it was throwback pic at first! I remember when you announced that you were pregnant with him. Big sigh, time flies," another fan reminisced. A fan even went on to say that he double-checked to confirm that it wasn't Mark.
Kelly later further explained about the project on her talk show, "Live with Kelly and Ryan," the very next day. As it turns out, Michael asked his mom to come aboard as a producer for an assignment. She further revealed that the professor who assigned her son with the task was a very special friend to Kelly.
THE SPECIAL PROFESSOR
The professor, Christopher Goutman, was the director of the TV show, "All my children" for eleven seasons, and was responsible for casting Mark as Kelly's husband on the show. She shared with her co-host Ryan Seacrest:
"The professor of this class is the professor that directed — he wasn't a professor at the time, he was a director — he directed the screen test between Mark and me at All My Children."
In reality, Goutman was the reason that Michael joined the college in the first place. According to Kelly, when Michael was looking for a college, he was looking for a sign to select the perfect school.
THE SIGN CAME AS GOUTMAN
When Kelly and her son were dwelling in the hallways of the New York Campus, she heard a familiar voice call out to her, and it was Goutman. She added:
"And he goes, 'You have to come here because I am literally the reason you exist!' And that's how he made a decision!"
Ripa starred as Hayley Vaughan on All My Children from 1990 to 2002. Consuelos, 48, officially joined the soap opera's cast as Hayley's husband Mateo Santos in 1995. The pair then tied the knot a year later, in 1996.
Please fill in your e-mail so we can share with you our top stories!