Meghan Markle Recycles Purple Midi Dress from Her Pregnancy for a Royal Night Out
Duchess Meghan of Sussex attended an event at the Royal Albert Hall in London in a stunning purple dress many of the fans recognized.
The Duchess of Sussex, who is known for her elegance and style, stunned at the opening ceremony for One Young World at the Royal Albert Hall in London in a gorgeous purple dress.
But fans of the Duchess were haunted by a sense of déjà vu. They'd seen that dress somewhere before...
The Duchess has been a supporter of One Young World since long before her marriage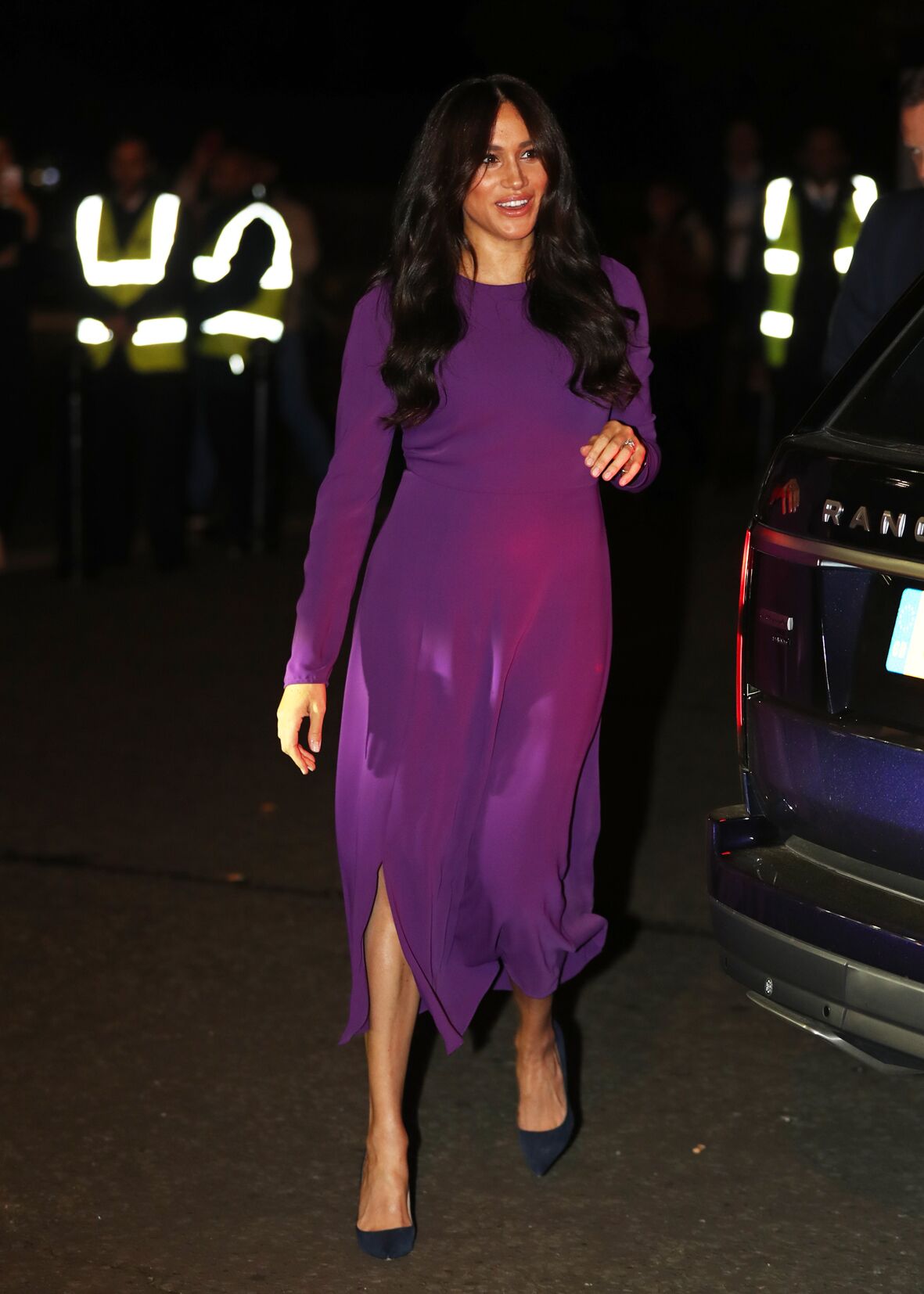 DUCHESS MEGHAN RECYCLED STUNNING ARITZIA CREATION
The Duchess is the Vice-President of the Queen's Commonwealth Trust, which is partnering with One Young World this year to bring together young talents and leaders from all over the world.
Duchess Meghan was as stunning as ever in a striking deep purple long-sleeve Aritzia dress, which she paired with navy suede heels. The dress is a favorite of the Duchess' who had worn it before during her pregnancy.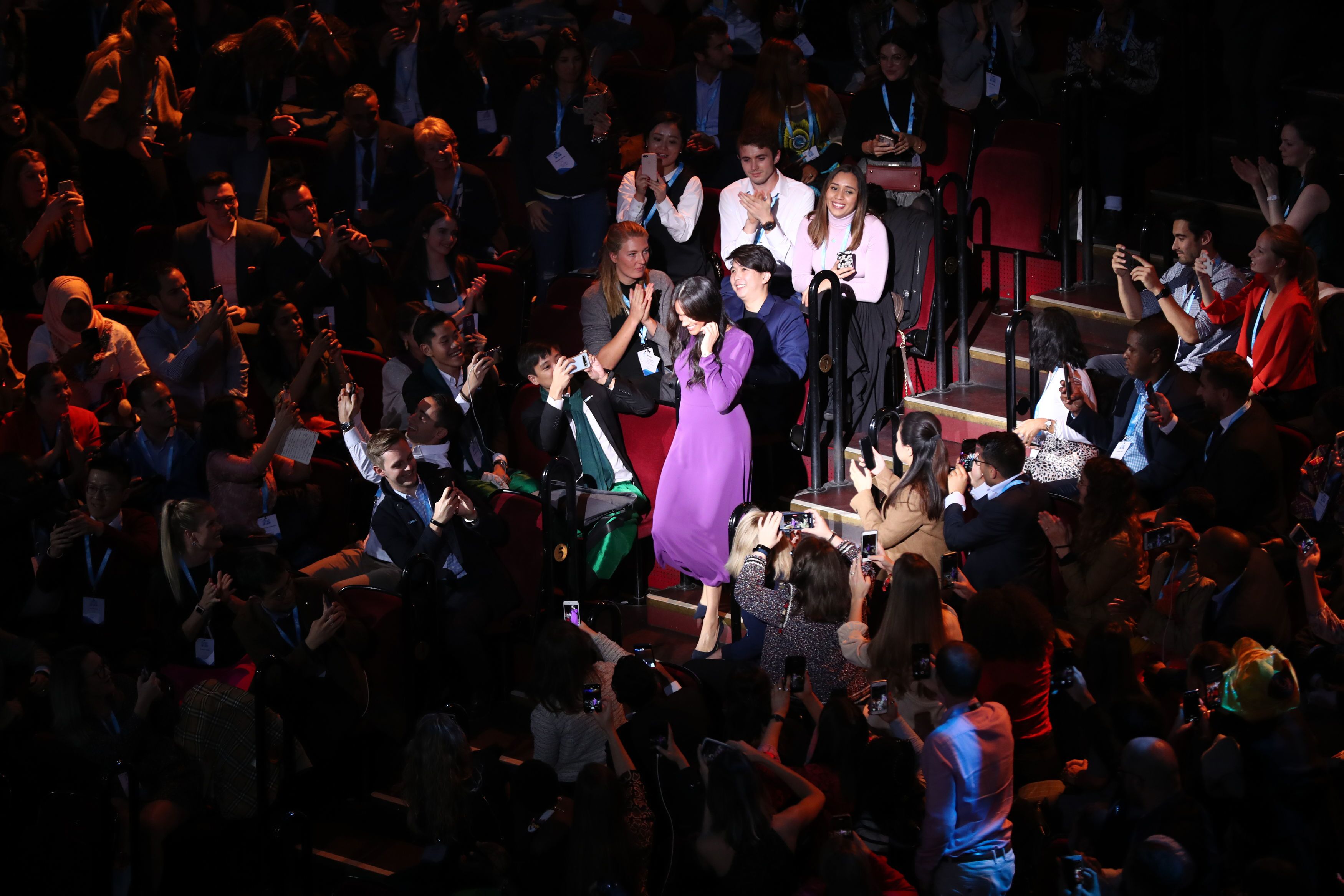 DUCHESS MEGHAN IS A LONG-TIME SUPPORTER OF ONE YOUNG WORLD
The Duchess has been a supporter of One Young World since long before her marriage, and served as a counselor in Dublin Ireland, and also in Ottowa Canada since 2014 - long before she joined the royal family.
Meghan Markle attends the One Young World Summit in London in her first public appearance since the airing of a documentary in which she said friends had warned her not to marry Prince Harry because of the conduct of the British tabloid press pic.twitter.com/f3AQ5w4R7F

— Reuters (@Reuters) October 23, 2019
ONE YOUNG WORLD
One Young World is a non-profit organization focused on bringing together young leaders and the brightest young minds from all over the world to solve some of the world's greatest problems.
DUCHESS MEGHAN GLOWS DESPITE RECENT TROUBLES
Duchess Meghan was warm and accessible, glowing with her usual enthusiasm despite the recent problems aired by a documentary shot during their African Tour.
The emotional documentary special, "Harry & Meghan: An African Journey" exposed some of the problems the young couple have faced dealing with the British tabloids.
The Dukes of Sussex have announced that they will be taking a break from their official duties in November. 
DUCHESS MEGHAN SHARES HER PAIN
For the first time in the last year and a half, Prince Harry, and Duchess Meghan of Sussex told their side of the story.
They opened up to journalist Tom Brady, and in an emotional moment, the Duchess broke protocol and admitted with tears in her eyes that she is "not alright."
Even though she had been warned that the press' attention could be relentless, she had never expected the level of malice and viciousness displayed by the tabloids. She said: 
"Look, any woman especially when they are pregnant you're really vulnerable and so that was made really challenging, and then when you have a newborn – you know. And especially as a woman, it's a lot. So you add this on top of just trying to be a new mom or trying to be a newlywed it's, well..."
The Duchess' honesty and openness touched the hearts of millions of women around the world, who started a social media campaign of loving messages hashtagged  #WeLoveYouMeghan.