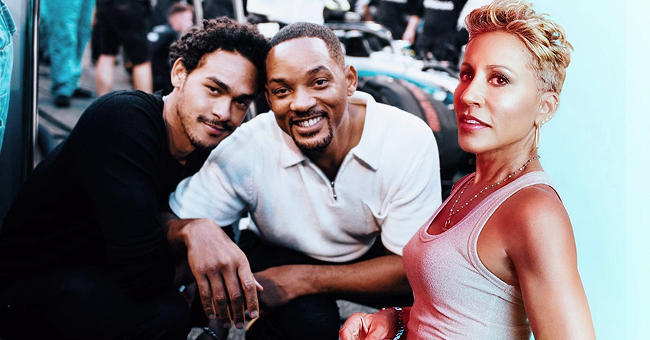 Instagram/treysmith0011
Will Smith's Oldest Son Trey Pays Tribute to Jada Pinkett-Smith's Mom on Her 66th Birthday
Trey Smith celebrated his step grandmother's birthday in a sweet tribute on Instagram about how she "slays."
Jada Pinkett Smith's mother, Adrienne Banfield-Jones, just turned 66 — although it looks like she could still pass for Jada's sister. Of course, the actress told her mother Happy Birthday loudly on social media.
In addition, Jada's stepson Trey, from husband Will Smith's first marriage to Sheree Zampino, also shouted out Jones in a touching tribute. The post is found below.
Trey wishes his step grandmom happy birthday
He wrote:
"The thing is... Gammy (Jones) slays like this without disturbing her crown. Happy Birthday to this absolutely gorgeous gift from the man upstairs."
The "Red Table Talk" co-host had the top comment in the comment section. "Thank [sic] you grandson!!!" Jones wrote, adding four heart emojis.
Trey's post included a stunning picture of Jones dressed in a gray tank top while accessorizing with simple gold jewelry. Her short blonde hair allowed her youthful face to take center stage. Her body looked amazing.
Jada also wished her mom a happy birthday
Daughter Jada shared the same picture on her own birthday post to Jones whom she called "the BADDEST Gamster on the planet!" She also wrote:
"You inspire me more and more everyday! You don't even know how fearless you are but you give me the strength to be the same. I love you, I love you, I love you."
Jada and Trey are on good terms now, but the blended Smith family have had their hiccups in the past. In November 2018, Will revealed that most of the challenges happened immediately after his first divorce.
Will and Trey overcame past challenges
Via social media, Will shared a clip of him and Trey bonding during a trip to Abu Dhabi. He praised the moment before admitting that he and Trey had "struggled for years after [his] divorce" from Zampino.
Trey told him "he felt betrayed and abandoned" after the incident. Now that the 26-year-old has called his father his best friend, there's no doubt those feelings have turned into love and appreciation.
Adrienne Banfield-Jones is one hot grandmama
In fact, the whole family work as a great team in a lot of ways. For Jones, she can probably take on anyone in her family in the gym. No wonder she looks so good.
For her birthday last year, Jada made fun of her mother's tough arms by sharing an edited video of Jones with huge biceps lifting a birthday cake.
The ode to Jones' fitness regime was appropriate. The 66-year-old regularly shares photos of herself in the gym as well. But she's not only tough on the outside.
She's had her share of struggles, too
Last year, Jones opened up about the domestic violence she went through at the hands of Jada's father, the late Robsol Pinkett Jr. It was one of many heart-wrenching moments on the "Red Table Talk."
Jones revealed that her former partner was "a violent drunk" who once gave her a black eye. Eventually, she left him. All three women, including Willow, talked it out in the touching episode.
The Smith family loves Christmas
In December 2018, the entire Pinkett and Smith family, including Trey, came together for the Christmas season. In a sweet display, they took a few family photos and shared it with fans.
Everyone wore at least one clothing item that showed off the spirit of Christmas. The finished product was inspiring, much like most people find the Smiths to be.
Please fill in your e-mail so we can share with you our top stories!