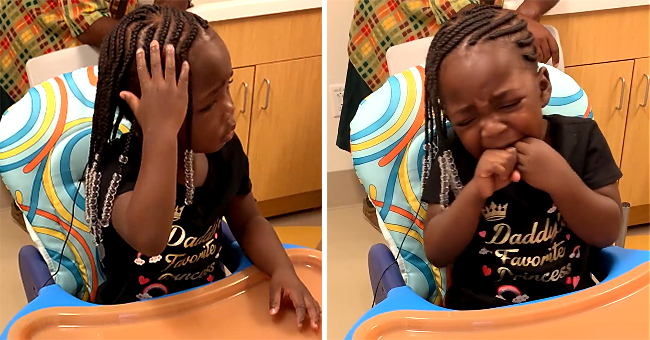 Facebook/thunderstormboyz
Deaf Florida Toddler Q'ela Pierce Bursts into Tears after Hearing Parents' Voice for the 1st Time in Viral Video

A special needs Orlando girl is fast going viral after she burst into tears on hearing her parent's voices for the first time since she was born.
The video of Q'ela Pierce, who was born deaf, is fast circulating about social media.
This comes after her father, Quaneef Pierce, first posted the video on Facebook earlier this month, and it features the beautiful moment when the youngster first discovers sounds.
In the video, little Q'ela can be seen playing with toys, seemingly oblivious to the goings-on about her.
The remarkable time, however, came when her new cochlear implant, which is described as a tiny electronic device surgically placed under the skin for a person to hear sounds, was switched on.
Q'ela quickly puts one hand on her head as if startled by the sensation and then burst into tears when she heard her parents call her name.
The Florida youngster quickly reaches out to her mother, Nikitia Vasser, who was seated close by her. The heartwarming video comes to an end as Vasser tried to comfort Q'ela by wiping her tears and giving her a warm hug.
The special moment captured in the video is one the family will come to treasure for a long time going by Quaneef's caption of the video.
The short heartfelt message had the 25-year-old father sharing that his emotions got too overwhelming that he couldn't continue filming and also sharing wishes that Q'ela only progress from here on.
"Her First Time Hearing And It Broke My Heart I Couldn't Record No More But God Is Good It's Only Up For Her From Here. Her Support System Strong."
Quaneef also adds that the cochlear implant doesn't hurt Q'ela and that her tears were because "she's just shocked."
The video is weeks old, but it is still making the rounds on social media and netizens only have beautiful words for little Q'ela.
"Yasss, I love it so happy for her & the family," one Facebook user wrote. Another commented:
"My whole heart just swelled up with a lot of emotions. Bless her beautiful heart."
"Brings me to tears every time I see this happy for you, baby girl," one other user wrote.
Q'ela's parents, Quaneef, 25, and Vasser, 33, discovered that she was deaf after she reportedly failed her newborn screening.
Albeit "rough," the journey to finally getting her fitted for the implant has been a very emotional one for the couple, Vasser shares in an interview with Daily Mail.
As regards the publicity of her daughter's story online, Vasser went on to share that she wants it to be an inspiration to many others like her, so they know that "there is hope for you or your loved one to hear again."
Please fill in your e-mail so we can share with you our top stories!