Suzanne Somers' Adult Son Bruce Jr Has His 'Step by Step' Star Mom's Smile
American actress Suzanne Somers is the mother of only one child, grown son Bruce who noticeably has similar facial features like her. 
Bruce Somers Jr. is the product of the "Step by Step" star's short-lived marriage to Bruce Somers in the 1960s. Although Suzanne is now married to Canadian television host, Alan Hamel and has been for over four decades, Bruce Jr. remains her only biological child.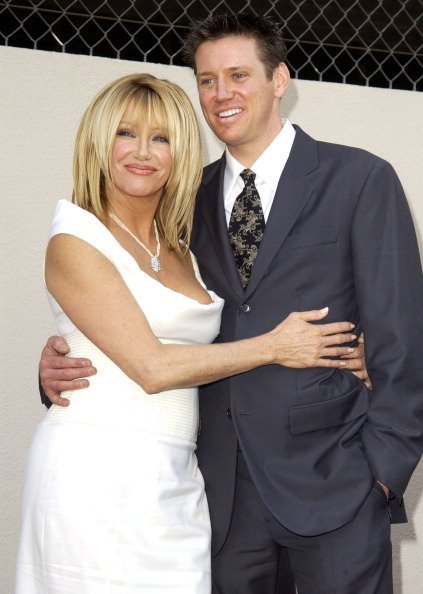 BRUCE JR. HAS A SMILE LIKE HIS FAMOUS MOTHER'S 
Going by his Facebook posts, Bruce Jr., who is going to clock 54 come November, is the best son any woman could wish for. When it comes time to honor his famous mother, be it her birthday or mother's day, Bruce Jr. is never too shy to show his affection. 
In a 2017 picture he shared to celebrate Suzanne's birthday, it is evident that Bruce shares a striking resemblance to his mum. The mother-son duo gave an excited smile as they posed huddled close. 
Bruce's smile is much like his mother's because his facial features are very similar to hers. In an even more recent picture posted by Bruce Jr. via Facebook, this similarity is also apparent. 
BRUCE JR. IS THE SON ANY WOMAN WOULD WISH FOR
Like he had done the previous year, the picture is to commemorate Suzanne's birthday, and it was accompanied by a special message from Bruce for the youthful beauty who he credited with teaching him the most important life lesson, love. 
A part of the message reads:
"This is my Mom with whom I've been lucky enough to share 53 of her 72 birthdays. We have had a amazing journey together from hard times and tragedies to the most unbelievably memorable experiences." 
It has become a tradition of sorts for Bruce to celebrate Suzanne's birthday this way every year, and she must certainly feel special for it. Like Bruce hinted in his post, he had to stay by the award-winning entertainer's side through misfortunate times like when she was diagnosed with cancer. 
THE SECRET TO SUZANNE AND ALAN HAMEL'S LONG-LASTING MARRIAGE
The cancer diagnosis is remarkably one of the toughest hurdles Suzanne has had to face. But, thankfully, she had her tight-knit family ready to provide her with a reliable support system. 
Now, the star is doing very well and when she is not getting critiqued for acting way too young for her years, Suzanne is playing the doting wife to Alan Hamel, who she first met on the sets of a game show where Somers worked as a model and Hamel, 10 years her senior, was a host. 
While speaking to PEOPLE once, Suzanne described her marriage as "everything" she has always dreamed of and that she and Hamel keep things fun with date nights. 
She also explained that although blending their families – Hamel has two children from a previous relationship – once threatened to ruin their marriage, they managed to keep their bond strong by "listening" and giving "a lot of attention" to each other.