Sylvester Stallone of 'Rocky' Fame Denies Elton John's Claim He Fought Richard Gere over Princess Diana
Sylvester Stallone sets the record with a fan after it is revealed in Sir Elton John's memoir, 'Me,' that he got into a fight with Richard Gere over his interest in Princess Diana.
In Elton John's newly released memoir, "Me," he says Sylvester Stallone and Richard Gere once got into a tense confrontation over their interest for Princess Diana, he explains:
During filming for "Lion King," in 1994, Elton John threw a party for Jeffrey Katzenberg, who at the time was the Walt Disney Studios chairman.
Among the list celebrities he invited was Princess Diana, Richard Gere and Sylvester Stallone. He tells the story of how they got into an unexpected tense situation at they party.
Elton John Says Richard Gere & Sylvester Stallone Almost Had a 'Fist-Fight' Over Princess Diana https://t.co/RKEuArsfqN

— People (@people) October 5, 2019
Elton John says, immediately after meeting, Diana and Gere took a liking to each other and spent most of the night engaging in a one-on-one-conservation, he writes:
"She was separated from Charles by this point, and Richard had broken up with Cindy Crawford. They ended up sitting in front of the fireplace together, locked in rapt conversation."
"As the rest of us chatted, I couldn't help notice a strange atmosphere in the room. Judging by the kind of looks he kept shooting them, Diana and Richard Gere's newly blossoming friendship was not going down well with Sylvester Stallone at all," Elton John reveals.
Elton John suspects that Stallone had shown up to the party with the intent of pursuing Diana before  he found her engaging in a personal conversation with Gere.
After discovering that Diana, Stallone and Gere were not part the group, as they sat down for dinner, he sent for his husband, David Furnish to find the trio, he recalls:
"It transpired that he'd discovered Sylvester Stallone and Richard Gere in the corridor, squaring up to each other, apparently about to settle their differences over Diana by having a fist-fight."
Under a recent post on his Instagram account, a fan confronts Stallone about the event detailed in the memoir, the fans asks:
"Did you really fight with Richard Gere over Princess Dianna at a party?"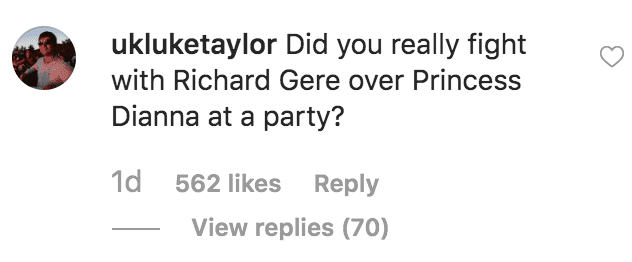 "@ukluketaylor Total BS for For Him to sell books! Total rubbish," Stallone says in response to the Elton John's allegation about a confrontation between him and Gere over Diana."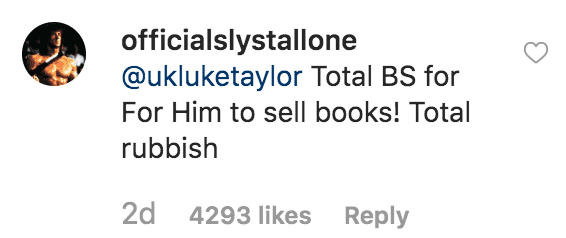 Diana's impact on the people who were fortunate enough to meet her has always been referred to as "The Diana effect."
Elton John admits that the confrontation between Gere and Stallone is one event that stands out to him, which truly captures how impactful and enamouring Diana's presence was on people who admired her.