Ted Danson's Wife Is 'Proud' of Her Husband & Jane Fonda after Their Arrest
Following Ted Danson's arrest with Jane Fonda and other social activists, his wife Mary Steenburgen praises him for his involvement in the climate change protests. 
For the third week in a row Jane Fonda has been arrested at a climate change protests, in Washington D.C. This week she was joined by "Cheers" star, Ted Danson. Praising him for his arrest, his wife, Mary Steenburgen says:
"I am proud and inspired by you always, Ted. You have fought since you were young for the health of this planet."
"I look up to you, to the inspired young people and to our friend, @janefonda and I cannot wait to be able to be there to stand with you all," Steenburgen gushes.
Danson and Fonda were arrested by the by US Capitol Police for the weekly climate change protests coined "Fire Drill Fridays."
According to CNN, this week's "Fire Drill Friday" protest's theme was "Oceans Can't Wait," It is reported 32 people were arrested. Commenting on Danson's arrest, Steenburgen jokes:
"In the meantime, love to you, my first time jailbird. I hope you remembered to pack that Kind bar like I suggested?."
During her speech at the protest, Fonda encouraged the crowd to avoid new fossil fuel extractions. Instead she urged protesters to ensure that they hold elected official accountable for the reforms they push. Quoting Danson's speech Fonda writes the caption:
"Posted @withrepost • @firedrillfriday "All of this is inconvenient. It's inconvenient for politicians to stop taking money from fossil fuels, "@teddanson #firedrillfriday."
Danson admits that at 70-years-old his life has slowed down, but after seeing Fonda's drive and passion  while fighting on the front lines at 81-years-old, he was inspired to join the protests, he explains:
"Then I met Jane Fonda, who had her foot on the gas pedal and was not only 80, but was going 80 miles per hour at all times."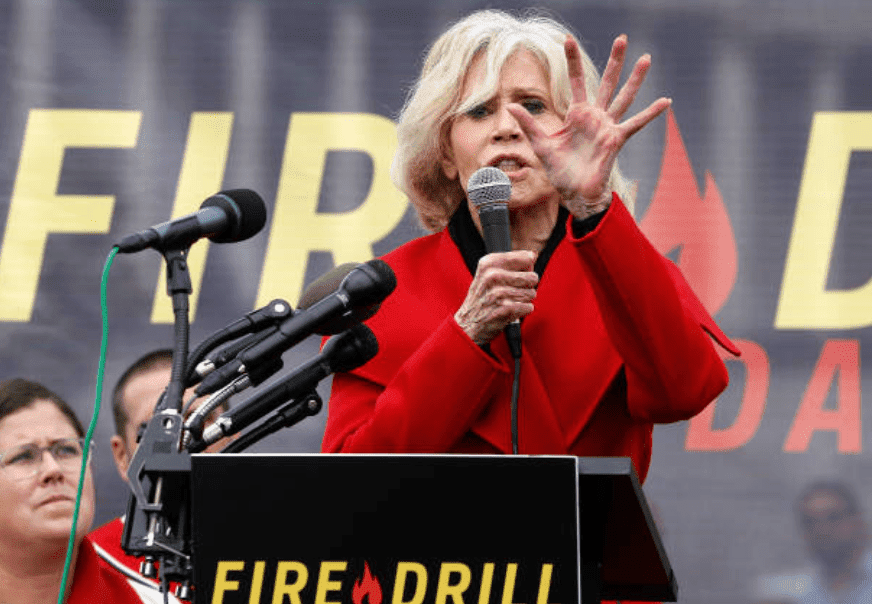 "She's astounding, she became my mentor, and here I am about to get arrested ... It focuses your brain a little bit," he adds.
It is reported, next week's theme is "Women Can't Wait." The protest will address ways to advancing education for females, strengthening reproductive justice and focusing females work in climate solutions.