Safaree & Erica Mena of 'Love & Hip Hop' Recreate Kim Kardashian & Kanye West's 2013 Met Gala Look for Halloween
Safaree and Erica Mena of "Love & Hip Hop" recreated Kim Kardashian and Kanye West's 2013 Met Gala outfit for Halloween and even Kim herself approves of it. The gown worn by Kim Kardashian-west during the 2013 Met Gala was a highly talked about piece, as it didn't exactly fit the theme.
"Love & Hip Hop" stars Erica Mena and Safaree Samuels channeled Kim and Kanye for their Halloween costume this year, copying the couple's 2013 Met Gala costume.
At the time Kardashian-West wore it, she was also heavily pregnant the same way Mena is right now.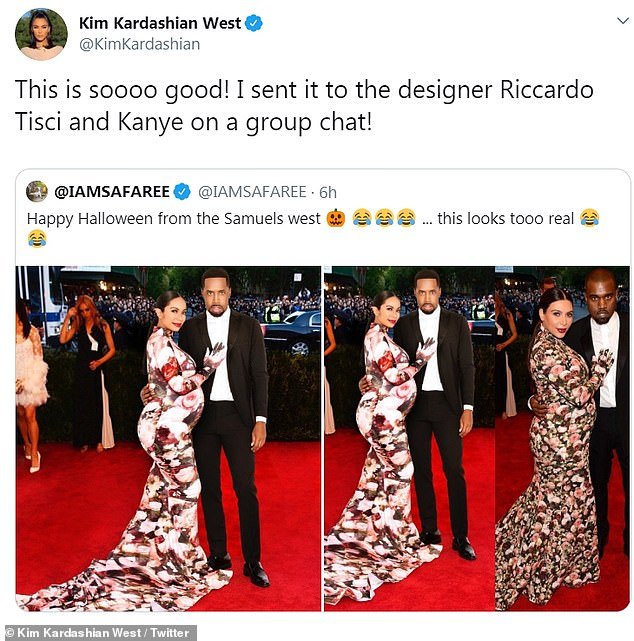 The Met Gala 2013 Look
Mena definitely nailed the look, showing off her own baby bump. Samuels also made sure to act like Kanye that night, barely flashing any smiles, and copying the same hair and mustache that the rapper had on during the gala. 
The costume included a long floral-printed gown, which featured a turtleneck and gloves. Meanwhile, Safaree wore a plain black suit with a crisp white top. The couple then photoshopped themselves into photos from the Gala, with Kim giving her sign of approval by posting about it on Twitter. 
Kim Kardashian's Sign of Approval
In fact, the "Keeping Up With The Kardashians" star sent the photos of Samuels and Mena to the designer who made her dress and husband in a group chat as she was amused by the way they copied them so perfectly. 
Just a couple of weeks ago, Safaree Samuels and Erica Mena held an extravagant gender reveal party for their child, and they revealed that they're expecting a girl.
Awaiting the Arrival of Their Daughter
The couple jumped for joy when pink fireworks lit up the sky, celebrating the special moment with their closest family and friends. 
It hasn't always been an easy journey for Safaree Samuels and Erica Mena in their relationship, but with the arrival of their child and their recent wedding, it seems things are finally shaping up to be good for both of them, who are excited to expand their family into a family of four, along with Mena's older daughter.