Meet The Beautiful Annalee Belle, The Wife of "Property Brothers," J.D. Scott
Annalee Belle is a mixture of a lot of beautiful things that caught the attention of J.D. Scott, and she's the perfect example that it's wrong to judge a book by it's cover.
Up until it became public knowledge that J.D. Scott of "Property Brothers" got engaged, his love life was kept private, and when Annalee Belle got revealed as the woman who stole his heart, his fans wanted to know the person behind the name.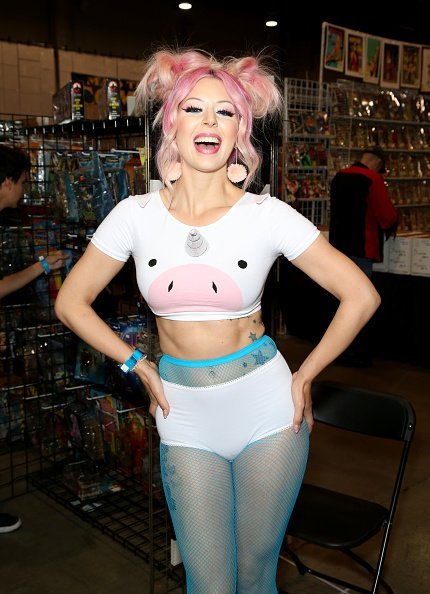 ANYTHING BUT TRADITIONAL
Annalee grew up in the town of Amarillo, Texas, but she soon shed the conservative upbringing she had for something more colorful, which fits the world of show business. 
Her signature bright pink hair speaks to her free-spirited nature, and her desire to experience a life free from traditional values.
On her Instagram bio, Annalee describes herself as a celebrity makeup artist, model, beauty, and travel lover. She is also a fashion enthusiast and an advocate for mental health and wellness. 
The makeup artist's website adds that she is an internationally published model and a social media branding expert.
The Texas native uses her reach on different social media platforms to connect with people, and educate them on diverse topics ranging from health, and the best beauty practices. 
She also uses her experiences to demonstrate what it means to be a freelancer in today's world.
Based on a recent post on Facebook on October 28th, Annalee has an open-book policy and is not afraid to air her views, especially if it helps other people and their businesses. The post came two days before her wedding to J.D.
CLASSY, DARING, AND EVERYTHING IN-BETWEEN
The model and the HGTV star promised forever to each other in the '40s, and '50s themed vintage theater wedding that took place at a house in Las Vegas on October 31st. 
The newly-wedded bride made an entrance on an elegant Belgian horse, named Zena, dressed in what she described as,
"A mix of classy, sexy, fierce, feminine, dreamy, and daring."
The dress was meant to send the message that she embodies those words and everything in-between. Interestingly, getting married was not in Annalee's long-term plan. 
She made the reveal in one of the posts she shared on Instagram to celebrate her engagement to J.D. last Halloween. The Las Vegas resident wrote that she only decided to try matrimony a few months before her then-boyfriend proposed. 
She applauded the T.V. star for his patience, and for waiting until she was ready to make the life long commitment. J.D. was also ecstatic about his then-girlfriend saying yes, and he wrote alongside an Instagram post,
"It looks like I get to spend the rest of my life with you. I'm on cloud nine right now. #Shesaidyes #Engaged #Proposal."
Before the proposal, the T.V. star had a mystery illness for about a year. He underwent a series of scans and tests, but the doctors could not find any medical reason for the sickness that brought with it nausea, fever, and fatigue. 
Throughout that challenging phase, Annalee stood by her man, and J.D. also had the support of his brothers, Drew and Jonathan.
A LOVE STORY FOR EVERYONE
The T.V. star's brothers, who are twins, are the original hosts of the show "Property Brothers." J.D., who is older, appeared on the show on a guest basis, and it extends to their new show, "Brother vs. Brother." 
Together, the trio owns the production company, Scott Brothers Entertainment. J.D. worked for a while in Las Vegas, as a performance artist at Caesars Entertainment, and has experience in film, finance, and construction like his brothers. 
Another thing the Scott men have in common is the fact that they all have women in their lives whom they love and are happy with.
In 2018, Drew married his longtime girlfriend, Linda Phan, in a destination wedding ceremony in Italy. In September, Jonathan went public with his relationship with the actress, Zoey Deschanel, whom he met at a carpool karaoke event in August.
In a recent interview, the two revealed that they double date with their partners, but whether or not they plan to include their older brother and his wife remains to be seen. 
In the meantime, J.D. and Annalee are getting accustomed to married life and living their best lives with each other.