Jaclyn Smith and Her Mini-Me Granddaughters Celebrate Halloween in Adorable Costumes
Actress Jaclyn Smith, best known as Kelly Garrett in the late-70s TV series "Charlie's Angels," shared on Instagram the Halloween costumes her two granddaughters wore.
The first image portrayed the eldest one, Bea, reprising C3PO, one of the most famous androids in the "Star Wars" saga, while posing at what appeared to be a beach in Santa Barbara, California.
She looks just stunning, especially her legs!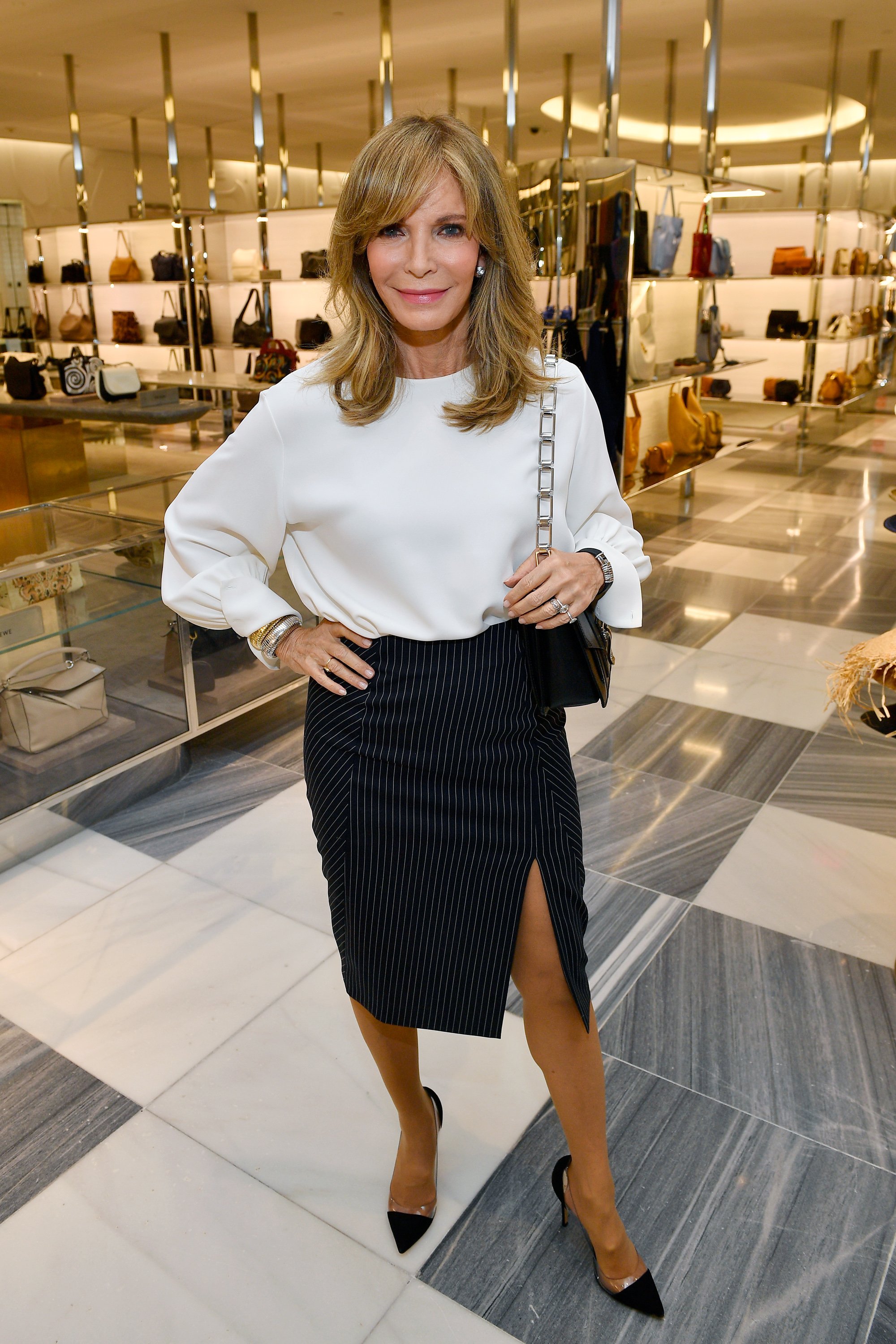 Jaclyn Smith's grandchildren in Halloween costumes
As per the second pic, a person dressed as Darth Vader (also from "Star Wars") was holding the toddler with the C3PO outfit. This time, she got her mask on.
In the third photo, Bea opted for clothes that made her look like Mexican painter Frida Kahlo. The young girl was posing next to another child dressed as a cute witch.
The last image showed Olivia, Jaclyn's youngest granddaughter, sitting on a straw bale with a not-so-scary scarecrow and a couple of pumpkins. The child was wearing an orange top, reprising a little pumpkin.
For the caption, Jaclyn wrote:
"Happy #Halloween from my little pumpkin, Darth Vader, C-3PO and Frida Khalo!" [sic]
Jaclyn's relationship with the girls
During an interview that the actress had with People in August this year, she opened up about the wonderful relationship she shares with her two granddaughters.
Bea is the daughter of Spencer Margaret, Jaclyn's daughter. Baby Olivia, on the other hand, is the only child of the actress' son Gaston.
According to Jaclyn, her children visit her frequently, and, of course, they take the girls with them. She added that Bea knew there was a drawer filled with candy in Jaclyn's closet, so going for the "gummy bears" is one of the first things she does.
About watching "Charlie's Angels" with the girls, the actress said:
"I bet I'll have fun watching it with Bea and Olivia. That might be fun to say, 'Hey, here's your Mimi a long time ago.' I'd like them to see how things change, and I think it's important for them to see their history, to see where they came from."
Jaclyn's secret to looking as beautiful as ever
Even though the original "Charlie's Angel" is 74 years old, she looks as beautiful as ever. During a conversation she had with Better Nutrition, she admitted to working out with a personal trainer in the morning.
Jaclyn added that she felt "better and stronger" when the day starts. Apart from that, she admitted that working out with a personal trainer made things "much better." She explained:
"You tend to say to yourself, 'Okay, I'm gonna do five [reps] instead of 10.' When my trainer is there, the phones are turned off and, it's devoted attention to her. It's important to say, this is my turn and I'm gonna work out for an hour."
The many photos she frequently shares on Instagram are proof that her work out routine works. One of the most recent pics shows her rocking a pink dress while she is standing next to a flower vase. She looks just stunning, especially her legs!