Sarah Jessica Parker Confirms Sequel for 1993 Disney Classic 'Hocus Pocus'
Sarah Jessica Parker celebrates Halloween by confirming the news that Disney Plus is working with some of the original cast members on a sequel for the 1993 movie, "Hocus Pocus." 
In an exclusive, Collider reports, producer and writer Jen D'Angelo has been chosen to write the script for the sequel for Disney's 1993 classic "Hocus Pocus."
Confirming the news on social media is one of the stars, Sarah Jessica Parker. She plays the character of a witch named Sarah Sanderson. In her announcement about the movie, Parker says:
"Halloween 2019 One for the books. X, SJ."
Eager to find out more information about her announcement, on fans responds to the picture of Parker with her "Hocus Pocus" cast mates and asks:
"Any chance of a sequel?!"

The Disney movie follows the lives of three witches, who were hung in Salem in 1693 for killing a girl in order to absorb their youth from her and return in the future for revenge.
The witches are played by Parker as Sarah Sanderson, Bette Midler as Winifred Sanderson and Kathy Najimy, who plays Mary Sanderson.
The black flame candle has, apparently, been lit https://t.co/HjWzlR5Atw

— VANITY FAIR (@VanityFair) October 24, 2019
According to Daily Mail, when it first came out the movie wasn't a box office hit. It earned $39 million on a $28 million budget. 
However, since its release in 1993, "Hocus Pocus" has become a cult classic. Commenting on Parker's sequel announcement, one fan says:
"@sarahjessicaparker this would be AMAZING! My favourite Disney movie ever! I watch with my little girl (well, she's 8 now) all the time. "Hang him on a hook and let me play with him..."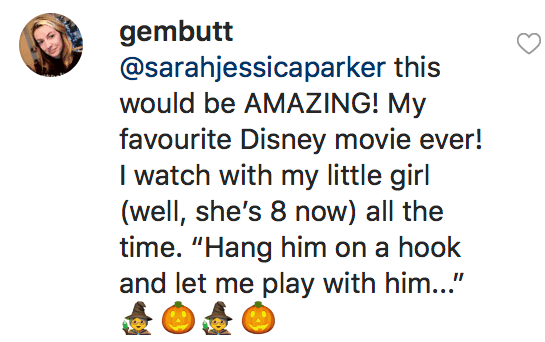 "@ajchum we have all said yes. Now we wait. X," Parker replies.

Another fan of the movie is "American Idol" Alum, Kelly Clarkson. During a Halloween episode on the "Kellyoke" segment of her talk show, "The Kelly Clarkson Show," she dressed as Midler's character Winifred. 
Clarkson entertained her cheering audience with a performance of the original mid-'50s blues hit by Screamin' Jay Hawkins.
In the movie Midler wears a green embroidered coat on top of a pruple dress, which she styles with bright red hair and bold red lips. Midler herself comments on the iconic look saying:
"#KellyClarksonShow! Kelly as Winnie! Fantastic!!"
#KellyClarksonShow! Kelly as Winnie! Fantastic!! pic.twitter.com/IQsEQTZCFs

— bettemidler (@BetteMidler) October 31, 2019
"Hocus Pocus" is in works at Disney Plus. It will be part of the streaming service's listings. It is reported, the service will officially launch on November 12, 2019.