Colin Kaepernick Provides Food and Supplies to the Homeless in Oakland for His 32nd Birthday
In celebration of his 32nd birthday, Colin Kaepernick provided food and supplies to the homeless in Oakland's infamous tent city. 
Colin Kaepernick decided to give back on his birthday, providing food and supplies to those who needed it the most. 
The former NFL quarterback drove to Oakland's tent city to celebrate his 32nd birthday, feeding and providing supplies to the homeless residents in the area. 
This year marks his 3rd year out of the NFL after choosing not to renew his contract following his controversial national anthem kneeling in protest of racial injustice in America.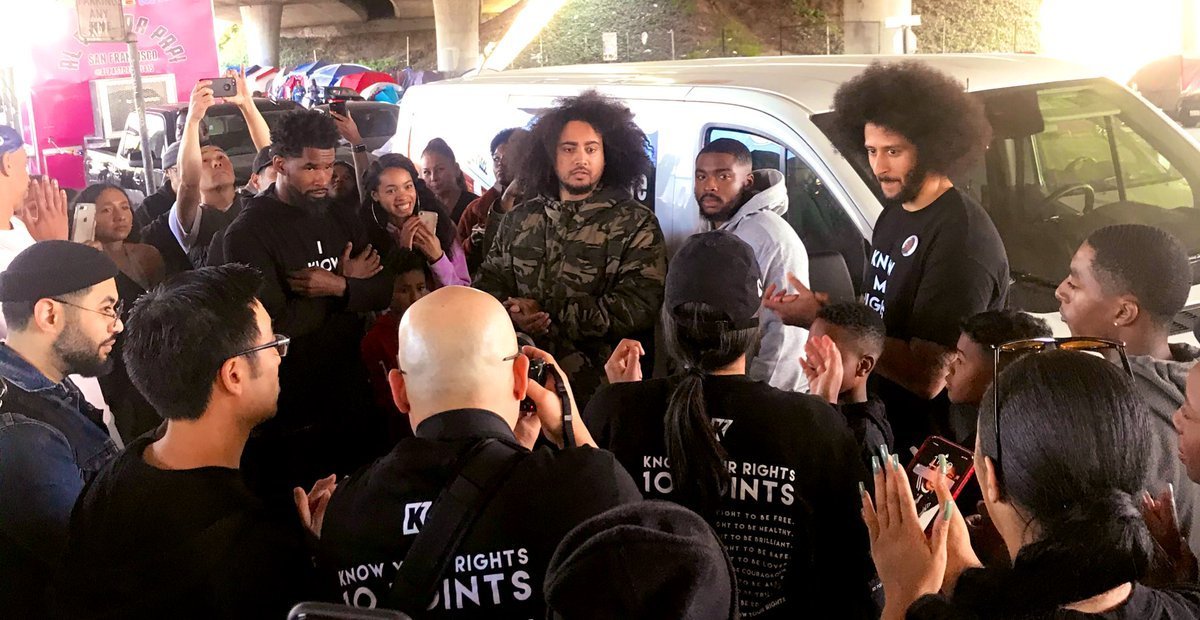 Giving Back to the Community
In partnership with his foundation "Know Your Rights Camp," and his girlfriend, Nessa, Colin walked around as he handed out backpacks that were filled with snacks, socks, masks, shampoo, and other resources that they might need. 
In addition, he had a food truck come in to feed everyone that wanted a hot meal and granted photo ops to the locals who went there to greet him a happy birthday. 
The Last of Kaepernick in the NFL
The Bay area is close to Kaepernick's heart, as this is where he last played in the NFL. Suiting up for the 49ers until the end of his contract in 2017, he is all too familiar with the place which is why he continues to give back. 
Despite not being back in the NFL since his National Anthem protest in 2017, Colin has been keeping himself in shape in case any team in the league wants him back. 
Kaepernick vs. the NFL
Back in February, Colin won a case against the NFL. He argued that team owners and the NFL deprived him of employment due to his rebellion.
This year marks his 3rd year out of the NFL after choosing not to renew his contract following the controversies he was a part of. 
Hoping to Re-Join the League
Despite the court settlement he got, it's being back in the league that Kaepernick wants the most. In fact, his lawyer, Mark Geragos, explained this to CNN at the time, saying: 
"He wants to compete at the highest level. This is a competitive young man. Unfortunately, in spite of his court win and heavy training, to this day, the 31-year-old remains a free agent."
While he patiently waits for a team to get him back, Colin stuck to his daily routine as if he were still part of a team. He works out at 5 AM, 5 days a week, for the past 3 years, and that's something that isn't going to change for him.