Ellen DeGeneres Meets Some of the Firefighters Who Saved Her Home & Others during California Fires
In tribute to the firefighters who tirelessly fought the California wildfires, Ellen DeGeneres invited them on her show and gave them a generous token of her appreciation.
Ellen welcomed 10 firefighters on "The Ellen DeDegenerous Show" on Wednesday after the audience received them with a standing ovation.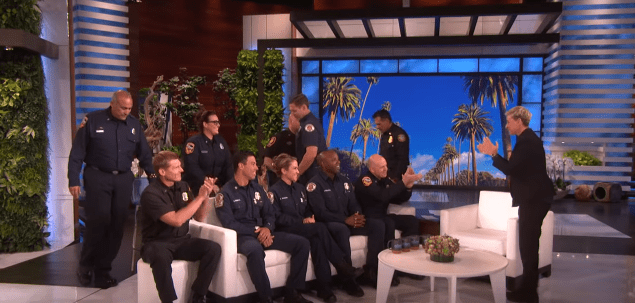 "I love all of you. All of you have been fighting all these different fires we've been watching on the news, so thank you for that," Ellen said.
After everyone settled down, California Fire Battalion Chief Lucas Spelman shared that handle between 200 and 300 fires per week on average, but as firefighters, they stay focused on serving their community.
"I think all of us can agree, we have a job to do," Lucas said. "People are depending on us, so really thinking about being tired is just an unacceptable decision and we just get out there and fight those fires."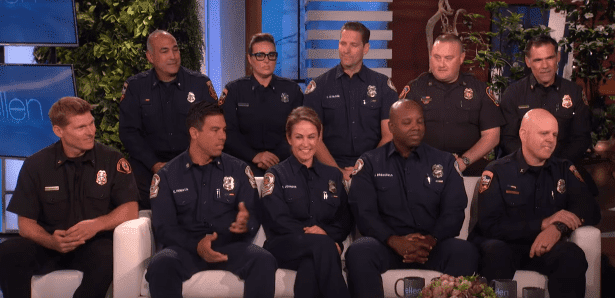 Among the ten firefighters was Eric Le Blanc, who personally helped save Ellen and Portia's house during last year's wildfires. Initially unaware of whose house they protected, Eric only found out about its owners on the third day.
While the realization "put a pep in their step," Ellen's gift to convey her gratitude for the work they do, hopefully, did the same. 
"Oh, my Lord."

A driver on the 405 in Southern California captured terrifying footage of the aggressive #GettyFire. The nearby Getty Center tweeted that their building was safe, but many nearby residents were forced to evacuate. https://t.co/wo0iYNamQm pic.twitter.com/F4AQxQAm8T

— ABC News (@ABC) October 29, 2019
In partnership with Nature Valley, the talk show host donated $250,000 to the California Fire Foundation. A year ago, Ellen also honored the foundation with a cool $100,000.
Ellen recently returned to the show after taking the time to "run errands or buy a house," as she jokingly said back in September. Fans started commenting on Ellen's absence when a string of guest hosts kept appearing in her stead:

However, the talk show host referred to her time away from the show as a "tradition" that goes back to Johnny Carson's days. While she loves following tradition, especially if it involves not having to work, Ellen also pointed out that she can't take off like other people with regular jobs.
"You know how you can call in sick to work if you don't feel well? I can't do that," Ellen said at the time. "So for 15 seasons, I have been here every day, even when I'm sick or have a bad back or get a paper cut. I work in day in and day out to bring you some of the best entertainment a show can ever offer, so I decided that once in a while I need to take a day off... to run errands or buy a house."
On November 4, Golden Globe Awards announced that Ellen will be honored during the 77th Golden Globes ceremony on January 5, 2020, with the Carol Burnett Award for her outstanding contributions to television.
Also happy in love, Ellen celebrated her 11th year of marriage to Portia de Rossi a few months back. The couple's romance dates back sixteen years, but they waited until the California Supreme Court outlawed the banning of gay marriages in 2008 to tie the knot.
In celebration of the special day, Ellen posted a throwback picture of their wedding day, which she captioned, "Happy anniversary, Portia. 11 years. My favorite number with my favorite person."