Chaka Khan, 66, Stuns with Her Youthful Beauty in Black Outfit & Red Hair on Tamron Hall's Show
Chaka Khan brought fire to the studio of "The Tamron Hall Show" a few weeks ago, flaunting her big mane of bright red hair as she talked about beauty, an upcoming project with Disney, and her collaboration with Ariana Grande. 
At 66, funk star Chaka Khan still sends hearts racing with her distinct look, especially her natural red hair. And even though she's now using wigs, the effect is the same.
Chaka's characteristic look
The "I'm Every Woman" singer visited Tamron Hall's talk show last week and looked stunning wearing an all-black pantsuit and matching boots as she enchanted the audience with her down-to-earth personality.
Khan took to Instagram to share a series of pics from the shooting, posing with Hall, who was in costume since it was the Halloween show, and adding in the caption:
"'Hall-o-ween' @TamronHallShow show & ball was so much fun this morning! I love #NewYork on #Halloween as the people & streets of NY are so alive with all sorts of characters. Please be safe tonight & always 'Face your fears' head-on...tonight & every day!"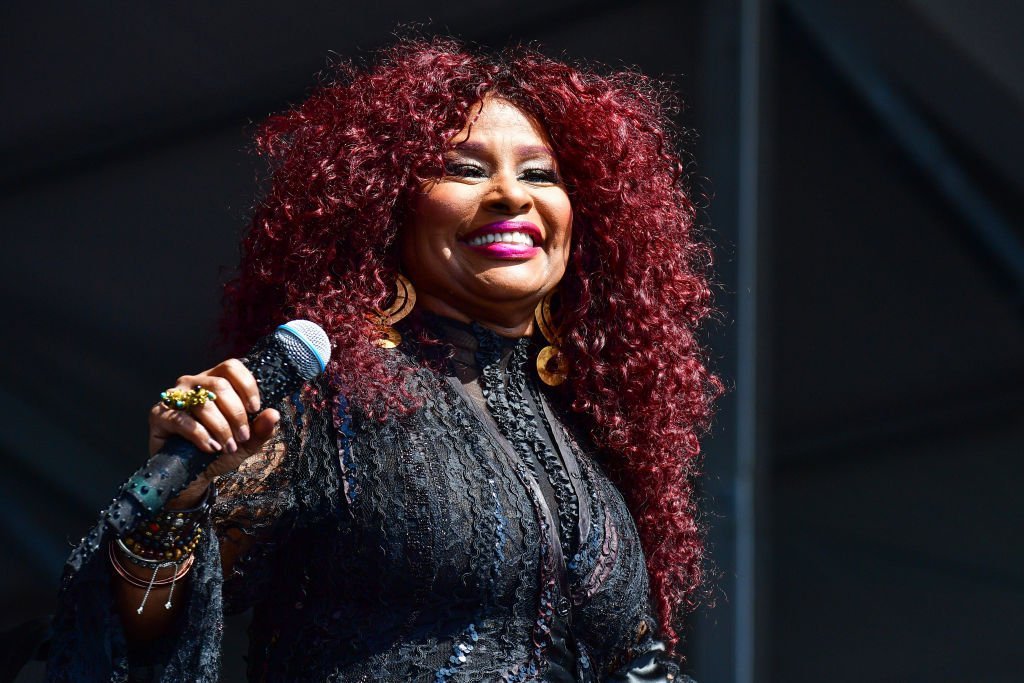 Fans have nothing but praise for Khan
After sharing the pics, Chaka received over a hundred comments from some of her most loyal supporters, gushing about her look and her TV appearance.
"This hair, honey!! Who does your hair? It is Ah-mazin! I love you, Queen," wrote one fan.
Another added,
"Nice, Chaka. You and Tam get down Old school but real school. Heated up with that hair!"
And an old fan chimed in to say:
"Great interview, and you look fabulous, darling. I have been a fan of yours since Mavericks flat on Crenshaw Boulevard. Blessings!"
Talking about beauty
Khan's career in the entertainment industry spans over four decades, and still, she revealed to Tamron Hall that she "just started caring about beauty" in the past year.
Her seamstress mother made her iconic '70s and '80s looks, and Chaka used to focus more on her comfortability on stage than the fashion trends at the time.
Same thing with her hair. She just had a natural wild mane that she enjoyed coloring it with Rit dye, even though her hands and clothes would be red because of the tint.
Earlier this year, Khan released her first line of wigs in partnership with Indique and talking to The Cut at the time she said:
"I think that hair is powerful, like Samson's. I believe that there's power in hair, and it means a lot. How you treat your hair, it tells everybody who you are. Your hair makes a major statement."
On upcoming projects and Ariana Grande
Going back to Chaka's interview with Tamron Hall, there were two major takeaways: she revealed that she just finished working on an animated movie with Disney, although she didn't share the name of the project.
Khan said it was her first-ever experience lending her voice to an animated character, and she enjoyed the experience so much, she's looking forward to keeping doing it in the future.
She also talked about her collaboration with Ariana Grande for the soundtrack of "Charlie's Angels," revealing that the younger star's agents got in touch with her team for the project.
Chaka Khan reveals what you can expect in her collab with Ariana Grande on the "Charlie's Angels" soundtrack https://t.co/IA9FyJubkC | Variety's Power of Women luncheon presented by @LifetimeTV pic.twitter.com/W6MC2Q8cCR

— Variety (@Variety) October 11, 2019
"My agent called and said, 'are you interested in singing with Ariana Grande?' and I said 'depends,'" Khan joked.
Earlier in the week, Khan told Variety about the song that "it's not gonna change the world, okay? It's a good song in the movie."