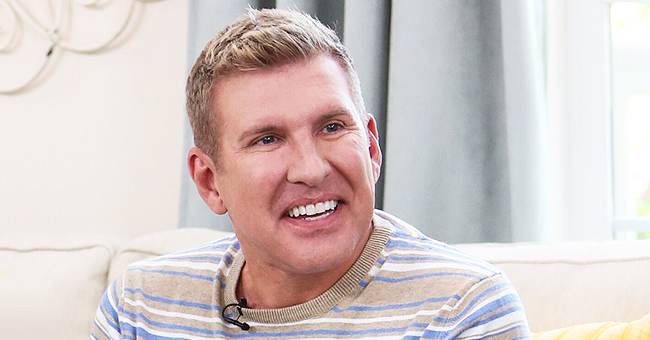 Getty Images
Todd Chrisley of 'Chrisley Knows Best' Wishes Granddaughter Chloe Happy Birthday in a Sweet Instagram Post

Todd Chrisley shared a series of selfie photos as he celebrated his granddaughter Chloe who just turned seven years old. One of them was heavily filtered.
"Chrisley Knows Best" star Todd Chrisley was eager to gush over little Chloe on Sunday when she became a year older. He shared three pictures via Instagram.
Chloe is Chrisley's son Kyle's daughter with ex-girlfriend Angela Victoria Johnson. Since she lives with her grandfather, she's become a regular on the show. The birthday post is found below.
In the first shot, Chloe gave a toothy smile as she sat down on Todd, who wore black aviator shades while smiling for the camera. Chloe's grin was full of spaces where her teeth hadn't come in yet.
She wore a black turtle neck shirt and had her hair in a high ponytail looking cute as ever. The second shot showed the pair again in the same black outfits.
This time, they looked seriously into the camera for another close-up selfie. The last photo was just Chloe and it was heavily filtered to show her with blue eyes.
The greyscale edited picture also featured blue smoke all around her. Chloe made an "O" shape with her mouth and looked gorgeous as ever in the fun shot.
Todd captioned the post:
"Happy Birthday Chloe, i hope this day has been the best of days because the best of days began when God blessed us with you, with all my heart and to the moon and back , I Love YOU."
Even when it's not her birthday, Todd enjoys putting his granddaughter on display with heartwarming photos. Late October was the first time he shared the one of him and Chloe wearing their very serious expressions.
At the time, the 50-year-old wrote:
"I mean , not bragging but I think she might just be one of the most beautiful little girls in the world .. wait , I guess that is bragging."
Back in August, Todd called Chloe his most "favorite person" in yet another post. This time, it was in response to his son Chase calling girlfriend Kayla Puzas his "favorite human."
Not long after, Todd shared a throwback of Chloe writing, "Well since @chasechrisley wants to post who his favorite person is I thought I should post who my favorite person is ... so top that @chasechrisley."
Chloe is reportedly living with Todd and his wife Julie Chrisley so that dad Kyle can have time to work on his health. In the meantime, fans can catch her on new episodes of "Chrisley Knows Best" on the USA network on November 24.
Please fill in your e-mail so we can share with you our top stories!