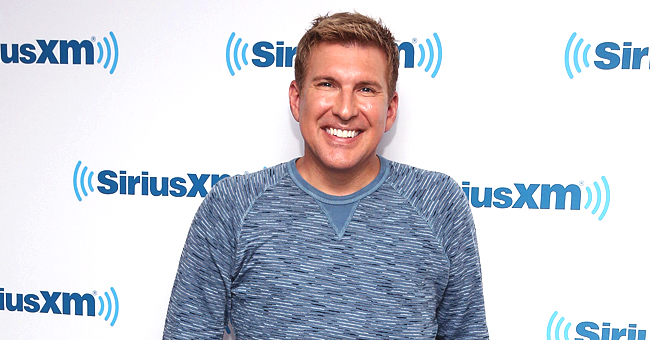 Getty images
Todd Chrisley Said Son Kyle's Daughter Chloe Is His Favorite Person Amid Tax Evasion Scandal
On Wednesday, "Chrisley Knows Best" star Todd Chrisley took to social media to have some friendly banter with his son about who their "favorite person" was.
Chase Chrisley initially posted an image with his girlfriend, Kayla Puzas on Instagram and titled the image "My favorite human." The "Chrisley Knows Best" reality star shared a black and white photo of him and Puzas as they smiled together.
Seeing the post, his father, Todd Chrisley, revealed that his humor was still quite intact. He posted on his own Instagram account with his own counter-response.
Todd shared an image of his granddaughter, Chloe Chrisley, the daughter of his formerly estranged son Kyle Chrisley. The family patriarch captioned the post with a challenge.
He wrote:
"Well since @chasechrisley wants to post who his favorite person is I thought I should post who my favorite person is ... so top that @chasechrisley."
About an hour later, Todd shared a family picture that featured his sons including Grayson, wife Julie, daughter Savannah, grandmother Faye, and Kyle laying in a hospital bed. His son appeared to be in good spirits as he smiled for the camera.
The family patriarch captioned the image:
"NOT TODAY SATAN, NOT TODAY," he wrote. "God shows up and shows out, now won't he do it? Kyle is great and we are back to the grind."
Kyle and his father have had a rocky relationship over the years. Todd's son previously suffered from issues with drugs and alcohol but has since cleaned up.
Amid his father and stepmother, Julie Chrisley's tax evasion indictment, Kyle revealed that he made up with his father. In a Facebook post, he shared that Todd had "forgiven" him.
He also defended his parents against the allegations they're currently facing. Kyle blamed his drug addiction for the previous claims that he made about his father's taxes.
On August 13, Todd and his wife were indicted by a federal grand jury for tax evasion and other financial crimes. The next day, the couple handed themselves over to authorities and had their court appearance where they pleaded not guilty and were each released on $100,000 unsecured appearance bonds.
A spokesperson for the Chrisley family shared that Kyle was doing fine. Todd's son "had an adverse reaction to his medication," but was now well on his way to recovery.
Nothing has been revealed about the medication Kyle is taking or what it was for.
Please fill in your e-mail so we can share with you our top stories!