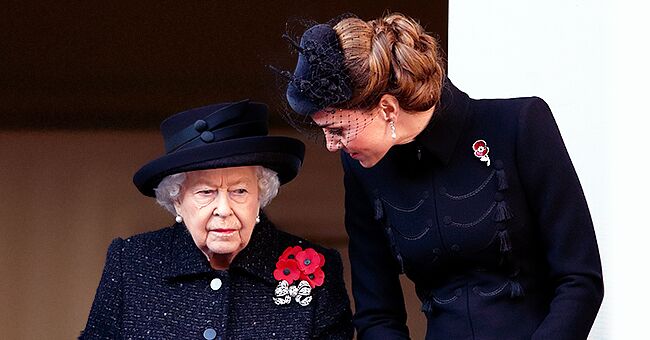 Getty images/ Global Images Ukraine
Kate Middleton Pays Tribute to Late Grandma with Metal Poppy Codebreakers Brooch on Remembrance Sunday
During the Remembrance Day Service, Kate Middleton wears the unique 'The Codebreakers Brooch' in honor of her grandmother, Valerie Glassborow.
According to Daily Mail, Kate Middleton's paternal grandmother, Valerie Glassborow was one of the 9,000 people who worked as codebreakers at a top secret base in Bletchley Park during World War II.
In honor of Valerie and her twin sister, Mary Glassborow, Kate donned "The Codebreakers Poppy," which was released this year for the Remembrance Day Service.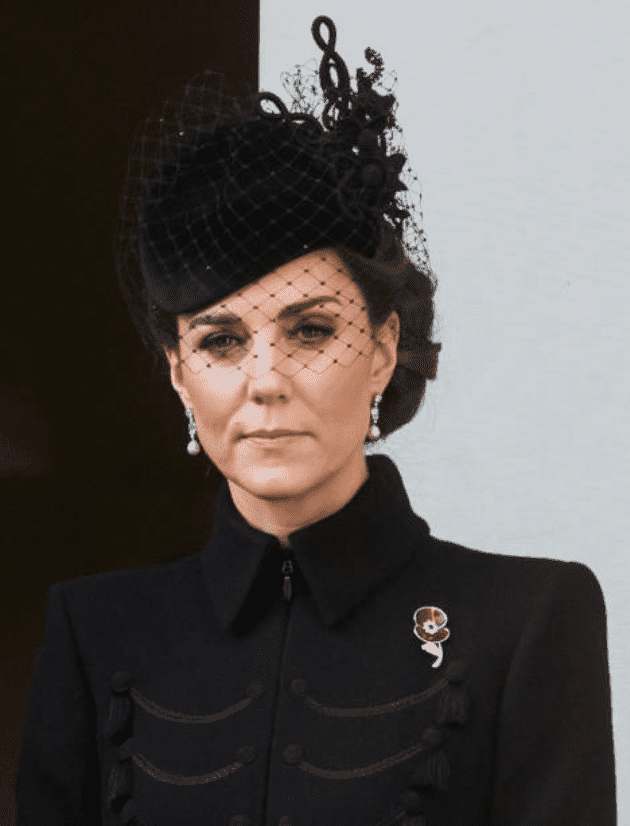 Kate Middleton stands on a balcony and watched the Remembrance Sunday memorial Service, on November 10, 2019 in London, England | Source Getty Images (Photo by Samir Hussein/WireImage)
She is the first royal to forgo the traditional red and black artificial poppy flower for the metal poppy brooch on Remembrance Day.
According to the Poppy Shop the brooch retails at $39. With the words "lest we forget" inscribed on the back, it was released in honor of the men and women who worked in signal intelligence.
During a visit to Bletchley Park, Kate opened up to a group of children about her grandmother's role in the Second World War, she says:
"My granny and her sister worked here. It's very cool. When she was alive sadly she could never talk about it. She was so sworn to secrecy that she never felt able to tell us."
Bearing a striking resemblance to her grandmother, its revealed Valerie, who worked at "Britain's Spy School" and married Peter Francis Middleton, British military pilot in 1946.
90-year-old Lady Marion Body, who worked with Valerie at Bletchley Park during the Second World War told ITV, Kate and her grandmother have a likeness around their eyes.
It is reported, Peter and Valerie had four sons, of which Kate's father Michael Middleton was the oldest of her children. In 2006, Valerie died having held onto her wartime secrets.
"Inspired by the rotors of the Enigma machines, from which Allied cryptologists successfully decrypted a vast number of enemy messages during the Second World War, the Codebreakers brooch is an extraordinary tribute to those in signal intelligence," the Poppy Shop says.
Prince William and Prince Harry placed the ceremonial wreaths in honor of the dead military members. On a balcony, Kate stood with Camilla and Queen Elizabeth who wore five poppy pins on her lapel to represent each service in the war.
Meghan Markle was also in attendance and watched the service from a separate balcony with Sophie, Countess of Wessex and Sir Timothy Laurence.
Please fill in your e-mail so we can share with you our top stories!