Sean Spicer Is the Latest Celebrity to Be Eliminated on 'Dancing with the Stars' and Fans React
After weeks of dodging the bullet, Sean Spicer was finally eliminated from "Dancing with the Stars," and fans have a lot to say about it.
The inevitable happened on Monday's airing of "Dancing with the Stars" as viewers got to say goodbye to Sean Spicer.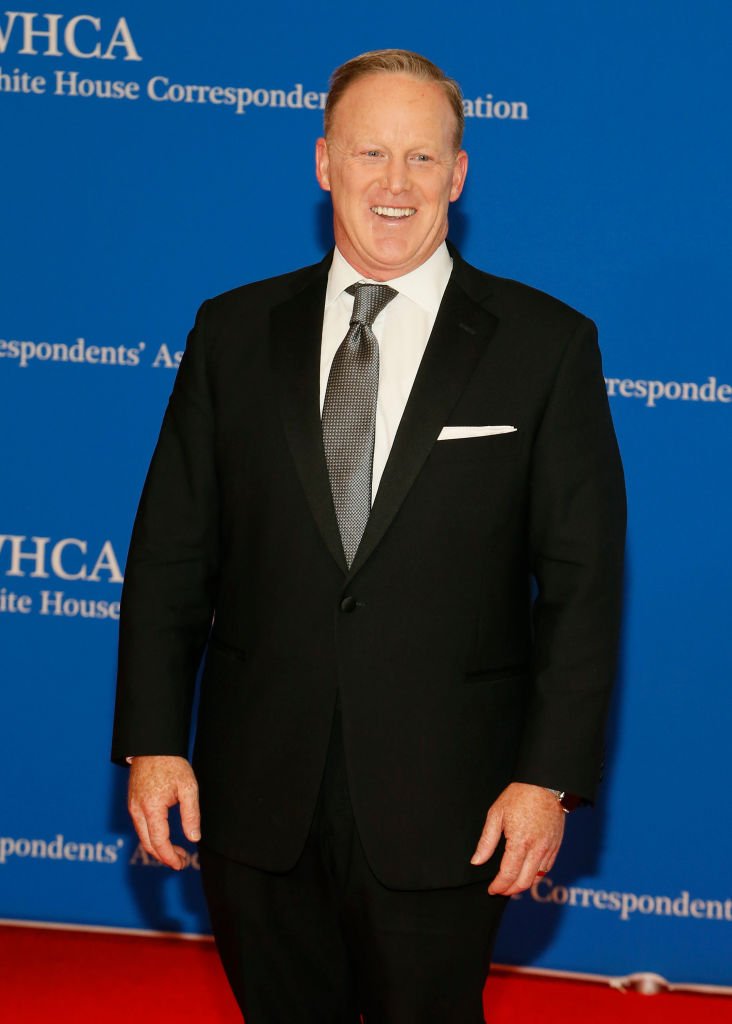 As expected, social media went berzerk as fans of the show were torn in-between opinions.
While some believed it was the best decision to happen in the dancing competition series, others thought the judges played dirty to evict him.
A fan who was all for Spicer leaving the show shared her joy with a gif of the "Carlton Dance" along with a message that read:
"So excited that Spicey got booted from #DWTS. It was beyond his time to leave the show."
So excited that Spicey got booted from #DWTS. It was beyond his time to leave the show. pic.twitter.com/DgLbGxxqjI

— Emily Schebler (@eschebler) November 13, 2019
This thrilled user shared a gif of Steve Carell and wrote:
"OMG Sean Spicer is finally in the bottom two. #DWTS."
OMG Sean Spicer is finally in the bottom two #DWTS pic.twitter.com/t8WebKfFBO

— Ariel / #SaveTheSociety (@bachnationunite) November 12, 2019
However, not all social media users were happy about Sean's eviction as this devastated fan
confessed
to being sad about his exit:
"As much as I hate Sean Spicer's politics I'm sad he went home in #DWTS. He gave it his all each week and had a great attitude each week."
Another user shared the same sentiment writing:
"@seanspicer What a sport! Congrats! I bet that #DWTS was really a blast! Heck, who wouldn't have fun dancing to the #BeeGees!? I know I would be all in just for one go at #Nightfever! Good Job, Sean! We enjoyed the great attitude that totally matched your performances!"
An angered Spicer fan
tweeted
:
"@seanspicer eliminated? I demand an investigation! Don't believe he didn't have the votes to continue. #DWTS."
As
revealed
by Good Housekeeping, the former White House press secretary and his dance partner
Jenna Johnson
ended the night with a total of 50 out of 80 points. 
They performed a Foxtrot to One Direction's "Story of My Life," and then an Argentine tango to "Bills Bills Bills" by Destiny's Child.
Unfortunately, the low scores combined with the number of votes weren't enough to keep Spicer from landing in the bottom two. 
Despite the pain of leaving, Spicer took his defeat gracefully as he tweeted out a thank you message to his followers on Monday night.
To everyone who has voted & supported me over the past 9 weeks on @DancingABC thank u from the bottom of my heart. I made it to the quarterfinals bc of your votes. I had a blast. Thank u to my family, the AMAZING @lindsayarnold - u are the best, & @JennaJohnson I appreciate u!

— Sean Spicer (@seanspicer) November 12, 2019
Spicer's inevitable exit comes after his pro-dancer partner Jenna Johnson failed to hide her surprise when the former press secretary was saved during last week's episode.
As revealed by Woman's Day, after earning a low score of 20/30, Sean was saved from the bottom two, and when co-host Erin Andrews announced it, Jenna's shock was seen all over her face.
It seems Jenna's reaction hit a nerve with the voters, and Sean couldn't ride on his luck for another week.