Simone Biles and Boyfriend Stacey Ervin Jr Show PDA as They Embrace in a Touching New Photo
Love is the air for Olympian Simone Biles, and she doesn't mind filling her fans in on the details with her recent upload.
The gold medalist took to her social media to flaunt her man, Stacey Erwin Jnr. who is a coach and gymnast director at the Men's Gymnastic Program at World Champions Center.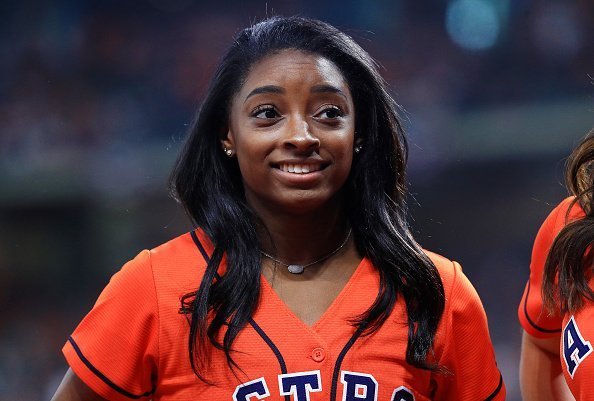 SIMONE BILES' PUBLICLY PROFESSES HER FEELINGS
The new Instagram update featured both lovers in a rather affectionate pose. While the African American gymnast rocked a tiny sleeve nude dress, along with a dainty piece of jewelry and drooling hair, her beau donned a white short-sleeve shirt, a pair of gold necklace and had his hair in a ponytail style.
Simone and her boyfriend have been dating for two years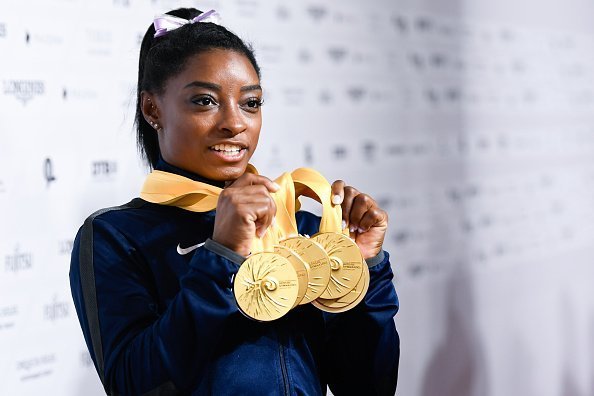 The duo held on to each other firmly, and the post's caption reaffirmed that apart from them being into each other, Simone's feelings for her man is continuously renewed. It read:
"I'll never finish falling in love with you."
This gesture didn't go unnoticed as the close to 800 comments from fans hovered around how admirable the couple seem.
SIMONE AND STACEY ERIN'S LOVE AFFAIR 
This is not the first time the sportswoman will be showing off her love for her man or her man. Last month, in a bid to celebrate Ervin on his birthday, she updated her social media handle with a post directed at him.
The US gymnast serenaded her boyfriend with sweet and adorable words describing his characteristics and what makes him unique.
The 22-year-old has three moves named after her
Ervin was quick to reply to her with words of appreciation and gratitude. Apart from responding to his boo when she sings his praises, the 26-year-old also supports her career.
During his attendance at one of the 22-year-old's games in Stuttgart, Germany, where she bagged a medal, he went on to share a heartwarming message on his Instagram. 
Sometimes the pair may not be doing any talking due to their busy schedule, but the four-time gold medallist explained in an interview that they are not bothered by this concept and that they each find a way when they come together. 
During Halloween, while celebrating their 2-year-anniversary, the couple dressed in contrasting attires. While Simone rocked an angel costume, the gymnast expert donned a devil themed attire.
The duo both have the same likeness for the same type of sports, and they each reach out to support in time of need. While the 22-year-old already has two moves named after her, she recently earned a third with a triple-double landing.