Pink's Husband Carey Hart and Their Adorable Children Joined Her on Red Carpet Ahead of Her CMA Duet with Chris Stapleton
Pink dazzled in a burnt-orange dress and a black hat with her husband, Carey Hart, and their two children, eight-year-old Willow and almost-three-year-old Jameson in tow to enjoy the evening together as a family.
The two youngsters looked adorably on-point with country-themed outfits, as the family posed for pictures on the CMA red carpet.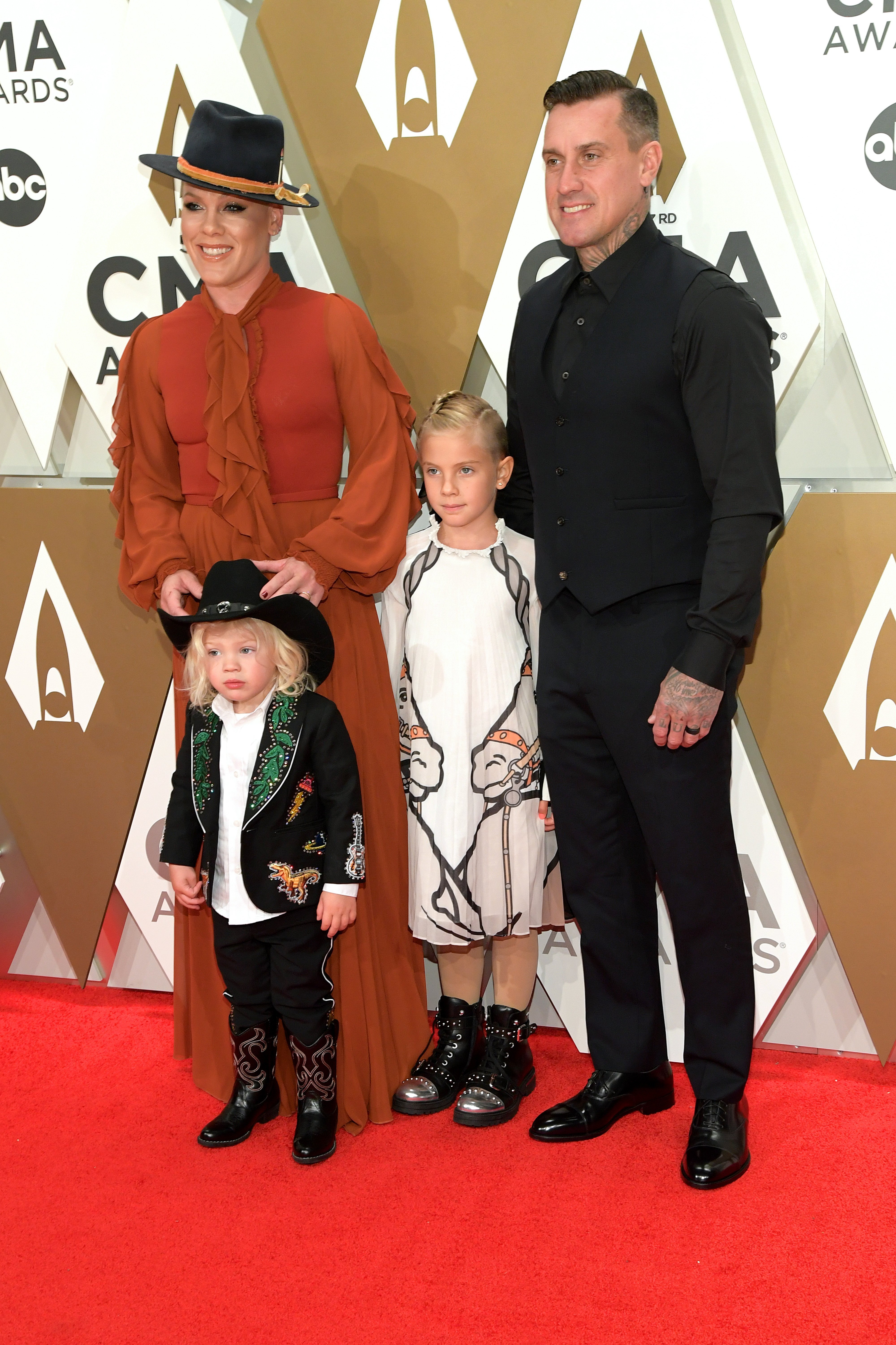 Willow looked beautiful in a white dress with details of two horses, while little Jameson rocked cowboy boots, a studded jacket, and a cowboy hat.
Shortly after, they watched as their mother performed a powerful duet with Chris Stapleton to the song "Love Me Anyway."
The whole family often appears with Pink on the red carpet, as they have at last weekend's People's Choice Awards, where she received the honor of this year's People's Champion.
The singer married her "muse" Carey Hart in January 2006, and always supportive of her career, he and the children have stayed by her side while she toured the world performing and recording.
When she received her star on the Hollywood Walk of Fame early in 2019, Pink credited family for her achievements.
He's so cute," Pink said of Carey. "He's my muse, and if he didn't [expletive] me off all the time, I'd have not much to say."
Pink beamed when she said that Willow and Jameson are her "stars," and that she wouldn't be able to "shine" without them.
The singer also honored words of advice her father, Jim Moore, gave her back in the day before she became famous.
"Today, for me, is a celebration of something that my dad taught me, and that is, 'To thine own self be true,'" Pink shared.
In July, Pink showed that she would not tolerate criticism regarding children or how she chooses to spend time with them, after a follower commented on a picture she posted with them while visiting a zoo in Hamburg, Germany.
"Animals shouldn't be in captivity. If it was a sanctuary — that'd be different," a person wrote. 
Just over a week later, Pink disabled comments on her Instagram page with an announcement that contained a flurry of profane emoji's as she wrote:
"Just a friendly reminder to those of you that need it: there will be no more comments on this page! Hahahaha! Looks like you're gonna have to go tell it on the mountain!!!!! Good luck to ya! And to everyone else; I love you forever."
While the singer had since restored commenting on most of her posts, she has not on most of the pictures of her children.
Pink received her 20th Grammy award nomination earlier this year, but she missed out when Ariana Grande's album walked away with the Best Pop Vocal Album of the year award.
However, in support of mom, Willow and her brother Jameson wanted to make sure Pink knows who is the best in their book, and presented her with a tinfoil Grammy lookalike award.