Brandy's Daughter Sy'rai Shows Plenty of Skin in Grey Top in Pics & Fans Say She Looks like Mom
A recent post by Sy'rai Iman Smith, the 17-year-old daughter of singer Brandy, where she flaunted her skin, saw many of her fans say she looked just like her mother. 
It is common to see many of the Hollywood celebrities having their children resembling them in more ways than one.
It is no different in the case of the singer, Brandy, as a post made by her daughter, Sy'rai Smith got fans stating just how much both women looked alike.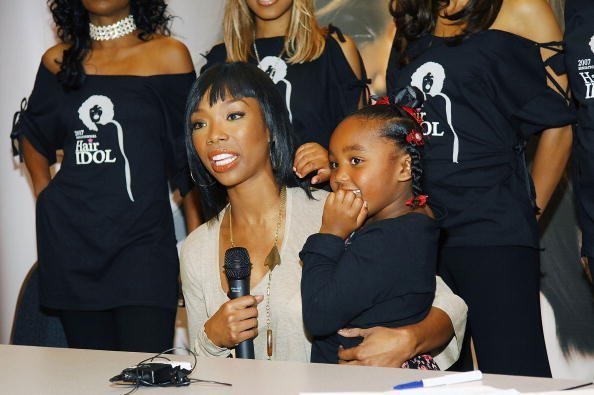 Sy'rai shared two photos of herself wearing a grey top, which bared some of her upper body skin. The glowing beauty looked right into the camera, with a piercing stare capable of smiting any heart.
In the photos, each similar to one another, the gorgeous young beauty seemed to be holding on to a part of her dress with her left hand.
In the caption to the post, she wrote: "91302," which signified the postal code of Calabasas, California, which is where she was located. 
As expected, the post by Sy'rai attracted loads of comments from her fans, who gushed over how beautiful she looked, and how much she resembled her mom. One fan said:
"You look more like your mama ??."
"Stole your moms whole face ?."
A third fan maintained the sentiments with her comment, saying: "Looking like your mom ?." While a fourth person who thought she was seeing Brandy, asked:
"Brandy is that you??"
Since she was born, Sy'rai's life has been a topic of conversation for many people. This is despite the fact that Brandy didn't expose her child to the public the way other celebrities do. 
The public interest in Sy'rai became worse when she had an online presence. Some people spoke unfavourably about Sy'rai's looks, but none of that affected her. 
Instead, she stuck to herself and encouraged other young girls to love themselves, no matter what others say. 
One of the things that attracted negative comments towards Sy'rai was her weight, and in a Live Instagram video reportedly released by Brandy last year, the then 16-year-old spoke eloquently about the challenges she was facing over her weight. 
In that video, she accepted the fact that she was bigger than most other kids, and said she couldn't do anything about that. However, she said that being one's self should be more important than worrying about one's look on the outside. She also said:
"If you really want to change, change because you want to change. Don't change because other people are saying, you're a big girl, you're fat, you're this, you're that."
Sy'rai said so much more, and her wisdom-filled words made many people attribute it to her close bond with her celebrity mom. 
Sy'rai marked her seventeenth birthday in June, and her proud mother celebrated her with a loving message on Instagram, where she tagged her a beautiful soul with a heart of gold and added that Sy'rai's voice and music would touch the world.