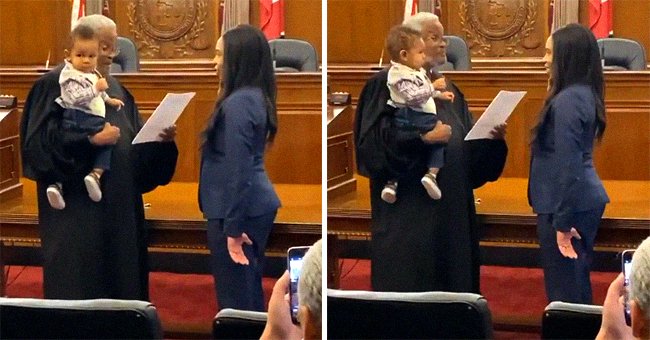 Twitter/sarahfor5
Tennessee Judge Gets Praised for Holding Lawyer's Baby While Swearing Her into the State Bar

"He needs to be part of this," said a Tennessee judge who carried a one-year-old while swearing in the boy's mother on the day she obtained her attorney's license. Fans praised his thoughtful gesture.
An adorable clip of a woman being sworn in as a lawyer is making the rounds of the internet. The clip is gaining mileage not for the woman's accomplishment, but for the scene in front of her as she was obtaining her license.
A THOUGHTFUL GESTURE
27-year-old Julianna Lamar brought along her one-year-old son to the Tennessee Court in Nashville on November 8, the day she was scheduled to officially get her attorney's license.
While she intended for her son to remain on the sidelines as she was sworn in, presiding Judge Richard Dinkins had something else in mind.
Before the proceedings began, Dinkins spotted Lamar's son, Beckham from the crowd and decided he should witness his mother's special moment. Instinctively, Dinkins grabbed Beckham and told Lamar, "He needs to be part of this."
Because Lamar had no free hands to carry her son, Dinkins took it upon himself to carry the boy in one arm as he assisted in swearing Lamar in.
"I've always wanted to be a lawyer, a mom, and a wife so to have my son see me get sworn in was an amazing moment in my life."
The clip shows Dinkins balancing Beckham on his hip and slightly bouncing him as he officiates Lamar's license ceremony.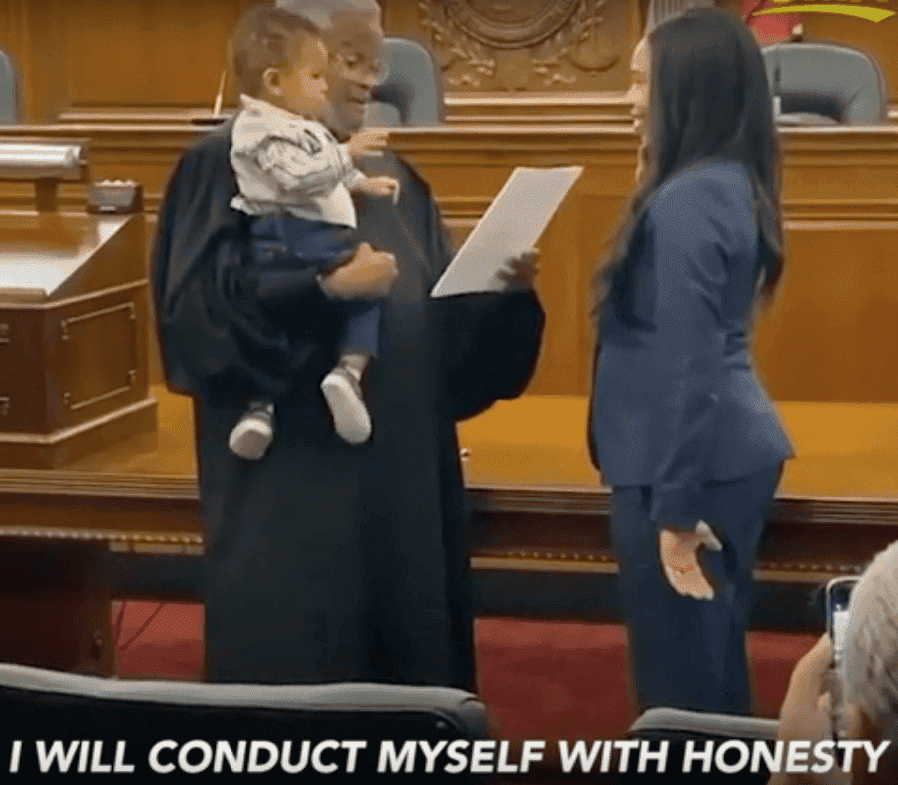 Judge Richard Dinkins holds one-year-old Beckham as the boy's mother, Julianna Lamar is sworn in. | Screenshot: YouTube/goodmorningamerica
PRAISES POURED IN
Lamar's colleague, Sarah Martin who was at the courthouse recorded the whole thing and shared the video online. In a week, it already earned close to 700,000 views.
Many who saw the clip praised Dinkins for his thoughtful gesture.
"I do believe this is how all judges and lawmakers should be / judge with you mind confer with you heart listen to you brain and rule with a strong hand thank you judge Dinkins may God always walk with you through life," a tweet read.
Russell Biven added, "The cool part is this is just who Judge Dinkins is. Genuine. Not staged. A good heart."
"#judgedinkins is love in action," another described him.
ON BEING A LAWYER AND A MOTHER
Meanwhile, Lamar felt validated after she was sworn in in front of her son.
"I've always wanted to be a lawyer, a mom, and a wife so to have my son see me get sworn in was an amazing moment in my life," Lamar later told "Good Morning America."
"Some nights I wondered how I was going to handle getting through law school, taking the bar, being a mom and becoming a lawyer. This moment let me know that I did it."
Lamar was halfway through law school in Belmont University College of Law when she became pregnant. She recalls law school to be tough, add to that her pregnant state.
"The pressure I felt was horrible, and I hope it has led my law school to rethink its policies for future mothers," Lamar who feared she'd go into labor during final exams told BuzzFeed. "I understand having a child during law school is often a choice — however, as young female professionals, there is not a perfect time for us to have children."
Lamar was grateful to Dinkins for being her mentor and also thanked her son for providing her the motivation to persevere.
Please fill in your e-mail so we can share with you our top stories!